Matt Kemp starts shoulder rehabilitation in Arizona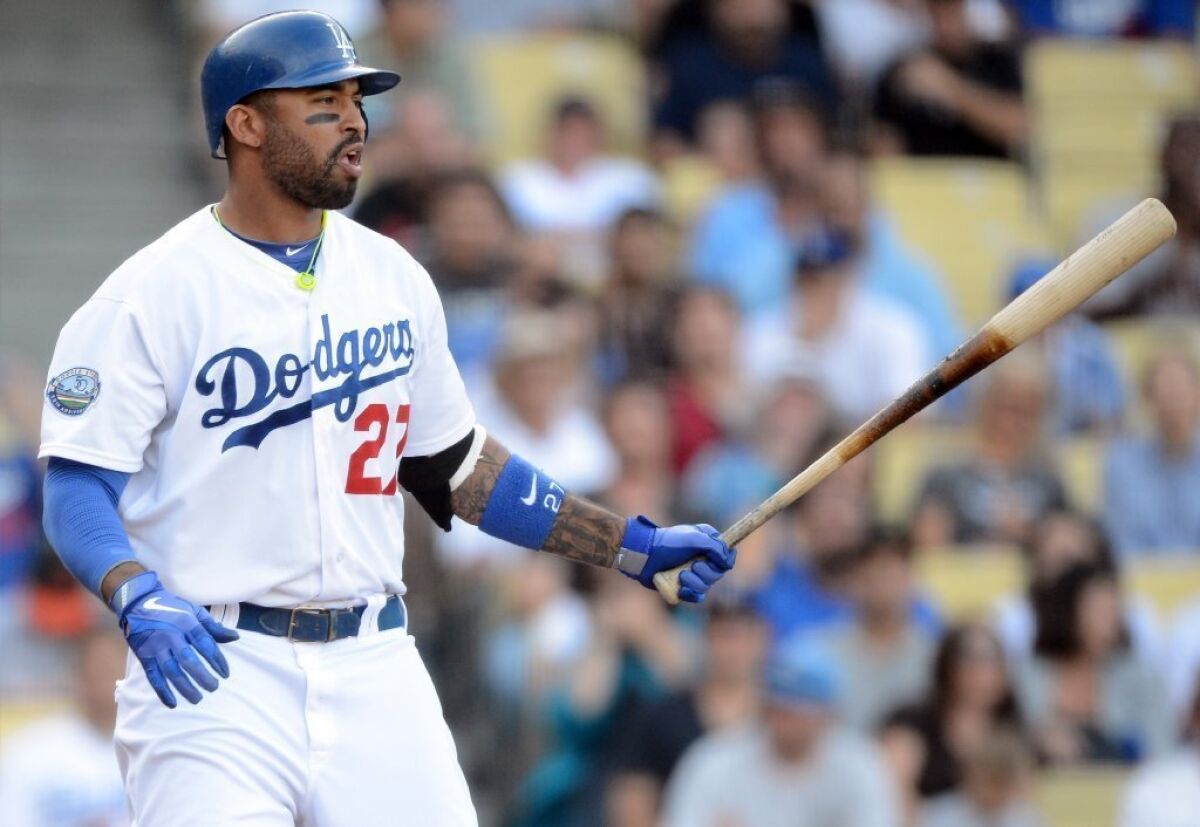 Matt Kemp's goals for the upcoming season are far more modest than they were for 2012, when the All-Star outfielder said he wanted to hit 50 home runs and steal 50 bases.
"Be healthy," Kemp said. "That's the main goal. Be healthy. If I'm healthy, good things should happen."
Kemp spoke to reporters on a conference call Wednesday. He was scheduled to start his rehabilitation program later in the day in Arizona.
Kemp underwent an hourlong shoulder operation on Oct. 5. He was hoping the procedure would be minor, but the damage to the labrum in his left shoulder was worse than expected and required repair.
"I was definitely surprised and definitely disappointed," he said.
The extent of the damage was such that doctors told Kemp they were surprised he was able to play in the final month of the season.
But Kemp, who's rehabbing in the Phoenix area, was also told he should be fully healed for the start of the season. He expects to start swinging the bat in January.
"That's the time I usually start hitting anyway," Kemp said.
Kemp said it's too early to tell how his shoulder is recovering.
"I really don't know how I feel," he said. "It's a little sore. Other than that, everything is cool."
Kemp has talked to teammates Adrian Gonzalez and Hanley Ramirez, who have recovered from similar operations.
"Adrian said I'll be good, I'll feel better, I'll get my strength back," Kemp said.
Gonzalez said earlier this month that it would be important for Kemp to restrain himself from doing too much too soon.
Kemp acknowledged that could be a challenge.
"I'm sitting here not doing much," he said. "I'm definitely getting the itch to get back out there and get ready for the season."
Kemp isn't worried about recovering his old form.
"As long as I do my rehab right, I'll be back to where I want to be and be capable of doing what I need to do to help my team win," he said.
Kemp said he was disappointed to learn of hitting coach Dave Hansen's dismissal.
"I was a little shocked," he said. "He's helped me out with so many things, baseball-wise, and being a friend. I'm really disappointed he's going. But he found a job really, really quick."
Hansen is the Seattle Mariners' new hitting coach.
Kemp said he will watch the World Series, but won't be cheering for either team. Asked to pick the winner, he said diplomatically, "I don't know. Who knows? We'll see. Both teams are playing really, really well right now."
ALSO:
Reliever Kenley Jansen has heart surgery
In Review: A glimpse of Adrian Gonzalez?
My great regret to the Dodgers' 2012 season
Get our Dodgers Dugout newsletter for insights, news and much more.
You may occasionally receive promotional content from the Los Angeles Times.