Dodgers' Chad Billingsley placed on disabled list with elbow pain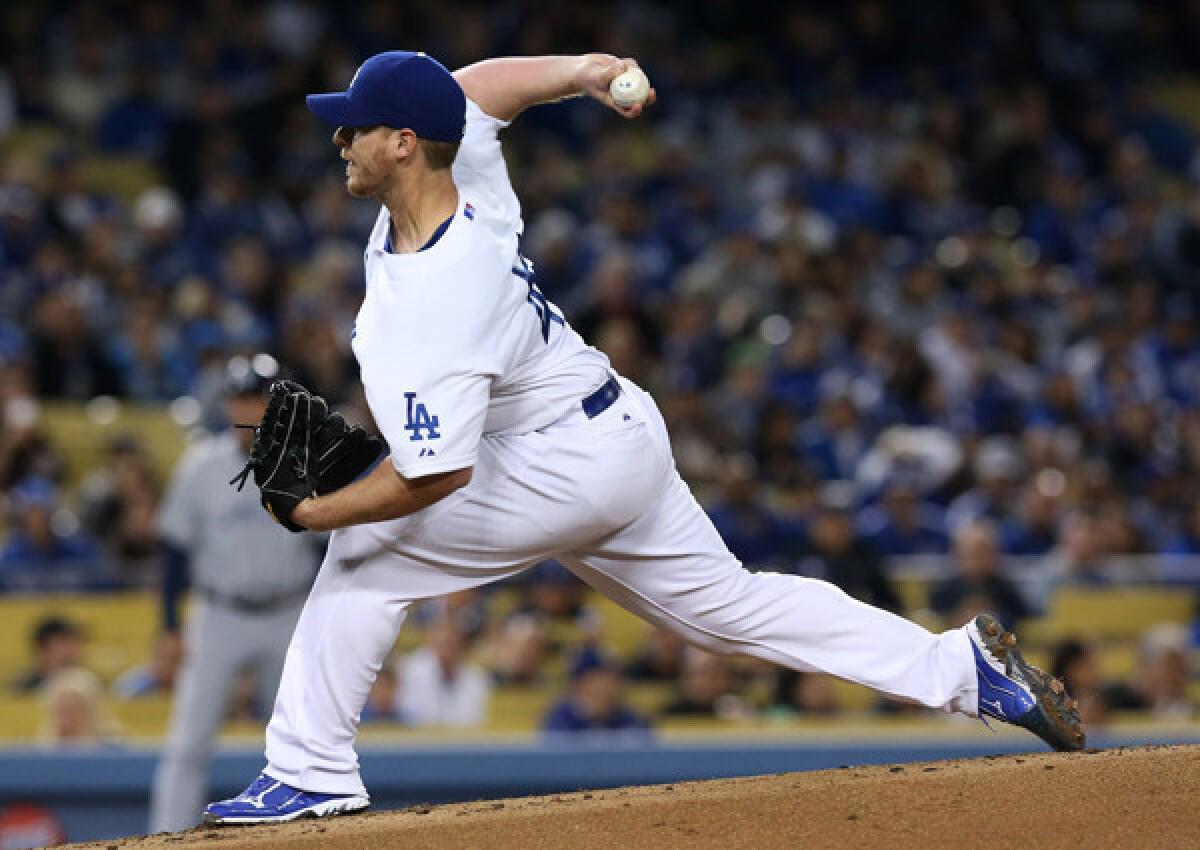 BALTIMORE -- The Dodgers are in a full-blown crisis.
Chad Billingsley was placed on the 15-day disabled list with pain in his right elbow Sunday, the day he was scheduled to take the mound against the Baltimore Orioles and attempt to stop the Dodgers' six-game losing streak. Stephen Fife was recalled from triple-A Albuquerque to start in his place.
Billingsley is the third starting pitcher to land on the disabled list in nine days, joining Zack Greinke and Chris Capuano.
What this means for Billingsley's immediate and long-term future remains unknown, but there are reasons for serious concern.
Billingsley missed the final month of last season with a partially torn ligament in his throwing elbow. Instead of opting for an operation that would have sidelined him for all of 2013, Billingsley received injections of platelet-rich plasma and underwent a rehabilitation program. He made it through spring training without any problems.
Billingsley started this season on the disabled list, but that was because of a bruised finger. He is 1-0 with a 3.00 earned-run average in two starts this season.
Billingsley felt increased tightness and pain in his elbow in his last bullpen session, according to the team. He is scheduled to return to Los Angeles on Tuesday for further medical evaluation.
[Updated, 8 a.m. PDT, April 21: Billingsley said he has no idea if this injury will force him to undergo Tommy John surgery.
"It's too soon to tell," he said.
If Billingsley undergoes surgery, he will not only miss the remainder of the season, but also a part of the next.
The right-hander underwent an MRI exam on Saturday, but team physician Dr. Neal ElAttrache still hasn't reviewed the results.
Billingsley said the specific location of his elbow pain differs from where it was last year.
"This one's right in my elbow," Billingsley said.
He added that how he was hurt was also different.
"Last year, I felt it on a single pitch," Billingsley said.
This time, he said the discomfort grew gradually, beginning in his last start. He said he knew something was wrong when the discomfort didn't subside in the days that followed.
But Billingsley said that if Game 7 of the World Series were on Sunday, he would be pitching.
"I feel I could," he said.]
Get our Dodgers Dugout newsletter for insights, news and much more.
You may occasionally receive promotional content from the Los Angeles Times.