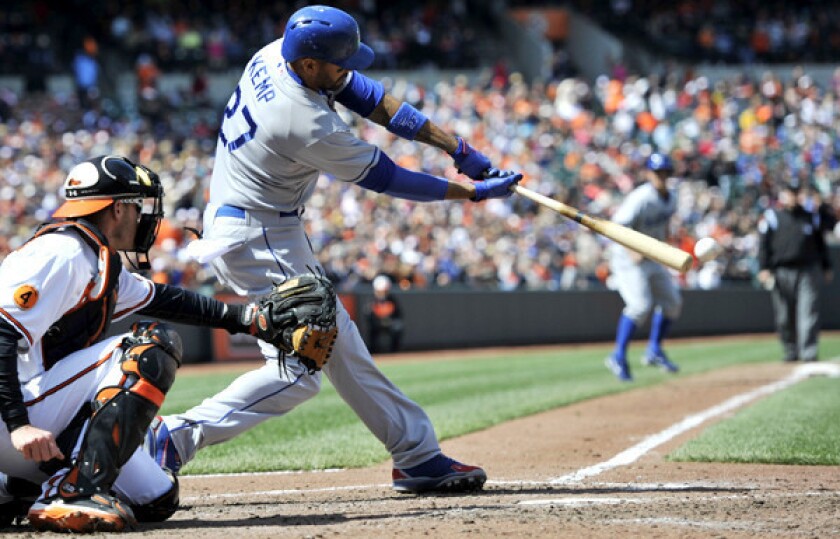 The Dodgers were one desperate team Sunday in Baltimore. In the rotation, in the lineup, in those early standings and in spirit.
Hours after learning Chad Billingsley's elbow had flared up again and the Dodgers had placed him on the disabled list, they snapped their six-game losing streak with a 7-4, come-from-behind victory over the Orioles.
One little very-much-needed victory.
It did not come easy. Stephen Fife was called up from triple-A Albuquerque on Sunday to make the emergency start for Billingsley and immediately gave up three runs in the first inning.
But after the first, Fife settled down, and the Dodgers rewarded him. Trailing 4-1 in the top of the fifth inning, the Dodgers scored four times -- actually scoring with runners in scoring position and everything! -- to take the lead.
Fife fell one out shy of earning the victory. Relievers J.P. Howell (1-0), Matt Guerrier, Paco Rodriguez, Kenley Jansen and Brandon League finished up to salvage the finale in the three-game series at Camden Yards.
With his offense struggling, Dodgers Manager Don Mattingly tried shaking up his lineup to generate runs. He made one switch, hitting Adrian Gonzalez third and Matt Kemp fourth. He started Jerry Hairston Jr. at third base for the first time this season and used Skip Schumaker as his designated hitter.
It worked in the four-run fifth against Orioles inconsistent starter Jake Arrieta. The rally began with a walk to Schumaker and continued with Justin Sellers getting hit with a pitch. Carl Crawford walked to load the bases, which normally would be a good thing.
But the Dodgers were a stunning 1 for 21 with the bases loaded this season, and started the day batting .170 with runners in scoring position.
Only this time, Mark Ellis, whose sacrifice fly with the bases loaded in the third inning had scored their first run, singled over shortstop J.J. Hardy to drive in two.
Baltimore went to left-handed reliever T.J. McFarland, but Adrian Gonzalez sliced a double off the glove of diving left fielder Nate McLouth to score Crawford with the tying run. Kemp followed with a single to score Ellis and the Dodgers had the lead.
The Dodgers added one more in the eighth inning when Kemp dumped a single over the infield, stole second base with two outs and scored on an A.J. Ellis hit with a nice outside hand-first slide at home.
Singles by Gonzalez and Kemp in the top of the ninth inning preceded a Hairston sacrifice fly to score the final Dodgers run.
In addition to his three RBIs, Mark Ellis also made a terrific stop in the eighth inning on a hard grounder up the middle with a man on second base, completing the play with a cross-body throw to nip Matt Wieters at first base.
---