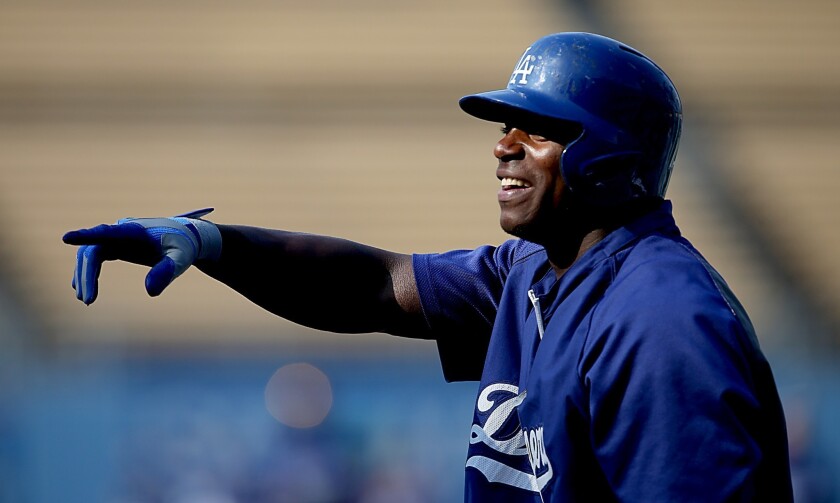 Poor Juan Uribe, he cannot get a break. Even the rookies are picking on him.
Not that Yasiel Puig is exactly any rookie. But as explosive as he's often been on the field, he's been almost as silent off it.
Puig hasn't exactly opened up to the media he seemingly disdains, though part of that could be due to a language problem.
But Puig gave a comparatively revealing five-minute interview -- OK, not so much, but I said comparatively -- to ESPN Deportes' Enrique Rojas.
Now, not that our fine school system isn't exemplary in the foreign language department, but I must admit to having limited translation skills from my two years of Spanish at Whittier's Monte Vista High School (now deceased).
Fear not, other bloggers are not so challenged and Roberto Baly of Vin Scully Is My Homeboy translated several passages from the Rojas report via Twitter, plus offered the video. And blogger Chad Moriyama pulled the translated quotes together on his site.
Puig clearly has an outgoing, let's-have-some-fun personality that almost never comes across in his team-translated interviews, but there is this gem he told Rojas:
"I'm happy, Hanley [Ramirez] is happy, [Juan] Uribe looks scared. What an ugly face my friend Uribe has. But I love him."
Puig, however, also made it clear he understands he has some problems with fundamentals and is intent on clearing them up:
"During practice, the coaches insist that I have to throw it to the cutoff man. I'm working hard on the throws."
"Working on running the bases too because we can't make mistakes if we want to win the championship."
He also addressed his relationship with the media, which if still seemingly in the embryo stage, has gotten off to a less than terrific beginning:
"I don't worry what the media says, I just play ball. Every individual thinks and writes what they want."
"Many write without knowing but when they come and meet the person, they realize it's not like that."
And he tried to make clear what this whole thing was about:
"I came to this country to play baseball and give the best on the field. What people think outside the field, I don't worry."
---