Ex-Red Sox GM Theo Epstein likes Adrian Gonzalez trade for Boston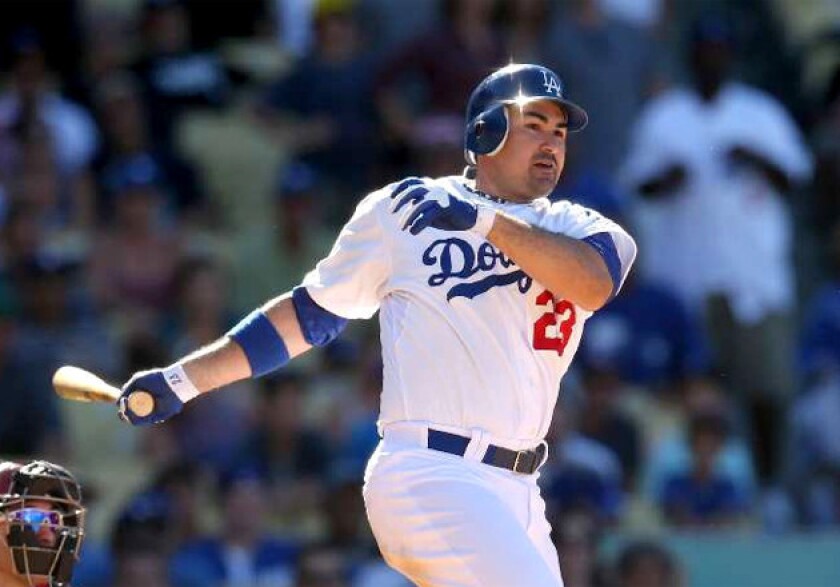 That stunning blockbuster trade last August that brought Adrian Gonzalez and Josh Beckett to the Dodgers from the Red Sox remains a jaw-dropper, as it is still being scrutinized and figures to be for some time.
One interesting look at the trade now comes from Theo Epstein, the former Red Sox general manager who had moved on to his position with the Cubs when the deal went down.
In a radio interview Thursday on Boston's WEEI, Epstein gave his observations on the trade, calling it remarkable (audio).
Epstein liked the trade, although from the Boston perspective. He may have watched the nine-player deal from afar, but it apparently captured his full attention.
"I really like the trade because I'm a big fan of the talent they got back," he said.
Epstein values the young arms of starters Ruby De La Rosa and Allen Webster, and also appreciated the Red Sox being able to unload salaries over a quarter of a billion dollars in the deal.
"The payroll they freed up was remarkable in its own right," he said.
Also on the web:
-- Mike Piazza has written an autobiography with Lonnie Wheeler for Simon and Schuster scheduled to ship Feb. 12.
"Longshot" is being billed as the "candid story of the greatest hitting catcher in baseball history," and reportedly addresses rumors of his steroid use and homosexuality.
-- Dave Stewart, agent for both Matt Kemp and Chad Billingsley, tells Dodgers.com's Ken Gurnick that both are progressing well from injuries. Kemp has shoulder surgery and Billingsley is trying to avoid Tommy John surgery.
-- If you can never get enough lists, particularly of the baseball variety, then ESPN's Buster Olney has been your guy the last week. Olney has been busy ranking baseball's Top 10 teams in various categories.
Here are his rankings, and where the Dodgers finished, and he wasn't always impressed:
Bullpens -- Atlanta No. 1 (Dodgers No. 7, and yes, he already knew about their adding J.P. Howell); rotations – Detroit No. 1 (Dodgers No. 3); infield – Texas (Dodgers unranked, although Tampa with James Loney was No. 4); outfield – Angels (Dodgers No. 4); lineups – Angels No. 1 (Dodgers unranked); teams – San Francisco No. 1 (Dodgers No. 6).
-- Manager Don Mattingly does a Hall of Fame Q&A; with ESPN/LA's Mark Saxon.
-- It's A.J. Ellis, funny guy.
-- They had the official opening of Hope's Home, the orphanage Clayton and Ellen Kershaw are helping to sponsor in Zambia.
-- The Dodgers are going to try it again with utility player Alfredo Amezaga, signing him to a minor league contract with an invite to spring training. They last tried this in 2010.
-- Eric Stephen of True Blue LA has the Dodgers signing five others to minor-league contracts, including outfielder Rusty Ryal, who while with Arizona, hit the line drive off the head of Hiroki Kuroda in 2009.
ALSO:
Daily Dodger in Review: Nathan Eovaldi heads out
Dodgers moving toward deal with reliever J.P. Howell
Fox or Time Warner? Dodgers said to be '50-50' over TV choice
---
Get our Dodgers Dugout newsletter for insights, news and much more.
You may occasionally receive promotional content from the Los Angeles Times.