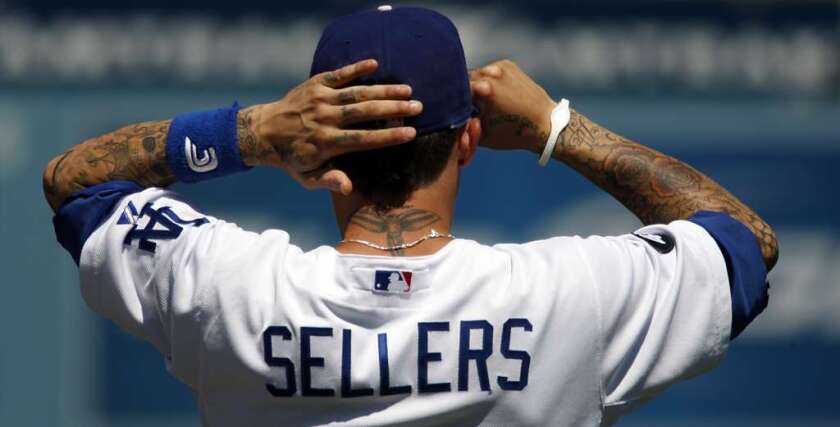 That sort of came out of nowhere, Manager Don Mattingly on Thursday suddenly floating the possibility of Justin Sellers as the Dodgers' shortstop.
It had been pretty much assumed since shortstop Hanley Ramirez went down for eight weeks with his torn thumb that Luis Cruz would slide over from third to short and Mattingly would use the trio of Juan Uribe, Jerry Hairston Jr. and Nick Punto over at third.
Sellers, coming off back surgery, had been off the radar pretty much all spring. He was reassigned to the minor league camp on March 19 and wasn't seen again until the team's final game in Arizona.
But he started Thursday against the Angels and Mattingly is seriously considering placing him back on the roster and using him as his semi-regular shortstop until Ramirez returns.
The main impetus is simple: Giving the team the best defensive setup possible.
And Sellers is the Dodgers' finest fielding shortstop option. The Dodgers' lineup should be strong enough to overcome Sellers' offensive shortcomings. The understandable theory is he can save more games defensively than he can cost them with the bat.
"He catches the baseball," Mattingly said after Thursday's game. "He just does. He's just one of those guys who can catch it."
Cruz is solid and consistent with the glove, but doesn't have great range for a shortstop. Which is why the original plan called for Ramirez at short and Cruz at third.
Now Mattingly is looking at a left side with either Cruz and one of the trio at third (all decent with the glove, but also with unspectacular range) – which makes for a lot of balls defenders are not going to get to – or having Sellers at short and Cruz at third.
"I'm looking for the best defensive club I can put out there," Mattingly said. "That's the main thing. We have a pretty good pitching staff, and I want us to catch the ball for these guys."
Sellers said his back is in excellent shape, though the Dodgers will likely want to see additional evidence of that in these final two spring games. Thursday he played his expected stellar defense and went 1-for-3 with a walk, lining out twice to left.
If Sellers does make the club, he may not start every day, but if he plays as expected, he would be the primary shortstop until the return of Ramirez.
ALSO:
Let's do the math: What are the Dodgers actually worth?
Clayton Kershaw's cost could rise with Justin Verlander deal
---