Dodgers tie franchise win mark, clinch NL's top playoff seed with series win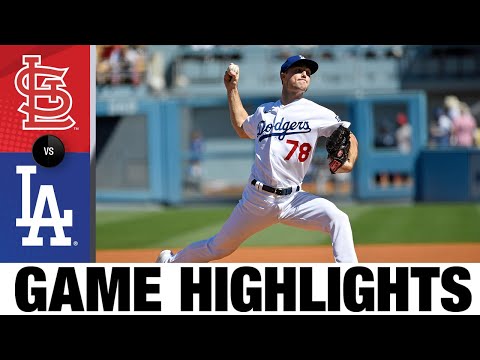 It's still unclear what the Dodgers roster will look like in October, and which pitchers they'll be able to rely upon.
But what they now know for sure, after a 4-1 win over the St. Louis Cardinals on Sunday, is that they will possess the National League's top seed after a regular season that's on the verge of being the best in franchise history.
By winning a weekend-series rubber match over the Cardinals, the Dodgers matched the club's wins record, as well as clinched the best record in NL, by improving to 106-47.
They became the first team in MLB history to win 106 games in three consecutive full-length seasons, having also reached that mark in 2019 and 2021 (the 2020 season was shortened to 60 games because of the pandemic).
Final: Dodgers beat Cardinals 4-1 to match franchise win record
The Dodgers have matched the franchise's highest win total, picking up their 106th victory of the year with a 4-1 win over the St. Louis Cardinals.
The Dodgers did all their scoring early, getting two runs in the first before tacking on again in the second and third.
Starter Michael Grove gave up just one run in five innings. Brusdar Graterol escapred a jam in the sixth. Then Andre Jackson picked up the save with three scoreless innings to finish it.
The Dodgers are 106-47, and have also clinched the top playoff seed in the National League.
Final: Dodgers 4, Cardinals 1
Dodgers have runs in first three innings to extend lead
Three innings into this one, Adam Wainwright has yet to put a zero on the board.
In the second inning, the Dodgers mounted a two-out rally in which Will Smith singled home a run. In the third, Cody Bellinger also had a two-out RBI on a double down the line.
The Cardinals got on the board in the second inning on Yadier Molina's RBI single, but haven't done much else against Michael Grove.
End 3rd: Dodgers lead 4-1
Dodgers take early lead against Adam Wainwright
It didn't take long for the Dodgers bats to get going.
In the bottom of the first, Freddie Freeman opened the scoring with an RBI double, matching his career-high hit total of 191 in the process.
Then, Will Smith singled, Justin Turner was hit by a pitch and with the bases loaded, Joey Gallo drew a free pass to force home another run.
End 1st: Dodgers lead 2-0
Freddie Freeman returns to lineup as Dodgers try to match franchise win record
After missing the past two games with illness, first baseman Freddie Freeman will be back in the Dodgers lineup for their series rubber match against the St. Louis Cardinals.
With a win, the Dodgers would tie the franchise's all-time wins record of 106.
"It's certainly important," manager Dave Roberts said of the record, which his 2017 team set and last year's 2021 squad matched. "I don't think it's something we were chasing. We're certainly in a position to accomplish that, which would be great. But obviously we've got a lot of bigger things in mind. And so to look back on the season and say we accomplished this, when and if we do, absolutely something to be proud of."
On the mound, rookie Michael Grove (0-0, 4.66 ERA) will face off against veteran Adam Wainwright (11-10, 3.38 ERA).
Here is the Dodgers full lineup:
Albert Pujols' 700th home run carried a special significance for Latinos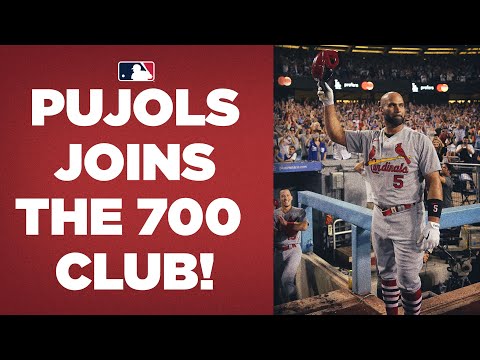 The visiting dugout had emptied, members of the St. Louis Cardinals waiting in front while Albert Pujols rounded the bases in a regular-season game for the 700th time in his major-league career. The Dodger Stadium crowd had turned, cheering for Pujols despite him wearing the road grays. Even a few Dodgers players clapped.
It was a moment to cherish, and the first person Pujols wanted to share it with was a man sitting in the front row behind home plate. That's where Adrián Beltré was sitting.
Like Pujols, Beltré is a former Dodger and a future Hall of Famer. Above all, like Pujols, Beltré from the Dominican Republic. So Pujols beelined over to the retired third baseman after crossing home plate for two high fives.
ICYMI: Amid October pitching questions, Dodgers find 'right lanes' in win over Cardinals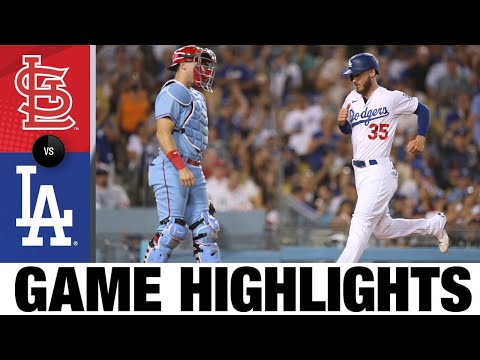 It was a straightforward game conducted with a straightforward pitching plan.
Leading after six strong innings from Clayton Kershaw, the Dodgers looked just fine with a designated closer Saturday night, getting three scoreless innings out of their reshuffled bullpen to beat the St. Louis Cardinals 6-2 at Dodger Stadium.
In their first game protecting a lead since demoting Craig Kimbrel from the closer role, the Dodgers trotted out the kind of bullpen plan that could be repeated in October.
Chris Martin, a key trade deadline acquisition who is surging, retired the side in order in the seventh.