Hyun-Jin Ryu provides enough for Dodgers to slip by bottom-dwelling Marlins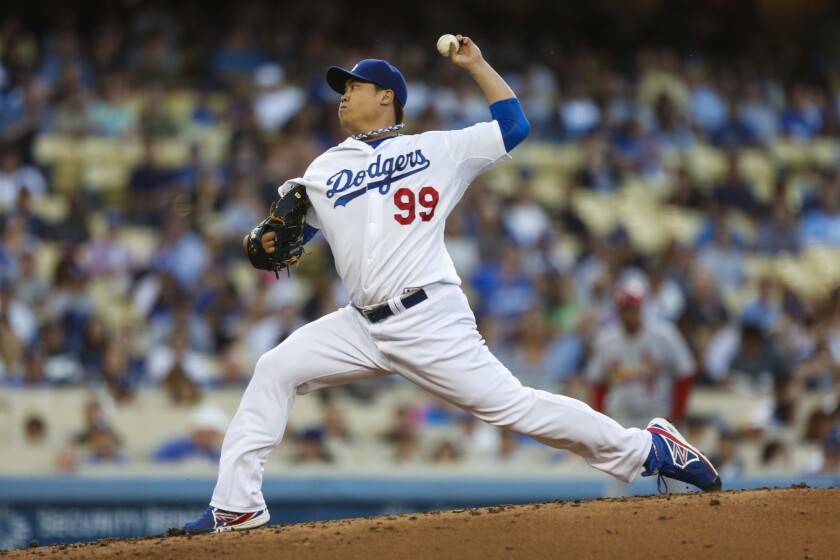 There was no earthquake like the 7.1-magnitude temblor that rattled Dodger Stadium on July 5, no strange atmospheric conditions or precipitation that would affect pitcher Hyun-Jin Ryu's grip or footing on the mound.
Still, something about the Dodgers left-hander seemed askew Friday night. A control freak who had not walked two in an inning this season, Ryu walked two Miami Marlins batters in the second. He walked Miguel Rojas to lead off the third, matching his season-high for walks in a game.
Ryu, who walked 11 in 116 innings of his first 18 starts, giving him a major league-best 0.85 walks-per-nine-innings rate, also hit a batter, only the second time this season he has done so.
Not to worry. The worst team in the National League was unable to capitalize on a rare "off night" for Ryu, who allowed one run and four hits in seven innings of a 2-1 victory over the Marlins before a sellout crowd of 52,471 in Dodger Stadium.
Ryu found his bearings after the fourth and retired 11 of the last 12 batters he faced, striking out the side in the seventh, to improve to 11-2 and lower his major league-leading ERA to 1.76.
"I don't think he had the command of his fastball and changeup that we're used to seeing, but when Hyun needs to get outs, he does, when he needs to make a pitch, he does," Dodgers manager Dave Roberts said. "You could see in that seventh inning. He was smelling it.
"His pace picked up. The quality of his pitches in the sixth and seventh inning actually got better. That's the true sign of a top-end guy, when he smells blood and wants to finish a team off. Give him credit."
Reliever Dylan Floro, who has struggled after a strong start, is on the injured list with a sore neck. Time off will benefit him, manager Dave Roberts said.
Kenta Maeda, in a pre-planned relief appearance after his rain-abbreviated two-inning start in Philadelphia on Wednesday, struck out two in a one-two-three eighth inning.
Kenley Jansen rebounded from his ugly three-run blown save and loss in Philadelphia on Tuesday night, when the closer said he "shouldn't have kept pitching" after taking a 98-mph grounder to the right ankle, to strike out the side in the ninth against the Marlins for his 24th save.
"We view Kenta as a starter and he views himself as a starter, but for him to give us one or two innings, which he's done in the past … his one inning tonight was electric," Roberts said. "We saw some 94-mph fastballs. His slider was sharp. And to see Kenley come back tonight and throw the ball the way he did was very encouraging."
Jansen criticized himself after Friday night's game for "being selfish" on Tuesday.
"That stuff in the Philly game shouldn't happen," Jansen said. "Enough is enough. I'm sick and tired of getting beat around, talking at the end of the game about different stuff. It's not fun. I'm just trying to have fun again. Trying to get that attitude again. Put a stop to whoever is trying to hurt me out there. Now is the time to go get it, to try to get what we want."
Miami took a 1-0 lead in the fourth when Harold Ramirez reached on an infield single, beating Ryu to the bag on a grounder to the right of first baseman Joc Pederson, and Alfaro roped an RBI double.
Gallen, a bespectacled rookie right-hander, blanked the Dodgers on two hits through five innings, escaping a two-on, no-outs jam in the second when he retired Corey Seager, Enrique Hernandez and Russell Martin after walking Cody Bellinger and A.J. Pollock.
But he got into trouble in the sixth when Alex Verdugo led off with a single and Justin Turner walked. Gallen struck out Bellinger with an up-and-in 90-mph fastball — the same pitch he whiffed the most valuable player candidate with in the fourth — but he walked Pollock to load the bases.
Miami manager Don Mattingly summoned left-hander Jarlin Garcia to face Seager, who beat out a slow roller to second for a run-scoring fielder's choice and a 1-1 tie. Marlins second baseman Starlin Castro booted Hernandez's potential inning-ending grounder for an error that allowed Turner to score for a 2-1 lead.
Ryu struck out Martin Prado, Rojas and Granderson in the seventh, his pitch count reaching 102, before handing the ball to Maeda.
"This outing was by far the worst in terms of commanding my pitches," Ryu said through an interpreter. "But I was able to get back on track toward the middle part of the game, being more aggressive and being sure to limit my pitch count.
"I'm really satisfied with the end result despite the process and how I was commanding my pitches. I'll give myself some points in that regard, but overall, it was a tough game for me."
---
Get our Dodgers Dugout newsletter for insights, news and much more.
You may occasionally receive promotional content from the Los Angeles Times.