Joc Pederson's big game comes to a crashing halt in Dodgers' blowout win over Rockies
Joc Pederson seemed destined for a career night — maybe even something historic, with the way he was barreling up the ball — before the short right-field wall in Dodger Stadium rudely intervened.
The right fielder opened the first inning of the Dodgers' 16-9 victory over the Colorado Rockies in front of 45,910 on Monday night with a home run to right-center field, his seventh leadoff home run this season and 18th of his career.
Pederson hit a run-scoring double off the top of the right-field wall in the second, missing a home run by inches. He crushed a three-run home run to right — the ball left his bat at 111.9 mph and traveled 416 feet — in the third.
Gavin Lux didn't disappoint in his major league debut with the Dodgers on Monday, generating a surreal buzz that was felt by both his family and fans.
Three innings in, Pederson had three hits, a career-high-tying five runs batted in and his first 30-home-run season. Including Sunday's game-winning, 11th-inning home run at Arizona, he came within inches of hitting home runs in four consecutive at-bats.
But as Pederson discovered in the top of the fifth, it's a lot easier to hit a ball over that right-field wall than to run through it.
With two runners on, Pederson sprinted into the corner and a made a lunging catch above the wall to rob Charlie Blackmon of a three-run home run, somehow holding on to the ball despite crashing chest-first into the wall.
Pederson crumpled on the warning track, rolled over and threw the ball to the infield to hold Trevor Story at first base while Yonder Alonso scored on the sacrifice fly.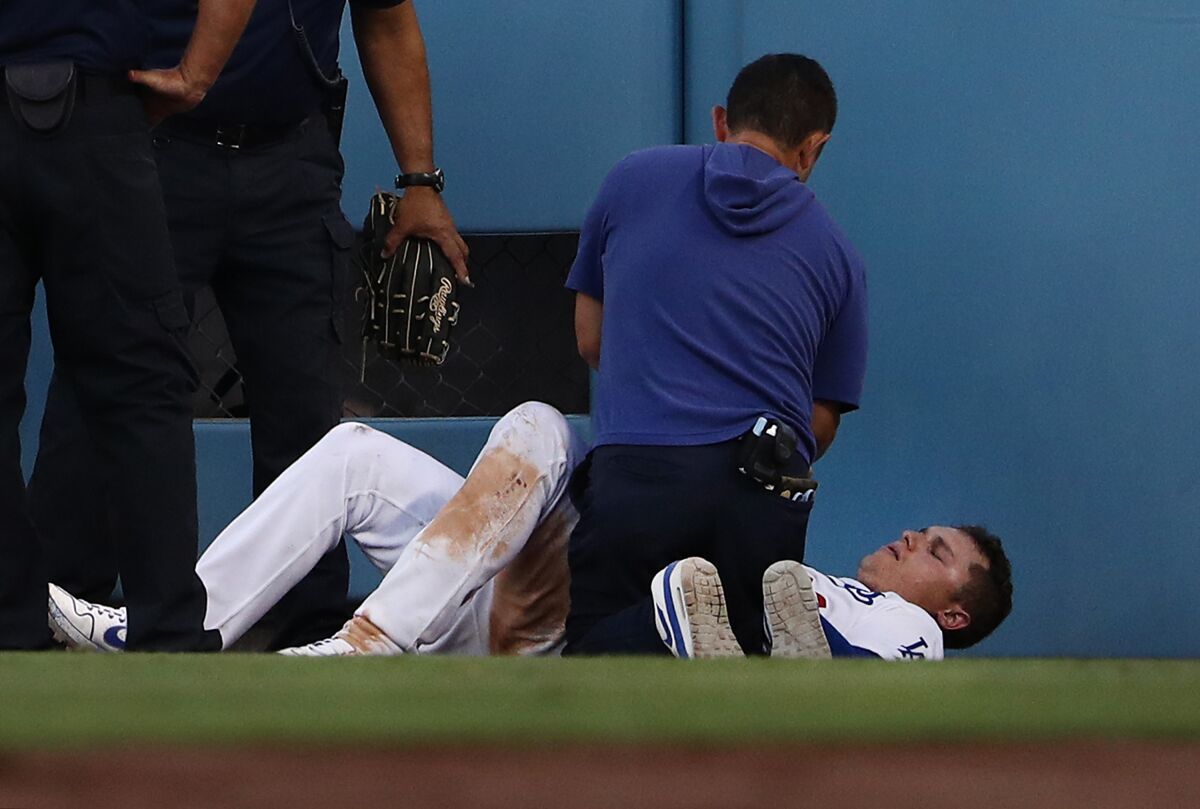 Pederson again rolled over in pain as manager Dave Roberts and an athletic trainer rushed onto the field. Pederson walked off under his own power to a standing ovation.
Pederson got the wind knocked out and was diagnosed with an abdominal bruise, an injury that could sideline him for a few days.
"It was a big night for Joc," Roberts said. "It could have been a humongous night. That's one of the things I told him when he came out of the game. I was expecting another homer, a three-homer night from him."
The Dodgers, after winning a 4-hour 6-minute, 29-hit, 11-home run, 11-double slog of a slugfest that seemed more suited for Coors Field, reduced to six their magic number for clinching their seventh consecutive National League West title.
But a few potholes have popped up on the homestretch. The Dodgers have lost two 30-home run sluggers to injury in six days. Max Muncy (33 home runs, 87 RBIs) suffered a fractured right wrist when he was hit by a pitch Wednesday.
Muncy, however, is expected to return next week and Pederson's injury does not appear serious. Pederson said he felt a "weird cramp" in his oblique area "and I couldn't really move my arm, so that wasn't good."
But doctors told him he did not appear to break any ribs on a play that prevented the Rockies from cutting deeper into a 10-5 deficit.
"It was kind of the side, the rib, the shoulder, a little combo," Roberts said. "But that was a heck of a play. If that ball goes out of the park, we're looking at a different game."
Pederson's injury put a mild damper on an evening in which the Dodgers clubbed seven home runs to push their season total to a franchise-record 245, four shy of the NL season record of 249 by the 2000 Houston Astros.
Chris Taylor hit solo home runs in the fourth and seventh innings, giving the Dodgers 11 players with double-digit home runs; Corey Seager hit a three-run shot in the sixth; Cody Bellinger hit his major league-leading 44th and 17th against a left-hander, a solo shot in the seventh; and Matt Beaty hit a solo shot in the sixth.
Somewhat lost in the home run derby was a superb major league debut by Gavin Lux, the highly touted infield prospect who hit the first pitch he saw to center field for a single in the second and doubled to right center in the third, and an ugly win by Walker Buehler, who gave up six runs and eight hits in five innings.
Cody Bellinger and Mike Trout comparison
Cody Bellinger of the Dodgers and Mike Trout of the Angels are putting together staggering offensive seasons. They also are close in most statistical categories. Here's a daily look at their production:
| Name | Team | HRs | Avg. | Runs | RBIs | OBP | SLG | OPS | WAR |
| --- | --- | --- | --- | --- | --- | --- | --- | --- | --- |
| NameCody Bellinger | TeamDodgers | HRs44 | Avg..311 | Runs106 | RBIs103 | OBP.414 | SLG.658 | OPS1.072 | WAR8.3 |
| NameMike Trout | TeamAngels | HRs43 | Avg..293 | Runs106 | RBIs101 | OBP.439 | SLG.642 | OPS1.081 | WAR8.2 |
Source: Baseball Reference
---
Get our Dodgers Dugout newsletter for insights, news and much more.
You may occasionally receive promotional content from the Los Angeles Times.