Dodgers ace Walker Buehler placed on injured list because of a blister on his hand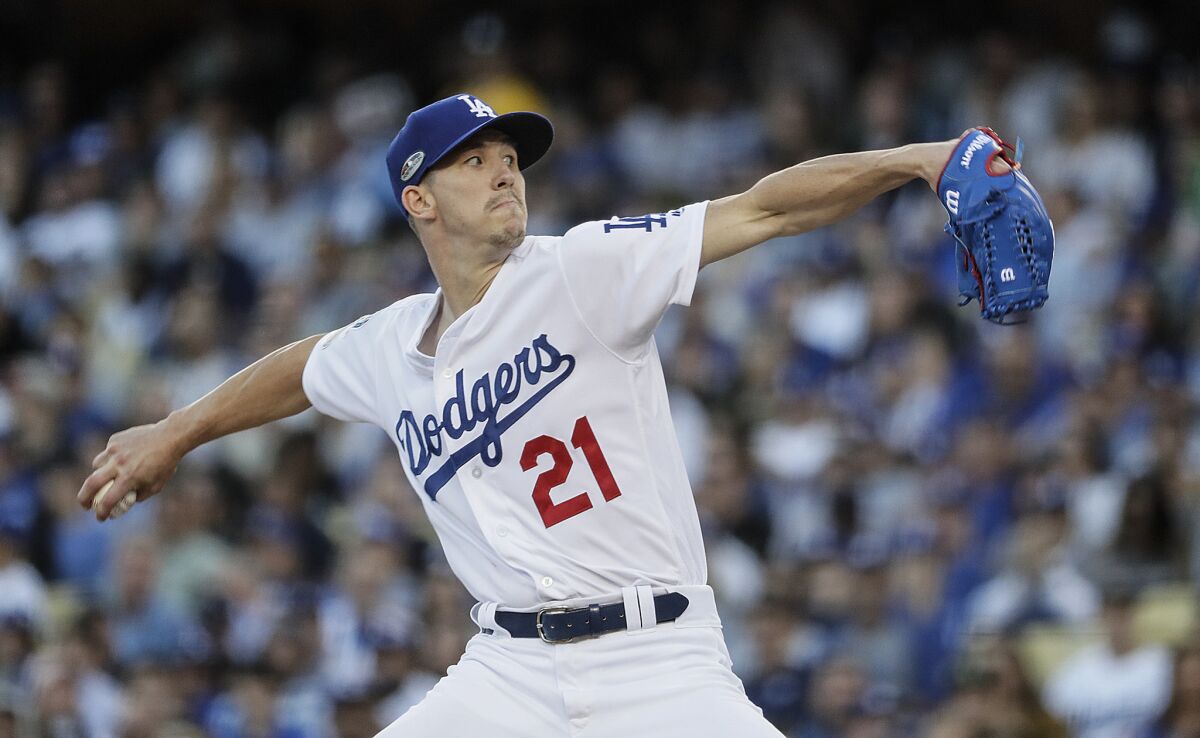 The Dodgers placed Walker Buehler on the 10-day injured list, retroactive to Sunday, because of a blister on his right hand Thursday morning, hours before he was scheduled to start the second game of a doubleheader against the San Francisco Giants.
Mitch White was recalled to take Buehler's place on the roster. White was already in San Francisco as part of the team's five-man taxi squad. White, 25, has yet to make his major league debut.
Dodgers manager Dave Roberts said the blister surfaced near the end of Buehler's start Friday against the Colorado Rockies — his best of the season. The right-hander held the Rockies to one run with 11 strikeouts with no walks across six innings.
Roberts said the blister was mild initially. It was mild enough as of Monday for the Dodgers to have Tony Gonsolin, next in line to start games, throw 99 pitches in an intrasquad at Dodger Stadium. Roberts said they would've likely handled Gonsolin, optioned to the team's alternate training site last week, differently had they known Buehler's blister wouldn't improve.
MLB commissioner Rob Manfred spoke to The Times about topics including the 2020 season, eliminating minor league teams, blackout rules and his reputation.
"We all felt that it was in the team's best interest, Walker's best interest, to try to nip it in the bud and we don't want this to get worse and carry on through September, let alone October," Roberts said.
Roberts said he expects Buehler to return and start a game next week. He is eligible for activation next Wednesday.
Without Buehler available, Roberts said the team's pitching strategy for Game 2 of Thursday's doubleheader depends on how Game 1 goes. Clayton Kershaw will start the first game. Kershaw was slated to start Wednesday, but the Dodgers and Giants agreed not to play in protest of the police shooting of Jacob Blake in Kenosha, Wis.
---
Get our Dodgers Dugout newsletter for insights, news and much more.
You may occasionally receive promotional content from the Los Angeles Times.