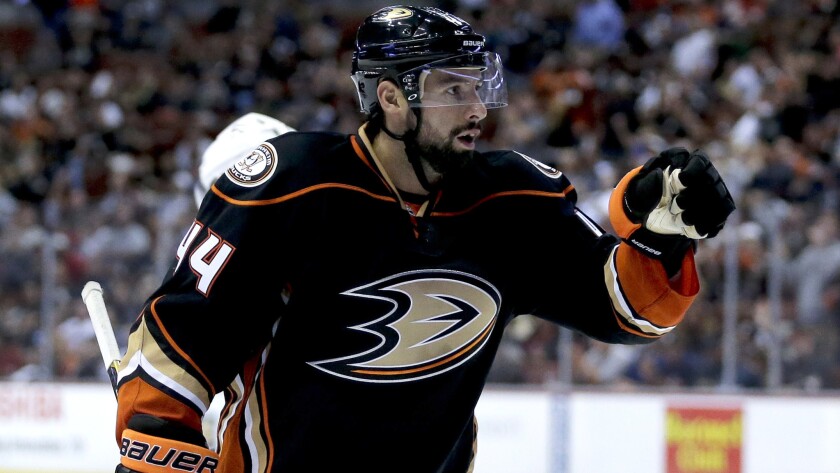 Ducks center Nate Thompson returned from a two-game conditioning stint in the minors and said he's "really close" to making his season debut as Anaheim prepares to host the Vancouver Canucks on Monday night.
Ducks Coach Bruce Boudreau, though, said Thompson's return might take place later in the week. Thompson had shoulder surgery in June for two labral tears.
The game is set for 7 p.m. at Honda Center. It will be broadcast on Fox Sports West and can be heard on 830 AM radio.
Goalie Frederik Andersen practiced Saturday and said he needs a few days to get his energy back after a bout with flu he said was so bad "I wanted to jump out the window." John Gibson, who shut out Vancouver in his NHL debut in 2014, will probably start as the Ducks try to build off a 3-2 overtime loss to defending champion Chicago with Pacific Division points on the line.
"If we can continually play like we played against Chicago, we're going to win a lot more than we lose," Boudreau said. "But because it's a divisional game, I wouldn't say it's a must-win, but it's a proverbial four-pointer."
Daniel Sedin paces Vancouver with 27 points. The Canucks spoiled the Ducks' home opener Oct. 12 with a 2-1 shootout win.
The Ducks have recalled defenseman Shea Theodore.
---