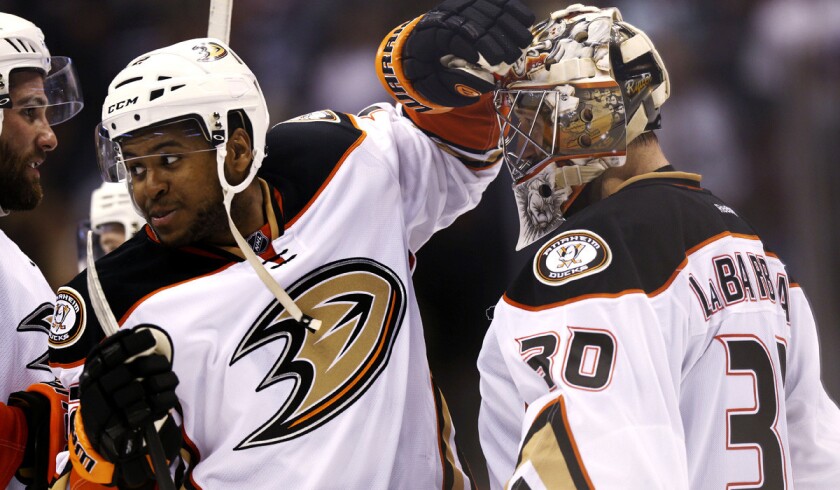 Reporting from Denver —
On Saturday night Jason LaBarbera was planning to join his American Hockey League teammates for a Halloween party in Norfolk, Va. Twenty-four hours later he was sitting in the visitors' locker room at the Pepsi Center marveling at the twists of fate that led to his first NHL victory in more than a year.
"I've been in some sticky situations in my career," he said after a 16-save effort in the Ducks' 3-2 victory over the Colorado Avalanche, "but that was probably the hardest."
None of his teammates thought to save the game puck for LaBarbera after his improbable performance on two hours' sleep in a game he didn't know he'd start until John Gibson suffered a lower-body injury during warmups Sunday. But LaBarbera, signed last summer for minor league depth and summoned Sunday to be a backup after Frederik Andersen developed muscle tightness, will have the memory of how he stepped in on a few minutes' notice and worked behind teammates who went out of their way to block shots and minimize the dangerous chances he faced.
"I'm still in la-la land right now. It feels like a dream, to be honest with you," said the 34-year-old goalie, who last earned an NHL victory on Oct. 7, 2013 while playing for Edmonton. "I don't even know what happened."
That's understandable. It was almost too bizarre to be believed.
The chain of events began when Andersen reported muscle problems Saturday, leading the Ducks to tell LaBarbera they'd need him as a backup. But then Gibson couldn't start, leaving Coach Bruce Boudreau with a headache.
"So we went, 'OK, what's Plan C?'" Boudreau said. "I had talked to Jason because he had played Friday-Saturday too, and it's not often any goalie goes three-in-three in any league. I've got to believe he was pretty nervous the first five minutes but he settled down pretty good and I'm glad the guys played hard in front of him."
If anything had happened to LaBarbera, Plan D was 45-year-old Ducks goaltending consultant Dwayne Roloson, who suited up as the backup and wore number 79 — coincidentally, the sum of his and Labarbera's ages.
Roloson arrived at the bench just as LaBarbera gave up a weak, short-side goal to Colorado's Dennis Everberg 2 minutes 18 seconds into the game, and it was easy to think the worst. But thanks to a coordinated effort by the Ducks, they instead got the best possible result. Roloson went back to the locker room; keeping him off the bench meant he could have warmed up if he'd been needed and the proper paperwork was filed with the NHL's Central Registry. And LaBarbera recovered quickly from that admittedly bad goal.
"I've been around enough where you just realize the circumstances and hey, this is really goofy right now but just keep playing and don't worry about it," he said. "You don't focus on the bad part. You focus on you're in a goofy spot and you go out there and try and enjoy yourself."
The other goal he gave up was a legitimately tough shot from the right circle by Nathan MacKinnon with a minute left in the first period, after Corey Perry had tied the score at 1-1 on a rebound off his own body.
"I'm sure he had no idea there was a chance he would be starting tonight and I think that speaks to him and his professionalism and being able to go at the drop of a hat," Ducks defenseman Cam Fowler said of LaBarbera.
The Ducks, who were 3-1 on this trip and killed all 15 disadvantages they faced, pulled even at 6:04 of the second period after Patrick Maroon won the puck behind the net and fed Hampus Lindholm in the slot. Fowler, given so much space and time he thought the whistle had blown, outreached goalie Semyon Varlamov to score what held up as the winner, at 7:48 of the second period.
The Ducks' defense dominated, defusing a six-on-four Colorado advantage late in the third period. "The guys were just awesome in front of me, blocking shots," LaBarbera said. "I haven't obviously been around this team — just practicing and seeing them on TV and stuff — but that was pretty impressive effort."
If this was a dream, he and the Ducks hope he doesn't wake up.
Twitter: @helenenothelen
---