Ducks' Ryan Getzlaf is happy to share (the puck) with others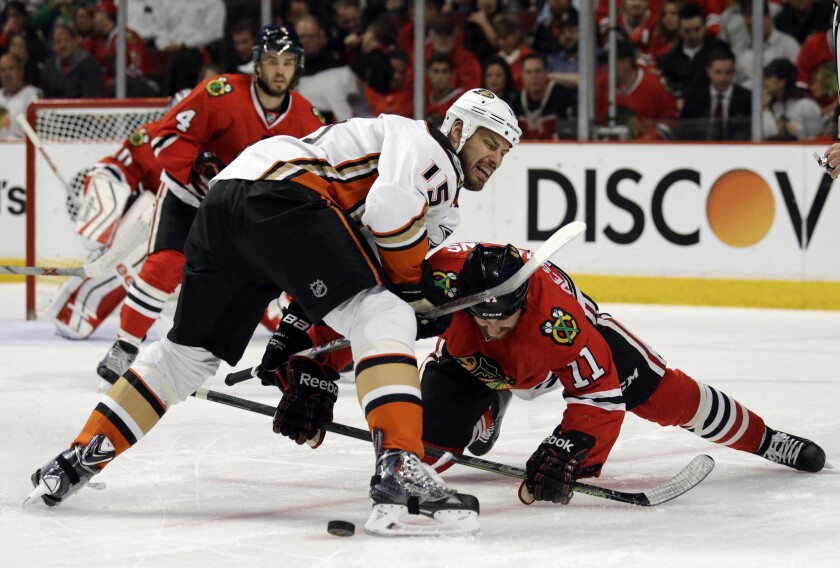 FROM CHICAGO —
Everywhere he has played and from just about every coach he has played for, Ryan Getzlaf has been told he should shoot the puck more often.
Sometimes the Ducks' captain listens and puts aside his natural inclination to pass, usually with excellent results. He averaged 25 goals over his first three full NHL seasons, dropped below that for a while and racked up a career-high 31 goals in 2013-14 before scoring 25 this season.
"He has a great shot. The hardest shot on our team," center Ryan Kesler said.
Kesler isn't alone in that conviction. "Believe me, as coaches, there's times during the course of the year we could wring his neck because he doesn't shoot it," Coach Bruce Boudreau said.
Whatever anyone else thinks, Getzlaf's playmaking mentality has worked well for him and the Ducks. He set up both goals Thursday in their 2-1 victory over the Chicago Blackhawks in the Western Conference finals, giving his team a 2-1 series edge and earning himself a piece of history.
His 14 assists in 12 games matched the franchise record for most assists in a playoff season, which he set in 13 games in 2009. He leads the NHL in playoff assists, is tied for second in scoring with 16 points and has a plus-nine defensive rating.
"He definitely could score 30 goals or more every year but he's happy where he is. He loves setting up other players for goals," said Corey Perry, Getzlaf's longtime right wing. "It definitely helps me. I'll take it."
But Perry wasn't above jabbing Getzlaf about his performance in Game 2, in which Getzlaf was credited with 14 shot attempts (seven shots on goal, two attempts blocked and five misses). One of his attempts hit the crossbar.
"It doesn't happen too often that he has more shot attempts than I do," Perry said. "It's great to see that he's shooting the puck. It's something he can utilize more because he has a heck of a shot."
No matter how many times he hears that, Getzlaf isn't likely to develop a shoot-first philosophy.
"I honestly don't think about it. I'm on the ice, I just play," he said Friday, as the Ducks prepared for Game 4 on Saturday. "There's games where I think I have opportunities to shoot and I don't, and sometimes I kick myself for it.
"Most of the time I try and go out there and execute what I feel is the best fit for that play. Game 2, I had 14 attempts at the net, which is unheard of for me. It was a little uncomfortable. Perry gave me hell after the game, but that's just the way the relationship works.
"I'm not going to shoot a whole ton but I try and take my opportunities when they're there. There's always going to be people telling me to shoot more. And I've accepted that after my first year in the league."
Even if he doesn't use that great shot all the time it still can be a weapon. As Boudreau pointed out, Getzlaf's assist on Simon Despres' game-winning goal Thursday resulted when Getzlaf pulled back as if to shoot but instead passed the puck to Despres, a move that threw off Blackhawks goaltender Corey Crawford.
"Crawford has to honor that fact that a great shot could be coming," Boudreau said. "That's what makes him a great passer. He slips it over to 'Des,' he puts it in the net. You have to honor the fact that if he does shoot, it's a great shot. He's just really good at playing off and faking it and giving it to other people."
That's simply how Getzlaf prefers to operate. His 2007 Stanley Cup championship with the Ducks, two Olympic gold medals for Canada and outstanding work in leading the Ducks within two wins of a berth in the Cup Final certainly support his choice to be a playmaker instead of primarily a goal scorer.
"I'm surrounded with players that put the puck in the net so it's kind of hard for me to argue with making passes," said Getzlaf, whose average ice time of 22 minutes 23 seconds is the most among forwards on the remaining four playoff teams.
"There are times when I overpass the puck a little bit. Those are things I address as the series goes on and games go on, but it doesn't change my mind-set on the ice at all. I just do what I feel is best at that time."
And if that means passing more often than he shoots, that might give the Ducks their best shot at another championship.
Follow Helene Elliott on Twitter @helenenothelen
---
Get the latest on L.A.'s teams in the daily Sports Report newsletter.
You may occasionally receive promotional content from the Los Angeles Times.