Ducks' 'uninspired' effort results in 5-1 loss to St. Louis Blues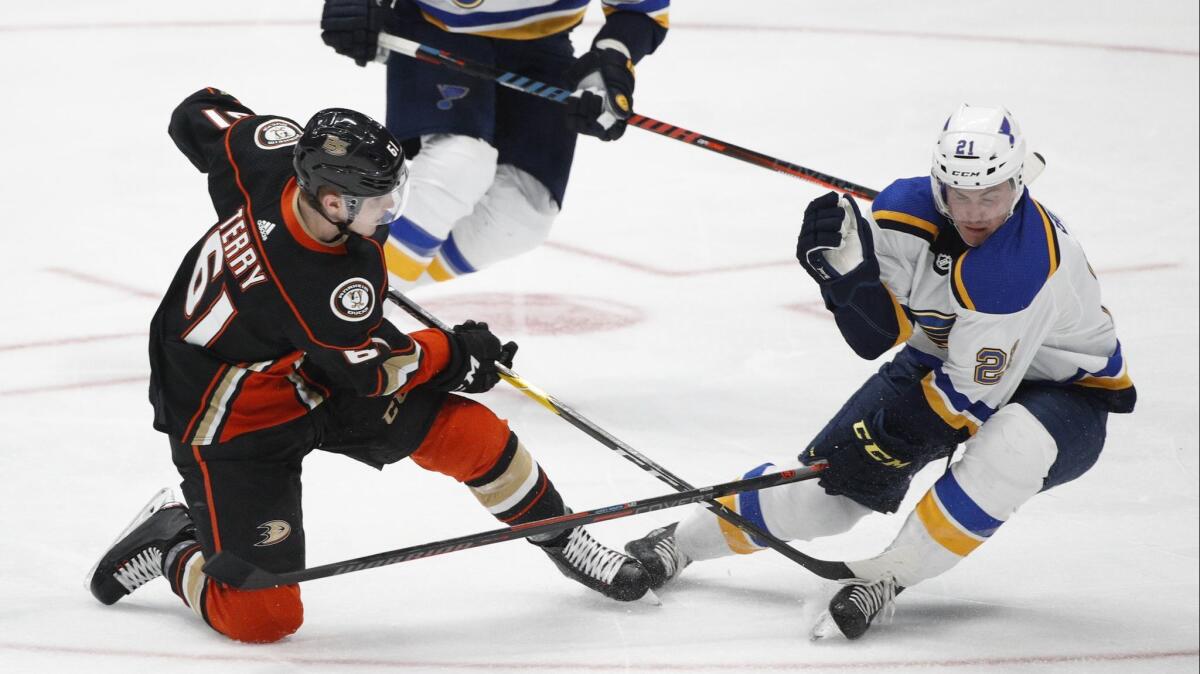 It seemed like the Ducks couldn't sink to new depths to match their recent 12-game losing streak. But they did just that Wednesday.
The Ducks' final game before the All-Star break — their last one at home for three weeks — ended with vociferous booing. The 5-1 defeat to the St. Louis Blues was perhaps their worst effort in a season full of forgettable performances. The players didn't appear to be skating hard. Even goalie John Gibson, who's been excellent all season, was yanked.
The club generated just 13 shots on goal during a lifeless performance that coach Randy Carlyle and his team will have plenty of time to ponder. Ryan Getzlaf, the team's captain, called the effort "uninspired."
"Bottom line is we had a team come in here and outwork our hockey club tonight," Carlyle said. "We're not going to accept that."
Unless something drastically changes, the Ducks are on their way to missing the postseason for the first time in seven seasons. If the playoffs started today, the Ducks would be on the outside looking in.
"It was one of the worst games I've been a part of and we'll leave it at that," defenseman Cam Fowler told reporters outside the locker room. "I think the break sometimes comes at good times for teams, sometimes not so much. But I think it's good for us. I think our guys need to get refreshed mentally and physically."
A reprieve from the sort of emotionally draining defeats the Ducks have recently endured in losing 14 of their last 16 games can't hurt. The club is hoping several key players will rejoin them on the road when they resume play in Winnipeg on the eve of Super Bowl Sunday nine days from now.
Forward Jakob Silfverberg (hamstring) could begin skating soon. Backup goaltender Ryan Miller (MCL sprain) could be cleared to return to practice after the break, as could Corey Perry, who hasn't played this season as he recovers from knee surgery. The Ducks got some bad news when it was announced that forward Ondrej Kase will have surgery Jan. 30 to repair a torn labrum and will miss the rest of the season.
Injuries have been a challenge, but that doesn't begin to explain the lethargic effort the Ducks put forth against the Blues.
"There's no reason for it; no excuse for it," Getzlaf said. "It's too hard to park things right now, we've been doing it for a month already. I'm pissed off; I'm frustrated. It's really, really frustrating to understand that our group's in a playoff race still after everything and we can't come out and compete hard around our net, around their net."
The Ducks jumped out to a quick lead on Daniel Sprong's goal, but that, coupled with the team's ability to stay completely out of the penalty box, were the only positive developments. From there on out, the Blues bullied the Ducks off the puck and out-hustled them in seemingly every puck race and every battle for position.
Vladimir Tarasenko tied the score in the first period and a two-goal second period followed. After Tyler Bozak made it 4-1 with 8:42 remaining in the third period, Gibson was pulled from the net and replaced by Chad Johnson. The backup didn't make a save, but allowed one goal.
Get the latest on L.A.'s teams in the daily Sports Report newsletter.
You may occasionally receive promotional content from the Los Angeles Times.