What we learned from the Ducks' 4-0 win over Washington
The Ducks put the rest of the NHL's playoff contenders on notice. They're playing their best hockey right now, and the 4-0 victory over the Washington Capitals on Tuesday was just the latest example. Rickard Rakell and Ryan Getzlaf continued to shine, as did John Gibson, who is making a case for the Vezina Trophy. Here's what we learned:
The Ducks' backcheck is getting stronger when it matters most. The Adam Henrique line, in particular, was feisty in the neutral zone. He and Ondrej Kase broke up a number of plays for the Capitals, and turned them into chances of their own.
"I thought we played tight, and when we gave up opportunities, Gibby was there and made big saves at key times for us," said Henrique, who scored his 20th goal of the season. "I thought we played a pretty effective simple game. We tried to keep them to the outside. They have a lot of firepower and speed through the neutral zone. It's an area we've been working on."
Rickard Rakell and Ryan Getzlaf are striking fear into opposing offenses. And it's just because they're the Ducks' two best forwards.
After injuries to both players and so many lineup changes this season, it's taken some time to build chemistry. Now, Getzlaf seems to have intuition into where Rakell will be.
They're both filling up the score sheet every night, and Tuesday was no different, as both produced two-point nights.
"Those are two players that have played together for a fair bit of time," coach Randy Carlyle said. "They're skilled players. If you give them time and space, they can find one another."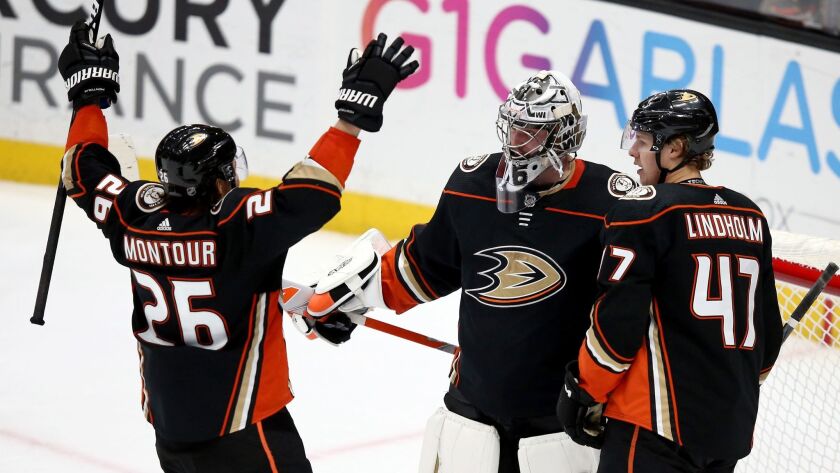 The Ducks continue to be outshot. The Capitals produced 36 shots to the Ducks' 18, and 13 of Washington's shots were high-danger chances. John Gibson denied them all, though, and on many of the other shots, the Ducks kept Alexander Ovechkin & Co. to the outside.
Gibson will have to stay healthy for the Ducks to have a chance to hoist the Cup, and at some point, the Ducks have to limit the opposition's opportunities.
"We had a decent start," Carlyle said. "It was a duplicate of the other night that we get a power play and score early in the hockey game. It seemed like we had things going our way.
"There was a little bit of a hangover from the opposition's perspective off the [Stadium Series] game. I don't think we saw the true Capitals team tonight. They're usually a lot sharper with the puck. I didn't think they had their A-game tonight. You could see the frustration in some of their players."
---
Get the latest on L.A.'s teams in the daily Sports Report newsletter.
You may occasionally receive promotional content from the Los Angeles Times.