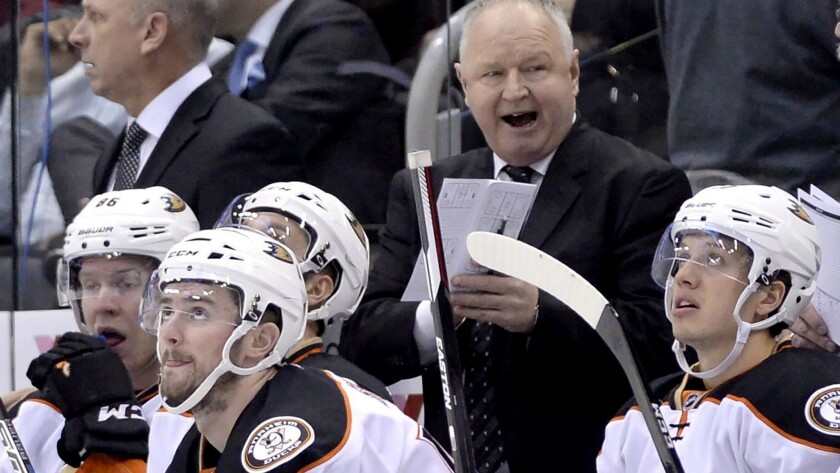 According to the calendar, the Ducks will kick off 2017 by playing host to the Philadelphia Flyers on Sunday. But from Coach Randy Carlyle's perspective, the game will be an extension of the team's December schedule because it will end a stretch of four games in six days.
"We're counting our New Year's Day game as part of December because then we have a little bit of a chance to get a couple of days' practice after that," Carlyle said by phone Saturday, a day off for most of the team.
"I look at January as it should afford us a lot more time to practice, for sure. We haven't had much practice time — I don't think there's a lot of teams in the league that have had a lot of practice time with a hectic schedule. We've got a little bit of a homestand and we've got to garner our points at home here.
"Like in tennis, it's our turn to serve."
They've been losing a lot of tiebreakers. Overtime losses to Ottawa, San Jose and Vancouver in their last four games left the Ducks with a record of 7-4-4 in December. For the season they're 0-7 in overtime and 1-1 in shootouts.
"I think the good part of it is we were able to keep our head above water from a standpoint of possible points available. We earned 18 points for the month," Carlyle said of the team's December performance. "There were more points available and that would be the downer, because of our overtime record.
"We're kind of lost for explaining that because we've used different personnel and we've had our chances, I think. In overtime it seems if you get a chance, you give one up. We had two glorious opportunities [Friday in Vancouver] where we were in on two-on-ones and we couldn't deliver and they get one two-on-one and it's in our net."
Right wing Corey Perry's struggles continue, and he has gone eight games without a goal. He scored one of his seven goals this season in a 3-2 victory over the Flyers at Philadelphia on Oct. 20. "If he continues to get his nose dirty around the net like he has the last couple games and continues to get those 'Grade A' chances from that area I have all the confidence in the world that he will start to score," Carlyle said.
Carlyle also said defenseman Sami Vatanen, who missed the previous three games because of illness, skated Saturday and will be available Sunday.
UP NEXT
DUCKS VS. FLYERS
Where: Honda Center.
When: 5 p.m., Sunday
On the air: TV: Prime Ticket; Radio: 830.
Update: The Flyers won 10 straight games from Nov. 27 through Dec. 14 but are 1-4-1 since then, including losses in the first three games of this four-game trip. Goalie Steve Mason, who injured his hand Friday at San Jose, is possible for Sunday. Through Friday's games the Flyers had the most power-play time in the NHL, 222 minutes 53 seconds. The Ducks had the second-most penalty killing time, 237:41. The Ducks also had the biggest differential between power-play time and penalty-killing time in the NHL, having been short-handed 38:03 more than they had an advantage.
Follow Helene Elliott on Twitter @helenenothelen
---