Ducks veterans shoulder blame for disappointing season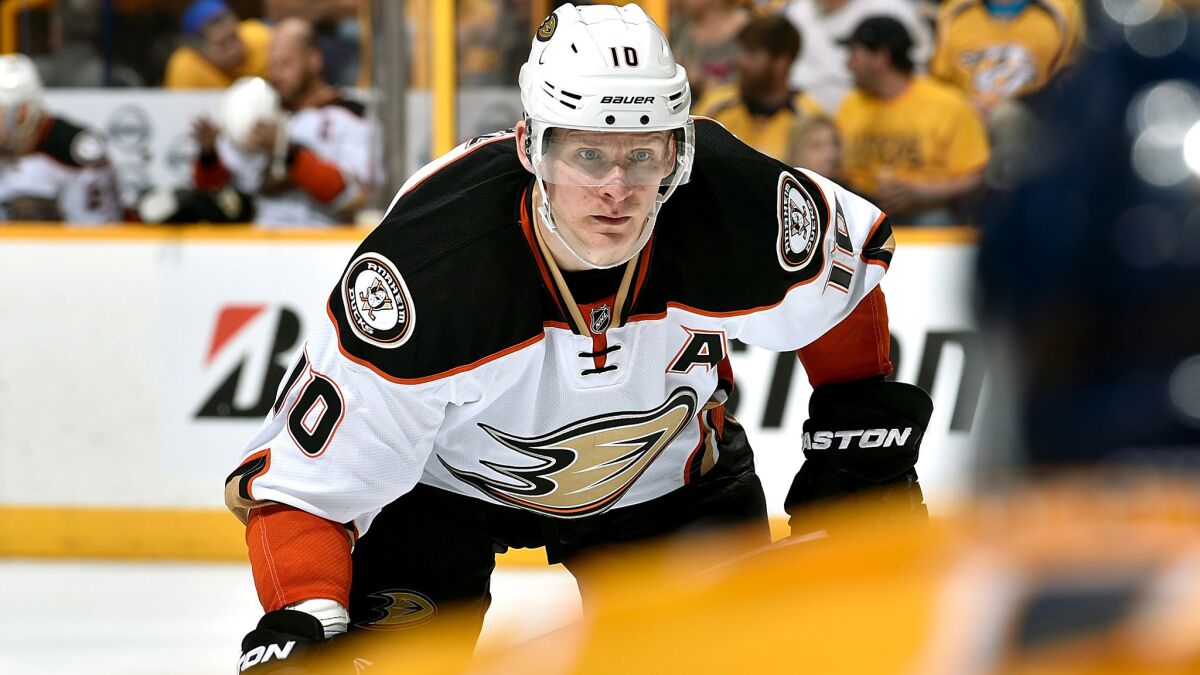 The fallout hit Andrew Cogliano when he reported to Honda Center.
In previous years, the Ducks could find some optimism as they got closer to their goal. But a fourth straight Game 7 loss at home facilitated the firing of Coach Bruce Boudreau as a long summer of change and introspection began Saturday.
"This isn't on Bruce," Cogliano said. "I think a lot of guys need to know where they're at and figure out where we went wrong. A lot of them have been here for a while. I'm not just talking the captains.
"We don't have a lot of young guys in the lineup. … Today's a much different feeling leaving the rink. In those [previous] years there's been a sense of hope. Today, there's zero feeling like that."
Cogliano and other veterans took ownership of their underachievement and Ducks General Manager Bob Murray's critical assessment of the core group. Captain Ryan Getzlaf said that group takes "a lot of that brunt on ourselves." He will meet with Murray for some blunt brainstorming sessions.
"They don't beat around the bush too often up there," Getzlaf said of the front office. "The conversations with [Murray] this summer are going to be different than the past. … We're not going to go up there and share laughs in the next couple of weeks."
Corey Perry took responsibility for his scoreless first-round series loss to Nashville after he led the Ducks with 34 goals in the regular season. He called Boudreau a friend whose door was always open.
"It's tough when you know that the reason somebody got fired is because we, as a team, as individuals, didn't perform to where we needed to perform," Perry said. "That's the hardest thing."
Perry and others said that falling into a 0-2 series deficit was a major reason for their elimination.
"We've learned the hard way, but it's not acceptable, simple as that, and we let a real good opportunity get away from us," Cogliano said. "I don't know why. Maybe we came into the playoffs thinking we were better than we thought. That wasn't the case."
As is typical on exit day, injuries were revealed.
Goalie Frederik Andersen said he took a puck to the jaw in practice March 28 "and it kind of locked up on me" and made him dizzy with issues tracking the puck. It was announced as a concussion but Andersen didn't think so.
Defenseman Josh Manson said he separated his shoulder in Game 1 but probably won't need surgery. Center Rickard Rakell said he wasn't the same after an appendectomy in late March affected his conditioning and strength.
Left wing David Perron said he returned too soon from a separated shoulder and took injections to play through pain.
"The whole playoff I was trying to protect my shoulder and didn't really hit anyone until the last game," Perron said.
Defenseman Simon Despres, whom Murray said might have a lingering head injury, wasn't available.
Andersen is among several restricted free agents and he didn't know how his future will play out with goalie John Gibson also in the fold. Andersen expressed a desire to stay in Anaheim and said he's made a case for the job.
"It's their decision to make, but I think I definitely proved that I can be a No.1 goalie, especially in the playoffs," Andersen said. "Last year, I took the team deep. It didn't pan out this year, but I feel like I personally did my part in trying."
Other restricted free agents — Rakell, defensemen Hampus Lindholm and Sami Vatanen — and unrestricted free agent Perron also have interest in staying.
But Murray said this won't be the same team because of financial considerations. The returning players still feel they can win now.
"I'm not into rebuilds," Ryan Kesler said.
Kesler said he will use the extra time to get ready for next season. Murray had chided his players for lack of preparation this past season.
"Don't worry about that," Murray said. "I've already met with my strength and conditioning guy."
---
Get the latest on L.A.'s teams in the daily Sports Report newsletter.
You may occasionally receive promotional content from the Los Angeles Times.