The Ducks set an NHL mark, at Flames' expense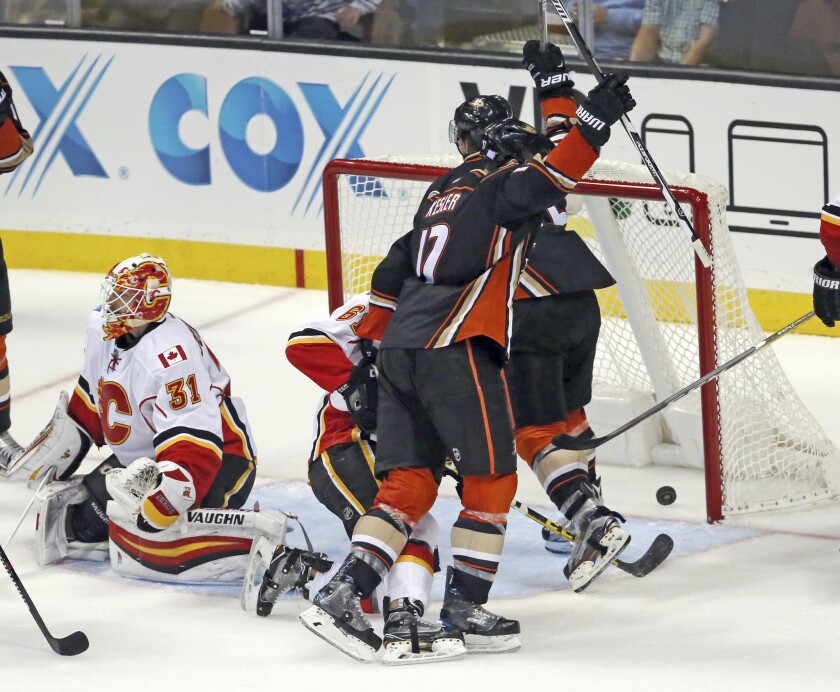 Reporting from ANAHEIM —
Let the records show that it began with Ryan Getzlaf gently patting a military police dog on the head at mid-ice.
It was part of a ceremonial puck drop on military appreciation night, and it ended with Getzlaf and the Ducks in the record books after they toyed with the Calgary Flames as though they were man's best friend.
Getzlaf's three assists in a 4-1 win Sunday helped make history in two ways: The Ducks' 24th straight regular-season home win over Calgary broke the NHL record for consecutive victories over a single opponent that previously was held by the Philadelphia Flyers. And Getzlaf tied Teemu Selanne for the franchise lead in assists with 531 in his return from injury. He said he doesn't have golf-course bragging rights until he passes Selanne.
"Hopefully, I don't get iced the rest of the year," Getzlaf said. "Teemu texted me last week and notified me it was coming. He's well aware."
Getzlaf didn't appear to be aware of Honda Center cheers when he was shown on the video board, but he acknowledged the mark afterward.
"Obviously, I want to be where I am," he said. "That's a big honor for me, to spend as much of my career as I have here. Those things are a natural progression. Hopefully, they continue. "
Both teams are weary of talking about the streak but had to when the record came down. The Flyers achieved it from 1980 to 1987 against Pittsburgh Penguins teams that had a defenseman named Randy Carlyle, now the Ducks' coach, who before the game noted "funny quirks" and a lot of games that should have gone Calgary's way. Twelve of Anaheim's wins in the span are one-goal games.
But this wasn't close. Ryan Kesler scored twice and Andrew Cogliano and Clayton Stoner each had a goal. Corey Perry had two assists and goalie Jonathan Bernier got his first victory with Anaheim, which strung two wins together before a road trip.
Calgary's last regular-season win in Anaheim was in 2004.
"For us, we want to ride the wave," Carlyle said. "For them, they'd like it to crash."
Calgary crashed in the second period. Kesler snapped in Perry's cross-crease pass on the power play for a 2-1 lead. Getzlaf pivoted and made a quick-strike pass to Perry to start the sequence.
Cogliano scored on an impressive second effort to finish a two-on-one with Jakob Silfverberg.
The return of Getzlaf and Nick Ritchie energized the Ducks at the start, and pressure by the line translated to defenseman Stoner's first goal. Stoner easily scored from the left side on a puck that bounced off the stick of Calgary's Sam Bennett.
It was his first goal in a year to the day. Stoner's status during that span has been dotted with injures and healthy scratches, and he was placed on waivers Oct. 6.
"It always nice, I'm not going to lie," Stoner said. "It feels good but … it's not exactly my M.O. on the ice. It's more a defensive style. I don't think I'll turn into a goal scorer overnight."
Forwards Michael Sgarbossa and Ondrej Kase were re-assigned to San Diego.
---
Get the latest on L.A.'s teams in the daily Sports Report newsletter.
You may occasionally receive promotional content from the Los Angeles Times.