Ducks' Ryan Getzlaf and Ryan Kesler show leadership qualities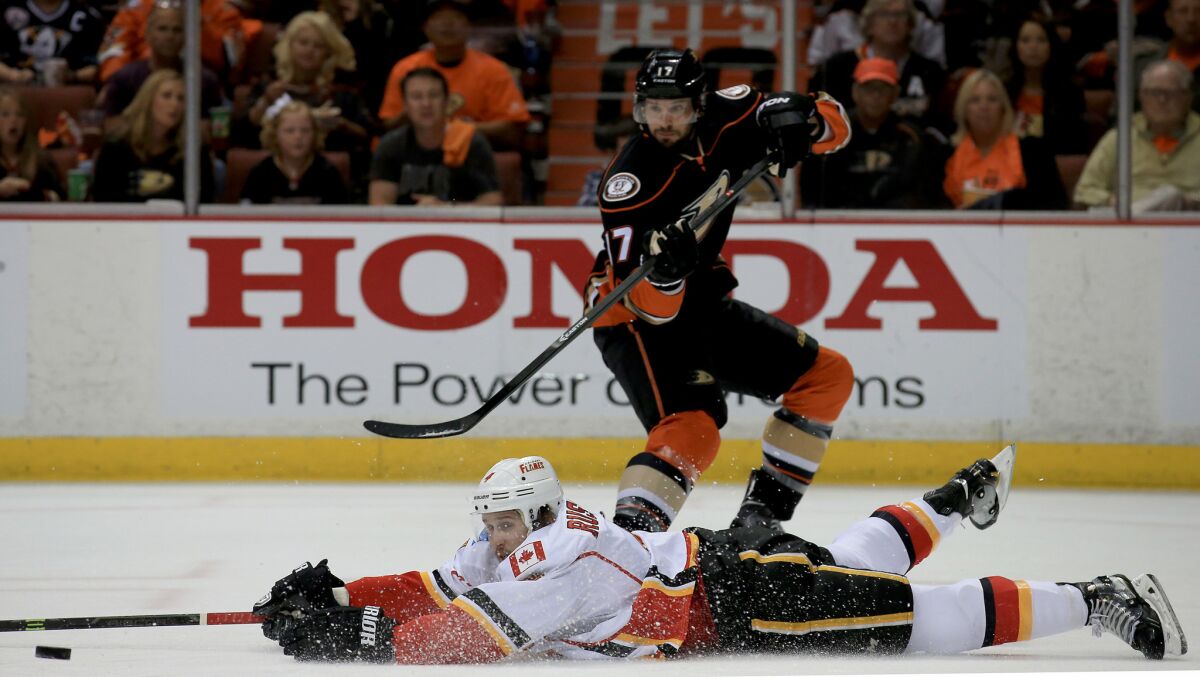 A hockey season can turn on a word here, a play there … a moment seized by a player whose credibility guarantees that not only will teammates listen to him, but they'll take his words to heart.
One of those potentially pivotal moments occurred in Game 1 of the Ducks' Western Conference semifinal series with the Calgary Flames. Two periods into what would become a rout, center Ryan Kesler cautioned teammates against being too loose and losing sight of their greater goal, words that brought calm and focus to a group that hasn't always maintained its discipline on the ice.
Coach Bruce Boudreau said that center Ryan Getzlaf did the same thing, telling players to remain aware of which lines or defense pairs were up next and that there was no need to scream or stray from their purposeful path. That, too, was significant, another example of how Kesler's work ethic and Getzlaf's leadership have steered the Ducks on a steady course through their first-round sweep of the Winnipeg Jets and to a 2-0 series lead over the Flames.
The Ducks aren't taking retaliatory penalties. They're not panicking. It's a noticeable difference from last season, when they struggled through a ragged first-round victory over Dallas and then lost to the eventual Stanley Cup champion Kings in seven games.
"It's business. It's a business attitude," right wing Corey Perry said Monday before the Ducks left for Calgary, site of Game 3 on Tuesday.
"We're playing each and every game like it's Game 7. That's the way we have to play. We don't want to lose track of where we are but we want to keep pushing forward, stay on that right track."
Kesler, in his first season with the Ducks, has increased their confidence and concentration as much as their depth. Telling teammates to remain focused during a laugher — when they might be excused for relaxing — speaks of an intensity he has imparted to teammates.
"Compared to last year, I think we have a little more of that winning ability as a good team should have. Even if we're up by two or down by two we just keep pushing," dynamic defenseman Hampus Lindholm said.
"You always have to go for that next one. You can't sit back or quit playing. You have to keep going and I think that's something you can feel in this group this year. "
Getzlaf — a finalist along with Andrew Ladd of Winnipeg and Jonathan Toews of Chicago for the Mark Messier Leadership Award, given "to the player who exemplifies great leadership qualities to his team on and off the ice, during the regular season" — has been the Ducks' captain since 2010-11 but this wasn't completely his team until this season, after the retirements of Saku Koivu and Teemu Selanne. It was easy for players to defer to Koivu and Selanne but now Getzlaf and Kesler set the tone and temperament. Their team is comfortable in any situation, whether the 6-1 romp the Ducks enjoyed in the first game against Calgary or their 3-0 victory Sunday, which essentially was a 1-0 game until past the midway point of the third period.
"Between the two of them, they've sort of taken over trying to let everybody else know not to get overly excited or overly down or overly up in any situation," Boudreau said.
It's like having extra coaches on the ice and in the locker room.
"And believe me I can use it," Boudreau said.
What the Ducks can use now is more of the patience they displayed Sunday. They could have been frustrated after they pelted Calgary goaltender Karri Ramo with 20 shots in the first period but scored only once; they let up in the second period but regained control in the third on Lindholm's brilliant goal at 11 minutes 15 seconds and an empty-net goal by Nate Thompson.
They're comfortable in any environment, which should help them when they confront Calgary's "C of Red" at the Scotiabank Saddledome.
"It's going to be a hostile environment. It's going to be loud. It's going to be crazy. The fans are going to be nuts," Perry said. "We know what we have to do — we have to play a boring road game and try and get ready."
Boudreau liked hearing that.
"As long as they're not just talking," he said. "We can't play the boring road game to the extent that we don't try to score as well. I think you can be a good offensive team and a good defensive team all at the same time."
The Ducks needed time to accept that concept but seem to coolly embrace it now. Getzlaf deflected credit for his role in making that happen.
"I think our group does a pretty good job of calming themselves," he said. "I think there's always going to be times, and there were in the past, where I've had to say things and get things calmed down a little bit, but for the most part our group has been doing the things they need to do and managing our game plan throughout the whole 60 minutes."
Sometimes a word or two can go a long way — and might take the Ducks a long way this spring.
Get the latest on L.A.'s teams in the daily Sports Report newsletter.
You may occasionally receive promotional content from the Los Angeles Times.