Ducks size up faults in loss to Calgary, vow to use their brawn better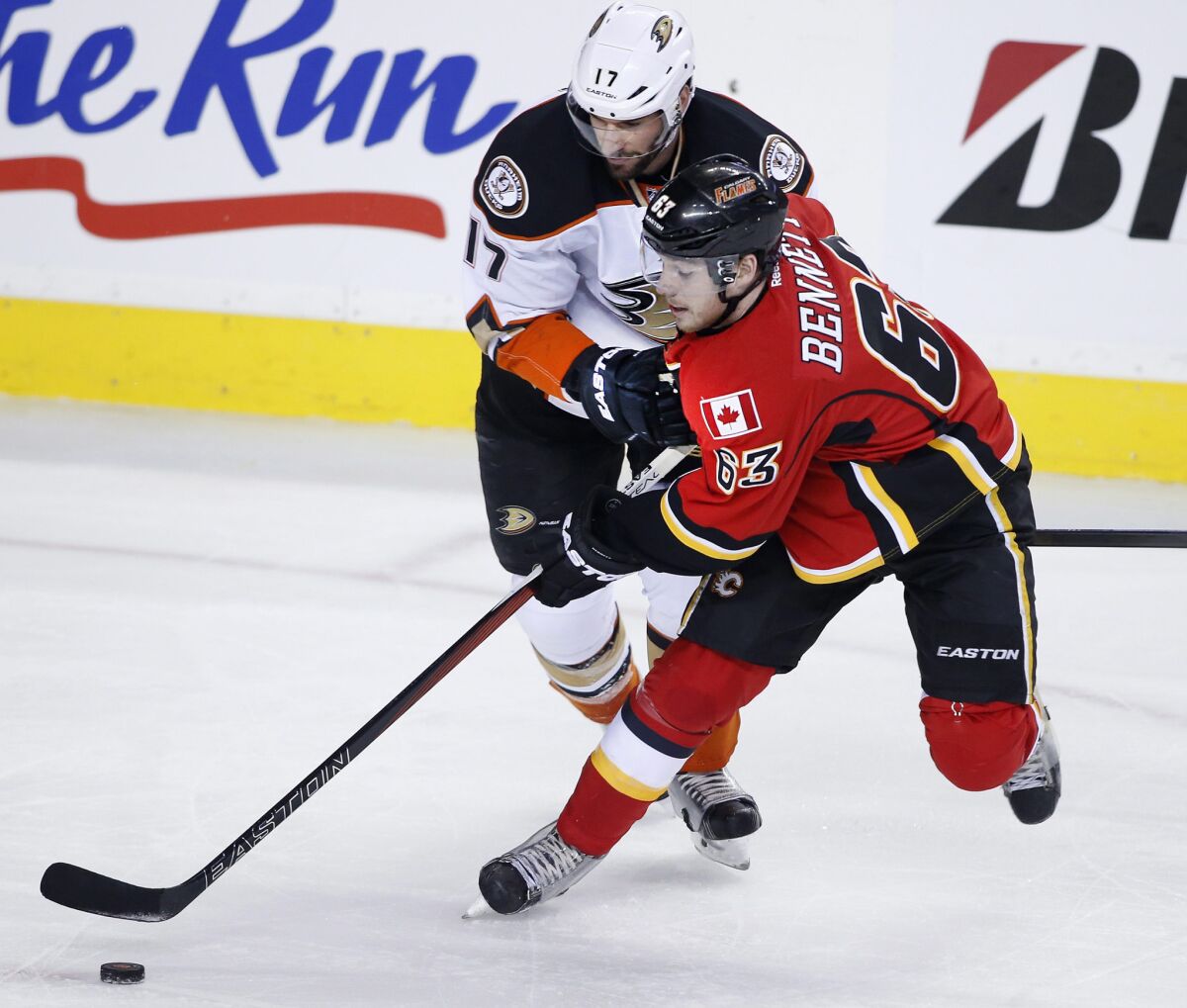 from BANFF, Canada —
Maybe the Ducks needed this, needed to pay the price for letting their game fray around the edges, needed to remember the sting of skating off the ice in defeat after victory had been so tantalizingly close.
They brooded for a while after their 4-3 overtime loss to the Calgary Flames on Tuesday sliced their series lead to two games to one, fretting for the two hours or so it took their bus to transport them to the resort city of Banff for a few days.
By Wednesday morning they were smiling, laughing and playing soccer beneath the looming shadows of the Canadian Rockies, at least until clouds began spitting snow showers and drove them inside the gleaming Ferlands Banff Recreation Center.
It would be melodramatic to call their loss a wake-up call, because that would mean the Ducks hadn't realized they'd been slipping in key areas. They knew it in Game 2, when they gave up too many scoring chances but were rescued by the acrobatics of goaltender Frederik Andersen.
Now they know they can't get past the Flames with anything less than a complete effort every minute of Game 4 Friday at the Scotiabank Saddledome … and for the remainder of this Western Conference semifinal series.
"I think it's a reminder," center Ryan Kesler said Wednesday. "We've got to stick to our game plan. We've got to hit. We've got to grind it out. We've got to make it a boring game that's along the boards, and use our size to our advantage."
That last point is significant for several reasons. The first is that the 21 hits credited to the Ducks on Tuesday represented their lowest total in seven playoff games this spring.
"Not enough for us," Coach Bruce Boudreau said. "We're a physical team. We've got to bang bodies."
The second reason Kesler's point hits home is that while some things might change in Game 4, notably the Flames gaining hope as they try to launch their biggest comeback in a season full of improbable rallies, one thing won't — the Ducks are bigger and must capitalize on that.
Think back to 6-foot-4, 218-pound Ryan Getzlaf shoving the smaller T.J. Brodie and separating the Flames defenseman from the puck to set up Corey Perry's redirection goal at 14:10 of the second period. That didn't happen often enough.
"We've got to use it," Kesler said of the Ducks' edge in size and brawn. "We know what made us successful this year. It's playing that down-below-the-circle hockey, and cycling the puck and wearing them down, and if we do that we'll be fine."
Getzlaf said he's not worried about the Flames' possible revival and is more focused on his team, a philosophy the Ducks have lived by during the playoffs.
"We're trying to maintain and we want to execute our game plan whether we won, lost or whatever happened. We're just preparing for Game 4 now," he said. "We approach the playoffs that way and that's what we plan to do throughout the whole thing. We know we're in a series. We never thought, coming into anything, that we were going to sweep the table. So we're just maintaining what we're doing and getting prepared for Game 4."
That preparation should include remembering the deflation of defeat in a game they were less than 20 seconds from winning.
"It was a game we let get away," Boudreau said. "They had six shots on goal at the eight-minute mark of the second period but we get away from what we're supposed to be doing and not being focused and then you start taking penalties. We just didn't do a lot of good things."
What they need to do better is clear.
"We've shown that when we play our game and when we're aggressive and play hard in the offensive zone and we're physical, that we can do some damage to other teams," defenseman Francois Beauchemin said.
"With the type of team that we are, we can't defend like we did the last half of Game 2 and the whole game [Tuesday] night. We did OK in the first, and in the second and third we just sat back. That's not what we want to do to win. We've got to use our strength, and our strength is getting in on the forecheck and being physical."
This loss was just a reminder. Another loss truly would be a wake-up call.
Twitter: @helenenothelen
---
Get the latest on L.A.'s teams in the daily Sports Report newsletter.
You may occasionally receive promotional content from the Los Angeles Times.