Column: Depth, 'lucky bounces' help Ducks take 2-0 series lead
Good teams don't always play good games from start to finish. A lull here or a lapse there, and a game easily can be lost.
The Ducks' midgame sag against Calgary on Saturday had lapses and lulls galore. "I think in the second period we gave up as many chances as we'd given up in the previous game," coach Randy Carlyle said.
Ryan Getzlaf found one good thing about it. "The second period ended. That helped," he said.
For the Ducks to survive that period and defeat Calgary, 3-2, to take a 2-0 lead in their first-round playoff series took a blend of resilience, depth, and good fortune.
Resilience, because they recovered and extended their home winning streak against the Flames to 29, including seven playoff games.
Depth, because defenseman Korbinian Holzer made his NHL playoff debut and capably replaced an injured Sami Vatanen.
And luck because Getzlaf was credited with the power-play winner at 15:14 of the third period when his intended pass to Patrick Eaves struck the foot of Calgary forward Lance Bouma and caromed crazily past Flames goaltender Brian Elliott.
"That's playoff hockey for you," right wing Jakob Silfverberg said Sunday before the Ducks traveled to Calgary for Games 3 and 4 on Monday and Wednesday.
"That's usually what it comes down to. You can have lucky bounces but you've got to make sure you're on the right side of those lucky bounces, and so far we've been on the right side on it."
The Ducks built an early 2-0 lead on a short-side snipe by Silfverberg and a wraparound by Rickard Rakell, but Calgary trimmed that to 2-1 late in the first period on a short-handed breakaway by Mikael Backlund.
Then came the muddled, miserable middle period.
"They came out in the second period with the attitude that they were going to push us and play. They did a great job," Getzlaf said.
Sean Monahan brought Calgary even at 7:01 on a shot between the circles during a power play, and the Flames appeared to go ahead at 9:47 when the puck crossed the line behind Ducks goaltender John Gibson during a scramble.
However, officials in the NHL's situation room reviewed it and ruled Calgary forward Sam Bennett had interfered with Gibson before the puck crossed the goal line, meaning that the referee's no-goal call would stand.
Grateful to escape without further damage, the Ducks vowed to get back to their game in the third period.
"The great sign for us is we were able to regroup, reset, got through the period and found a way and got our skating game going again in the third period and started playing more of a grind game," Carlyle said.
Their depth, tested when Cam Fowler suffered a right knee injury on April 4, served them well again on Saturday when Vatanen (upper-body injury) decided he was a no-go after the warmups. The Ducks increased their depth up front Sunday by recalling winger Ondrej Kase from San Diego.
The Vatanen injury thrust Holzer into his first postseason start as he joined playoff newbies Brandon Mountour (postseason game No. 2), Josh Manson (three) and Shea Theodore (eight). All acquitted themselves well, and Theodore and Montour each contributed an assist.
Ducks left wing Jakob Silfverberg scores the first goal of the game against Flames goalie Brian Elliott during the first period.
(Gina Ferazzi / Los Angeles Times)
Teammates swarm Anaheim Ducks center Ryan Getzlaf, left, after he scored the winning goal in the final minutes.
(Gina Ferazzi / Los Angeles Times)
Ducks goalie John Gibson makes a save against the Calgary Flames in the second period.
(Gina Ferazzi / Los Angeles Times)
Flames left wing Micheal Ferland and Ducks defenseman Kevin Bieksa fight it out in the second period.
(Gina Ferazzi / Los Angeles Times)
Teammates surround Flames center Sean Monahan after he scored the tying goal against the Ducks in the second period.
(Gina Ferazzi / Los Angeles Times)
Ducks center Ryan Getzlaf congratulates teammate Rickard Rakell after he scored the Ducks' second goal of the game against Calgary during the first period.
(Gina Ferazzi / Los Angeles Times)
Ducks center Nate Thompson cuts back across the ice into Flames center Matt Stajan during the first period.
(Gina Ferazzi / Los Angeles Times)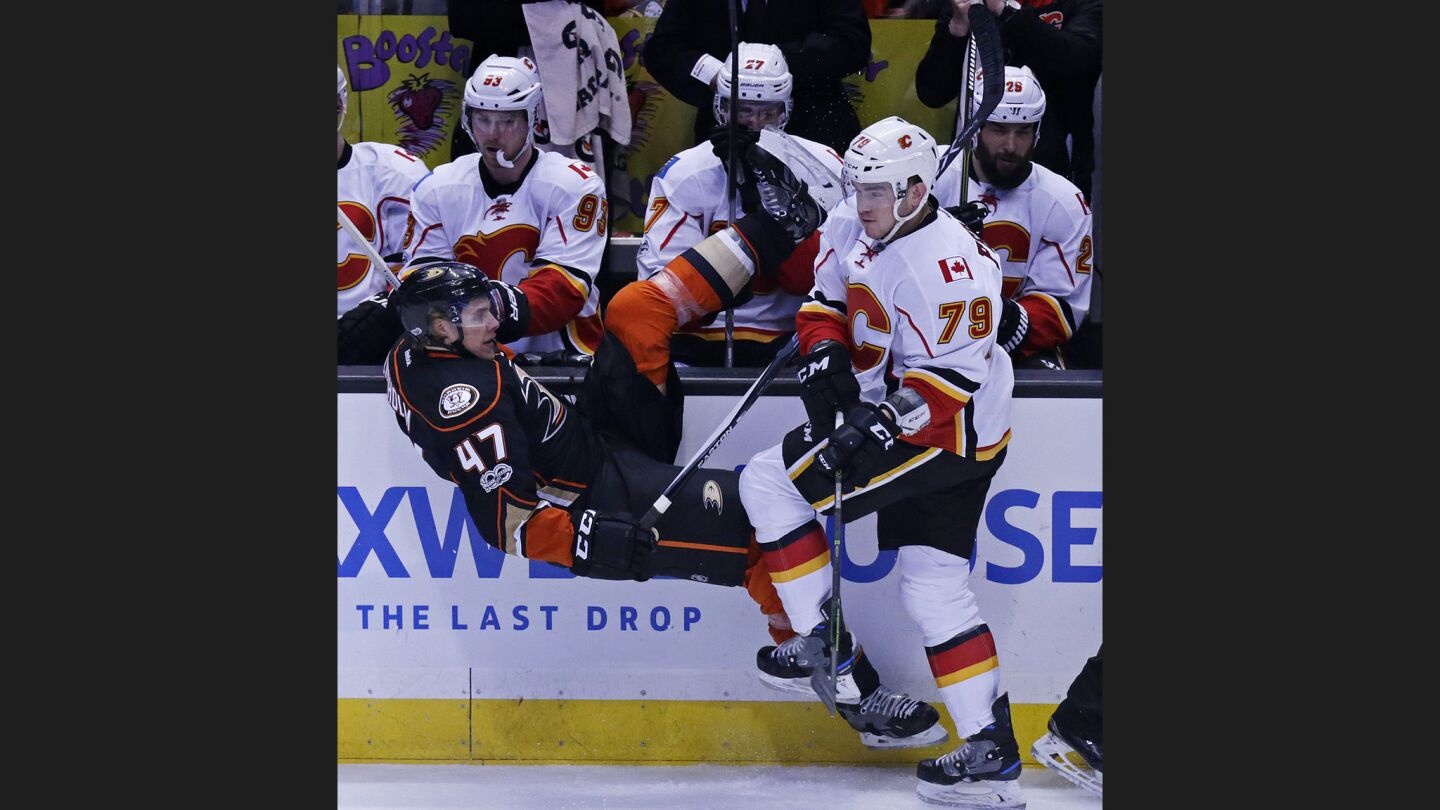 Ducks defenseman Hampus Lindholm gets upended by Flames left wing Micheal Ferland during the first period.
(Gina Ferazzi / Los Angeles Times)
Holzer had the extra challenge of having traveled home to Germany late in the regular season because of a family matter. He was told Saturday morning that he might play and enjoyed the opportunity.
"There's a little more intensity because there's a lot more at stake. There's definitely a difference to the game compared to regular-season games," he said. "More physical, a little less time and space, and every play you make out there is important."
That will be the case again on Monday before the red-clad fans at the Scotiabank Saddledome.
"It's a wild barn," Silfverberg said, using one of hockey's most endearing terms.
It surely will test the Ducks' ability, skill and depth again. Carlyle said Vatanen will be reassessed after Monday's skate and warmups, and if he can't go, the less-experienced defensemen will have to step up again. Carlyle said he didn't sense they were intimidated in the first two games.
"Now it's going to be a different animal when we go to Calgary. We know that," Carlyle said. "The intensity and their fan base, and I'm sure they're going to be much more aggressive in the way that they play and the approach that they're going to take."
Montour said he's ready. "We've just got to keep an even keel and play our game and we should be fine," he said.
Holzer is looking forward to it, too. "It's going to be crazy. It's going to be loud. It's going to be a lot of emotions involved," he said. "We know they're going to come hard, and for us it's going to be important to meet their push and try not to be intimidated by the crowd or anything else.
"It's going to be a fun atmosphere to play in. I think those games in Canada, especially playoff games, are a lot, lot of fun. So I think we should just go out there and enjoy the moment and play our game."
And hope their ability and depth will bring them more luck.
Follow Helene Elliott on Twitter @helenenothelen
---
Get the latest on L.A.'s teams in the daily Sports Report newsletter.
You may occasionally receive promotional content from the Los Angeles Times.