Corey Perry, Ryan Getzlaf embrace Ducks coach's message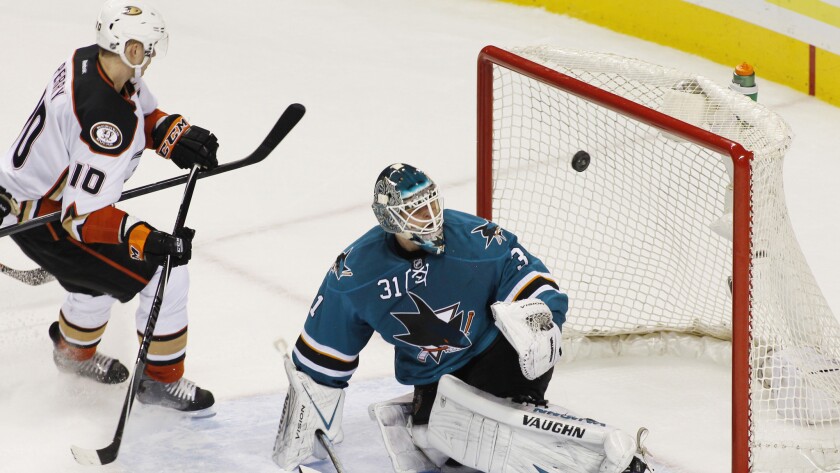 He's had to yield to the expertise of those who've devoted their lives to medicine during the last rocky month.
But the benefits of being a hockey lifer count for something too, so Ducks Coach Bruce Boudreau applied his own knowledge to his team's most recent game.
In what might be a one-step-back, two-steps-forward decision, the coach separated first-line members Corey Perry and Ryan Getzlaf to start Saturday's 6-4 loss in San Jose.
The split didn't go well, as Anaheim trailed 5-1 less than seven minutes into the second period. But it stoked something within the Ducks' two best players — call it anger, pride or determination — that could carry the team onward.
Perry and Getzlaf, in their reunion for the game's remainder, combined on three goals in a span of 5 minutes 28 seconds, scaring the Sharks and, more important, embracing Boudreau's kick-in-the-rear message.
"The only positive we can take is that we kept playing, kept doing things, taking pucks to the net, and hopefully me and [Perry] can continue on from here," Getzlaf said.
"We're competitive. We want to be the elite guys. We want to be looked at to change hockey games. In the last little bit here, we haven't been doing that. [We] take that on our shoulders, wanted to show the group."
Amid a mumps outbreak that struck three Ducks, including Perry, and injuries that have left Anaheim without three key defensemen, Getzlaf and Perry were cold before Saturday.
Getzlaf's plus/minus was minus-five in six previous games, and he hadn't had a point in five of six.
Perry, the team's goals leader, had one goal to show since Nov. 2 after missing five games with the mumps.
Boudreau, who frequently communicates plans to his leaders, never gave them a heads-up about the split, putting forwards Patrick Maroon and Kyle Palmieri on Getzlaf's sides, and moving Perry next to second-line center Ryan Kesler.
"I wanted to send a message, 'Guys, we need you to be our best players,'" Boudreau said. "They got mad and showed the passion they play with when they're good players.
"I don't [care] if they're mad at me. They showed they can be the dominant players they are. … There's good teaching tools in there."
Getzlaf passed to Perry on his 13th and 14th goals of the season, late in the second period and early in the third, and Perry assisted on Getzlaf's backhanded roof shot.
Boudreau "had to get a spark somehow," Perry said. "Our job for this hockey club is to go out and be leaders. We hadn't done that [until] we really took over the hockey game and played the way we wanted to from the start."
Health update
Defenseman Clayton Stoner (mumps) returned to practice Sunday after missing four games.
Backup goalie Jason LaBarbera, who saved all 15 shots he faced in relief Saturday, is day to day with an upper-body injury.
New guy
In his Ducks debut, following a cross-country flight after his Friday trade from Tampa Bay, veteran defenseman Eric Brewer played 15 minutes 7 seconds, contributing two hits and two shots.
"There were a couple instances you could tell he played in a different system than what we play," Boudreau said. "That'll have to get rectified. He made the right decisions with the puck most of the time."
TONIGHT
VS. BOSTON BRUINS
When: 7 p.m.
On the air: TV: Fox Sports West. Radio: 830 AM.
Etc.: The Bruins are fourth in the Atlantic Division because they've given up nearly as many goals (58) as they've scored (61). Centers Carl Soderberg and Patrice Bergeron have combined for 23 assists as Boston starts a four-game road trip.
---
Get the latest on L.A.'s teams in the daily Sports Report newsletter.
You may occasionally receive promotional content from the Los Angeles Times.