Chicago Blackhawks defensemen are up to the minutes against Ducks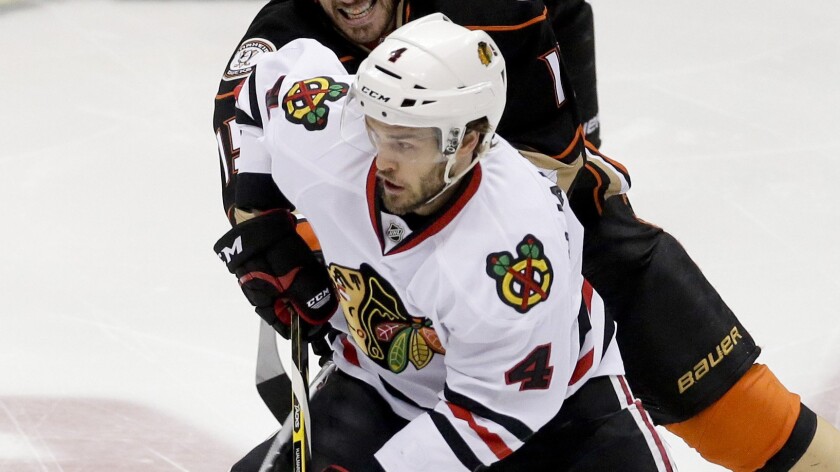 You could almost say it was fascinating in a curious way. The numbers kept on clicking over faster and faster, like an errant odometer.
How many minutes would the overworked Chicago Blackhawks defense need to play in Game 2 against the Ducks in the Western Conference finals?
More, more, more.
You could count sheep or count the minutes these guys were forced to play Tuesday night at Honda Center, where the Blackhawks defeated the Ducks, 3-2, on Marcus Kruger's goal at 16 minutes 12 seconds of the third overtime to tie the series at 1-1.
Through the first overtime, four Blackhawks defensemen had logged 32-plus minutes of ice time. The leader was Niklas Hjalmarsson at 34 minutes 28 seconds. Following him were Duncan Keith (33:52), Brent Seabrook (33:24) and Johnny Oduya (32:38).
After two overtimes, Keith's ice time had soared to 43:41, Hjalmarsson's to 42:27, Seabrook's to 40:29 and Oduya's to 39:16.
And by game's end, Keith had logged 49:51, leading all players in the game.
Ducks forward Andrew Cogliano said the team was trying hard to knock the Blackhawks' defense out of it's comfort zone.
"We're in the battle here," Cogliano said. "We're in the fight. They're a great team. It's obvious they're a championship team. I think we're competing with them as good as you possibly can.
"I think we're making it hard on them," he continued. "They have four D that play a lot of minutes and I think we're making the game tough on them. They find ways to win. You could see that tonight."
Everyone expected the foursome to receive a massive amount of ice time, and that Blackhawks Coach Joel Quenneville would only parcel out moderate minutes in Game 2 to the likes of Kimmo Timonen and Kyle Cumiskey, who was making his playoff debut with the Blackhawks this spring.
In the third period, Cumiskey was limited to two shifts. Timonen had four.
Plus, the Ducks are known for their ability to push and test undermanned defenses.
"Well, I think that's the style they play," Oduya said in a media session before Game 2. "A lot of teams try to put pressure on defensemen. I don't expect any different if we would have eight defensemen or two.
"They're a good team. I think they play kind of the same way. I don't think they're going to change their game plan too much."
Said Chicago forward Bryan Bickell, of the overall game plan: "I think we need to get that net presence to get those second and third opportunities."
The multiple-overtime game extended the Ducks defense corps as well. Veteran Francois Beauchemin had logged 32:57 through the first overtime and youngster Hampus Lindholm had played 31:07.
Through two overtimes, Beauchemin led the Ducks in ice time, playing 40:35.
Oduya praised the Ducks' effort, but was relieved to see the game ended in the Blackhawks' favor.
"You just try to simplify things as much as possible. I think that goes for them, too. I think they had maybe a little bit more sustained pressure than we did, but at that point, you're just looking for that bounce. It could have gone either way. They played a really good game. They had a couple of chances that went off the post and the crossbar.
"It was a relief," said Oduya about the winning goal. "I mean, you played so many periods. Usually, it's a lucky bounce that decides it. Krugs was in a good spot and we got lucky."
Stat check 1
You've got to love that diligent crew at the Elias Sports Bureau, unearthing all sorts of fascinating stats and information.
Do they ever sleep?
Anyhow, there was this nugget from the first period when the Blackhawks scored two power-play goals in the opening 6:19. It was the first time Chicago had scored twice on the power play in the first seven minutes of a playoff game since April 20, 1992, against the St. Louis Blues.
The Blackhawks would go on to lose that one but went on to win the series in six games.
Stat check 2
This was the first multiple-overtime game for the Ducks in more than six years.
The last one was on May 3, 2009, a triple-overtime Game 2 against Detroit. The Ducks won it, 4-3, on Todd Marchant's goal at 1:15 of the third overtime.
twitter: @reallisa
---
Get the latest on L.A.'s teams in the daily Sports Report newsletter.
You may occasionally receive promotional content from the Los Angeles Times.