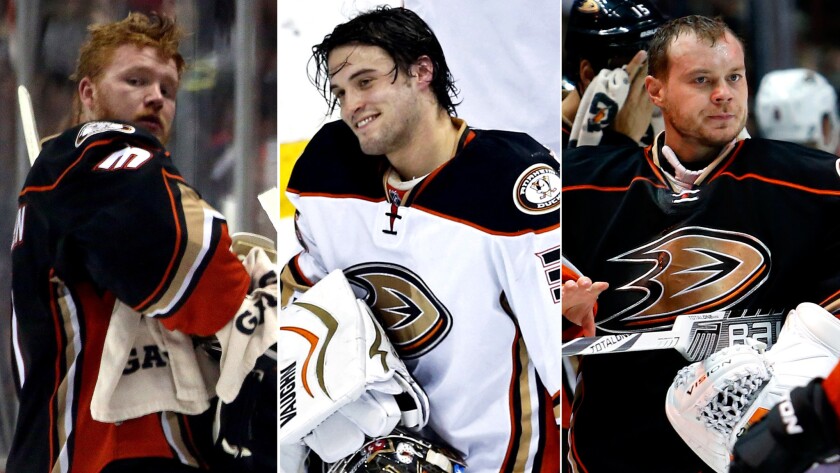 There was speculation when Ducks goaltender Frederik Andersen wasn't seen in the bench area during Sunday's game.
Coach Bruce Boudreau had elected to start backup Anton Khudobin against Minnesota, and the absence of No. 1 Andersen sparked skepticism. Was he injured? Traded?
Either would have been plausible for a team that once fired a coach, Randy Carlyle, following a win, and last season announced a trade for Eric Brewer during a game.
It turned out Andersen was in the corridors because there's not much room on the bench, but the scene jibed with what looks like another interesting season in goal for the Ducks.
Andersen is in the final season of his contract, and talented prospect John Gibson is with the Ducks' minor league affiliate with a freshly signed three-year, $6.9-million contract. Andersen said it's not a distraction.
"Anything that goes on off the ice is not anything I bring on the ice, whether it be stuff that people write about me or other goalies or contract situations," Andersen said before the Ducks' departed Tuesday for a five-game trip. "I think I'm good at just putting it aside, parking it."
Andersen keeps tabs with his representative but didn't want to go into detail about the process of an extension.
"Things are going slow but I want to focus on hockey," Andersen said. "I'm not in a rush right now."
Andersen said he understood the signing of Gibson because he knows General Manager Bob Murray has a lot of moving parts. Andersen is one of six pending Ducks restricted free agents, including defensemen Hampus Lindholm, Sami Vatanen and center Rickard Rakell.
"He has a lot to handle," Andersen said of Murray. "I know he has a long[-term] plan. He plans ahead. He's good at looking at what the future might hold."
The obvious perception is that Gibson, 21, is the Ducks' goalie of the future. For now it's Andersen and Khudobin, a veteran backup who showed Sunday that his unorthodox, self-described "hybrid" style can produce wins.
Khudobin was a defenseman as a kid growing up in Kazakhstan and Russia but he annoyed his coach when his blocked shots kept going into the wrong net.
"The coach was mad at me because I was pretty much scoring on our own team," Khudobin said. "One time he came to me right at the bench — I was 8 or 9 — and said, 'Maybe you want to be a goalie,' and he just stepped away. I started thinking about it."
Khudobin plied his trade behind elite goalies Cam Ward in Carolina and Tuukka Rask in Boston. He is signed through this season, and a long-term stay in Anaheim intrigues him.
"I would love to stay with one team for the rest of my career," Khudobin said. "You don't have to focus on anything else except playing hockey."
Boudreau wanted Khudobin to rebound quickly from his Ducks debut, a 4-0 loss in which he allowed three goals on eight shots. Boudreau is known to let a hot goalie take the reins, regardless of whether it's a starter or backup, and won't be shy to do so with Khudobin.
"Other than one 12-minute period, he's been outstanding," Boudreau said. "It's what we expect, because we think he's a really good goaltender."
Boudreau needs Andersen and Khudobin to be sharp for a revealing trip that starts Thursday at Nashville. The Ducks' disappointing 1-3-1 start is a hot topic but Boudreau said it's early.
"We heard it after Day 1: 'What's wrong with the Ducks?' " Boudreau said. "We lost the first game. It's a long year, and you're going to go through peaks and you're going to go through valleys. I don't think we were as bad as people were saying we were and I don't think we were as good as people think we could be at that point."
TONIGHT
AT NASHVILLE
When: 5.
On the air: TV: Prime; Radio: 830
Update: The Ducks need to get their top players going with Ryan Getzlaf, Corey Perry, Ryan Kesler and Carl Hagelin scoreless through five games. The Ducks are also 0-for-13 on the power play, their worst start since they began the 2011-12 season 0-for-13. Defenseman Clayton Stoner (lower-body injury) is practicing but Simon Despres (upper-body injury) remains out. This begins a five-game trip against the Central Division, which entered Wednesday a combined 27-13-1. The Predators have won five of six games, the last two by shootout. Defenseman Roman Josi leads Nashville with five points.
---