Column: Unacceptable starts continue to plague Ducks, who were overrun by Winnipeg in first period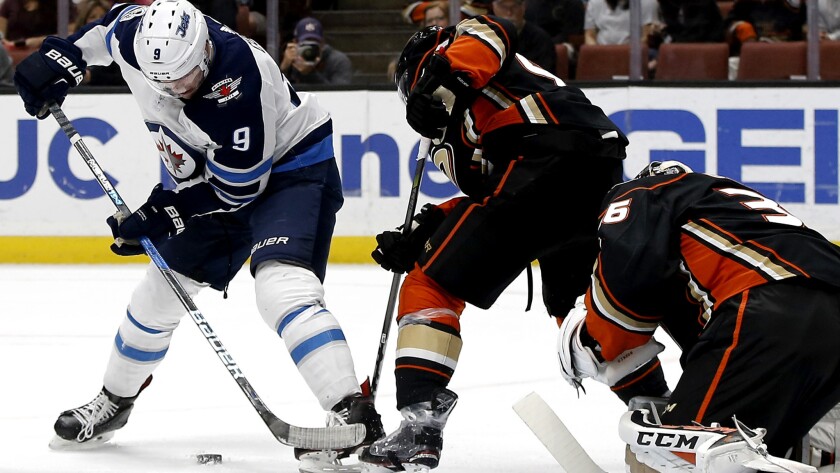 The Ducks' fate was sealed before most of the post-Thanksgiving crowd had filed into the Honda Center on Friday. They yielded a goal 40 seconds into their game against the Winnipeg Jets, were down by two a tick before the five-minute mark and were lucky they weren't in a deeper hole. "I thought we were playing in our boots and they had their skates on," coach Randy Carlyle said of his team's unfocused, deer-in-the-headlights start.
Another bad beginning led to a bad ending for the Ducks and more comments from players about not having been ready for the start of the game. Of all the clichés in sports, that's the most infuriating. As an athlete, you have one job: Be ready to compete. The Ducks clearly weren't ready to compete and it cost them dearly Friday afternoon, and not for the first time.
"It made the difference in the game," center Antoine Vermette said after the Jets earned a 4-1 victory. "It shows the importance of starts and how slim the difference between winning and losing sometimes is. They really took advantage at the start. There's no excuse."
Vermette is right about that: there are no excuses for the Ducks not being ready for the beginning of a game. Already at a disadvantage without injured top two centers Ryan Getzlaf and Ryan Kesler, the Ducks can't afford to give points or games away. They put this one on a platter for the Jets, who have enough speed and depth to have won it without as much help as the Ducks so generously provided.
Not ready? How could the Ducks not be ready for a home game — their last before a six-game trip — when they so urgently need to develop some consistency before they hit a meaty part of the schedule? Their stumbles can't all be blamed on the injuries suffered by Getzlaf (facial bone surgery) and Kesler (hip surgery), though the duo's absence has created a deep void on the ice and in leadership. "Those are two huge pieces out of their lineup that change everything, right?" Jets coach Paul Maurice said Friday.
Right, but while the Ducks can't control that, they can control their readiness at puck drop, and they've got to do a better job of that or be prepared to chase the game every time out. They've had their full defense healthy and available for the last three games, since Cam Fowler returned from a knee injury, and they should be trending upward. They're not, and it goes beyond having to move Derek Grant and Chris Wagner too far up in the lineup as their first- and second-line centers.
"It's all about our preparation as individuals, how we get ready for games and make sure we are ready as soon as the puck drops," defenseman Francois Beauchemin said. "I don't think the first five minutes were the way we were supposed to be playing. We got ourselves down 2-0 and it was tough to catch up after that."
They can avoid that by being ready at the start. Every player prepares differently, but the product has to be a focused, cohesive effort throughout the game. Why didn't that happen Friday, and the other times they've said they weren't ready at the start? "I wish I had that answer," Carlyle said. "Too nervous? Not focused enough? Those are questions you're always asking. "
Beauchemin sees it as each player's responsibility to be ready to contribute to a unified whole. "Every guy individually, how they prepare for the game ... what you do before and make sure when we do go out there everybody's on the same page and know what we're doing and ready to go," he said. "You can't point fingers at those situations. If you go out there and you're not ready we all see it and we know who we are."
On Friday, that was all of them. Oh, they pushed back for most of the next 40 minutes but the Jets held them off and won for the sixth time in seven games. Carlyle chose to take that as a positive, and that's understandable. But the Ducks must begin to put actions behind their words now. "The whole road trip will be tough. We've got to make sure we bring our A game every night. There will be no easy ones obviously," Beauchemin said. "From now until Christmas, it's going to be a big sprint to Christmas and a lot of games every other day. And back to back, so we've just got to be mentally ready every game."
And they must be fully there at the start or risk being out of the game at the finish.
Follow Helene Elliott on Twitter @helenenothelen
---
Get the latest on L.A.'s teams in the daily Sports Report newsletter.
You may occasionally receive promotional content from the Los Angeles Times.