Column: With his jersey set to be retired, former Ducks star Paul Kariya is riding a wave of happiness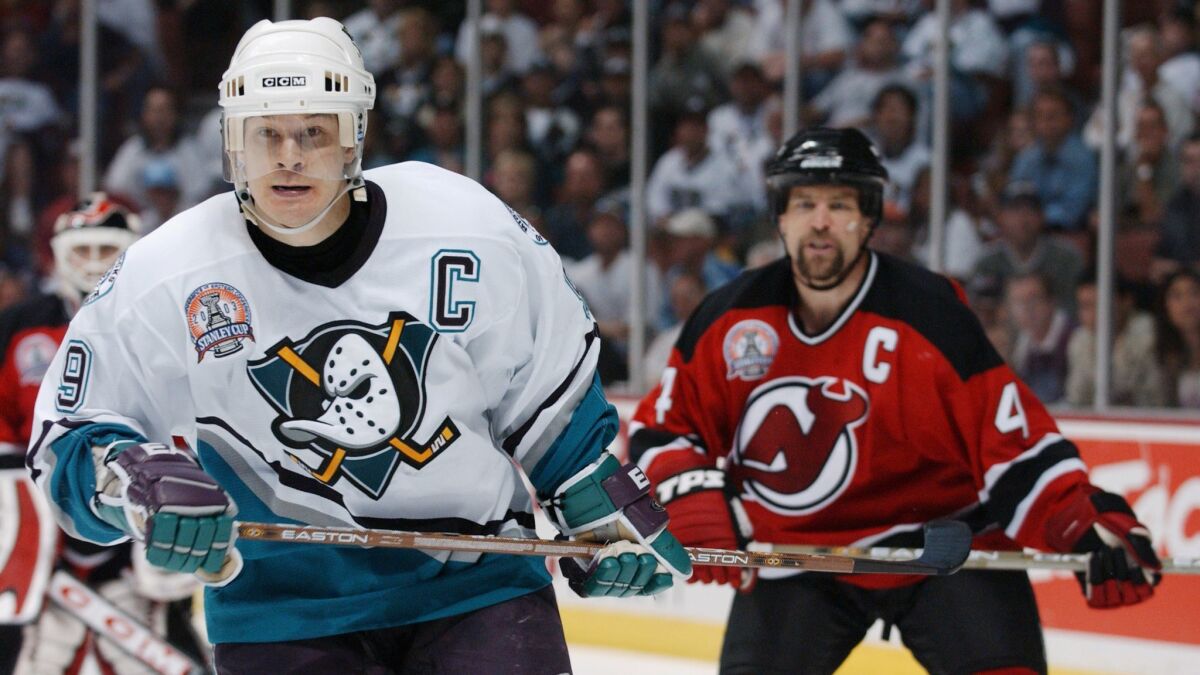 Paul Kariya was smiling, his eyes shining and his voice animated as he talked about his newest passion, foil surfing. It's surfing with a hydrofoil attached to the bottom of the board and it can be dangerous — but also addictively exhilarating to a focused, goal-oriented person like Kariya.
"We're getting 600-yard rides," he said of his foiling excursions off the beaches of South Orange County. During one of those excursions, to his delight, he met legendary surfer and surfboard maker Gerry Lopez. "He's like the Gordie Howe of surfing," Kariya said. "One of the highlights of my life."
Kariya's life these days is happy and satisfying and, most important, no longer darkened by aftereffects of the six concussions he suffered during a splendid career that carried him to the Hockey Hall of Fame last year. Thankfully, he's able to fully enjoy becoming the second Anaheim player to have his jersey retired, which will happen on Sunday when the Ducks lift his No. 9 to the Honda Center rafters alongside the No. 8 worn by his friend and longtime linemate, Teemu Selanne. The 27 worn by smooth-skating defenseman Scott Niedermayer, a cornerstone of the Ducks' 2007 Stanley Cup championship team, will be retired on Feb. 17.
"I'm very happy. I'm healthy and loving what I do and blessed to be with great people and have great friends. I feel like in many ways I'm still semi-playing the game," Kariya said, though he no longer has to fear defensemen coming at him and knocking him out cold.
"When I retired … I wasn't ready to retire and I had no plans at that point. It took a long time for me to feel like I was myself again. I don't even think about that anymore, unless I'm asked about it."
Despite the concussions, the dynamic winger scored 402 goals and 989 points in 989 NHL games. The first-ever draft pick of the then-Mighty Ducks in 1993 and the team's first star, he was fast and skillful, gifted with great hands. He was a 50-goal scorer at 21, in 1995-96, and played in the All-Star game that season. His linemates were Wayne Gretzky and Brett Hull, whose moves he'd studied on video. He had even written a book report about Gretzky for school. "I look back at stuff like that," Kariya said, "and sometimes I wonder, 'How did that happen?'"
He became a great player because he played hockey the way it should be played and because he found a kindred spirit in the supremely skilled Selanne, who is expected to join many of Kariya's former teammates at Sunday's ceremony. Selanne's jersey has looked lonely. It soon will have good company, even if Kariya insisted he's baffled by the whole thing.
"I would never consider myself to be deserving of any recognition and certainly not one of this magnitude. I'm still wrapping my head around it," said Kariya, a boyish-looking 44. "It certainly means a lot to me that [owners] Henry and Susan Samueli and the Ducks organization would feel that I'm deserving of this recognition. It's incredible."
Kariya announced his retirement after the 2010-11 season because doctors wouldn't clear him to play. For years he was — rightfully — bitter that the NHL didn't punish hits to the head harshly enough. Always a private person, he rarely attended Ducks games, though he quietly did charity work for the team. He dislikes being the center of attention, but he's comfortable being recognized, as sometimes happens on the beach. "A lot of people I surf with, they don't say anything," he said, "but I get more respect than my surfing deserves."
He's modest. Kariya throws himself headlong into everything he does, whether to improve his mind or his body. He skis and snowboards and has taken up split boarding, which involves a snowboard that's cut in half so the user can hike up an incline using climbing skins and reattach the board to snowboard down. He's also learning Spanish and French and relearning Japanese, which he studied as a kid because of his Japanese Canadian father. "As you get older I think it's important to constantly challenge yourself and not be stuck in the same thing that you're doing. To try a new sport, or something where you're totally a beginner again, I think is so valuable," he said. "It keeps your mind young, keeps you active, keeps you enthused."
Hockey is part of his life, but in a different way. He hasn't been on the ice since last November, when he played in a legends game before his Hall of Fame induction, and this weekend he left his gear in Toronto. The NHL's Department of Player Safety and NHL Players' Assn. foolishly haven't consulted with him on policies related to head shots and head trauma, but he has been involved behind the scenes. Many of his friends are coaches or executives, and they call him for advice. He also counsels concussion victims. "Many times I've talked to guys and given them things that helped me or things I did feel worked well," he said. "In terms of the disciplinary action, I think I've made my thoughts clear over the years. Nothing has changed. I think now we're at a place where it seems like it's getting better every year, but it's still very slow."
His jersey should have been retired long before this, but he wasn't ready to embrace it. He's ready and able to appreciate it now. That's worth celebrating.
Follow Helene Elliott on Twitter @helenenothelen
---
Get the latest on L.A.'s teams in the daily Sports Report newsletter.
You may occasionally receive promotional content from the Los Angeles Times.