Column: Ducks' Jakob Silfverberg and his linemates are burning it up at both ends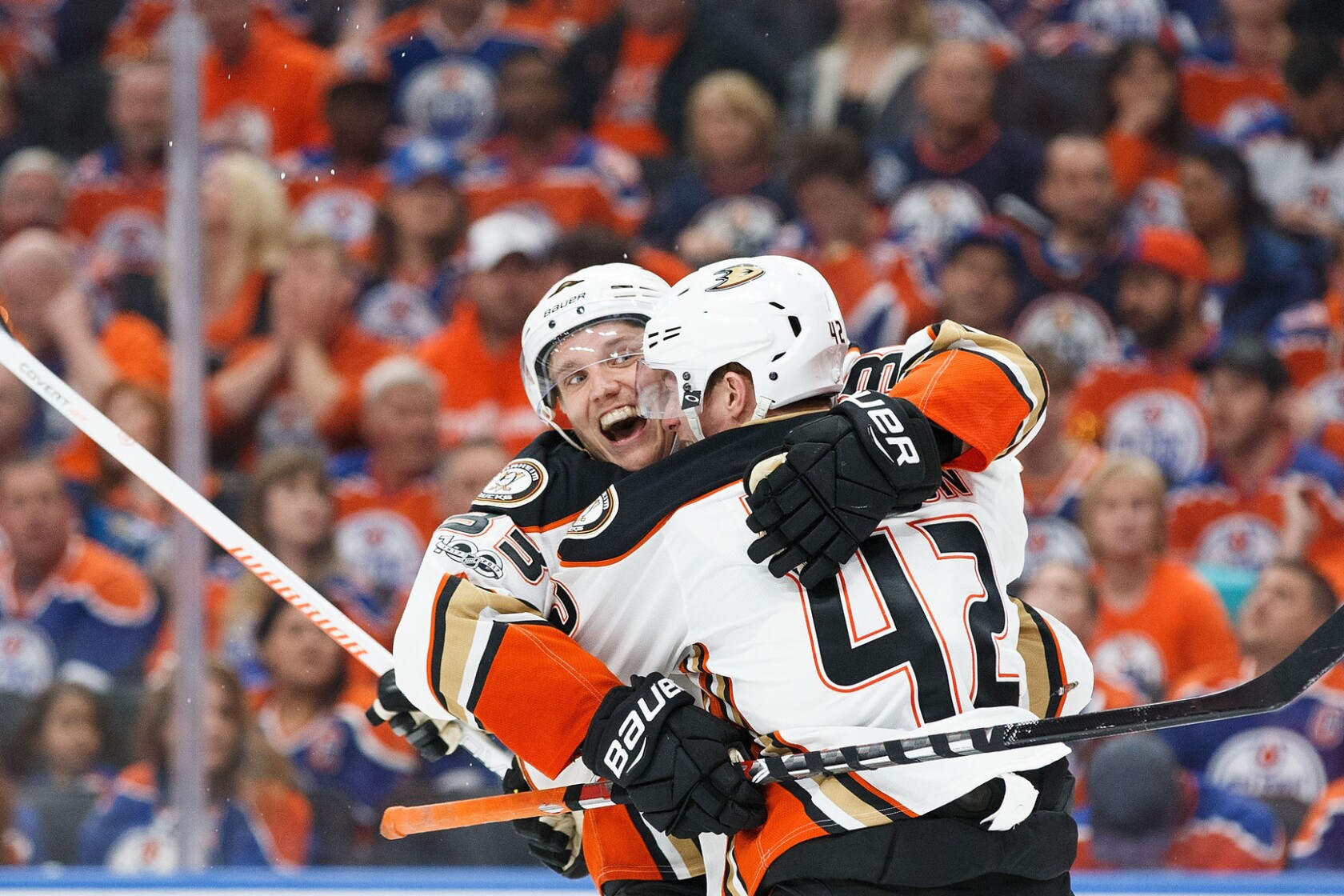 Ducks teammates Jakob Silfverberg and Josh Manson (42) celebrate Silfverberg's goal against the Edmonton Oilers.
(Codie McLachlan / Getty Images)
Darnell Nurse of the Edmonton Oilers battles against Corey Perry of the Anaheim Ducks.
(Codie McLachlan / Getty Images)
Ducks goalie John Gibson falls to the ice after making a save against the Edmonton Oilers.
(Codie McLachlan / Getty Images)
Patrick Maroon of the Edmonton Oilers takes an elbow from Patrick Eaves of the Anaheim Ducks.
(Codie McLachlan / Getty Images)
Anaheim Ducks goalie John Gibson tries to collect the puck after making a stop as Edmonton's Milan Lucic looks for a reobund during the second period.
(Jeff McIntosh / AP)
Centers Antoine Vermette of the Ducks and Ryan Nugent-Hopkins of the Oilers face off.
(Codie McLachlan / Getty Images)
Ducks right wing Jacob Silverberg tries to control the puck along the boards while under pressure from Oilers defenseman Darnell Nurse.
(Codie McLachlan / Getty Images)
Ducks teammates Patrick Eaves (18), Ryan Getzlaf (15) and Rickard Rakell (67) celebrate after a score against Oilers goalie Cam Talbot.
(Codie McLachlan / Getty Images)
Anaheim winger Jakob Silfverberg (33) scores past Oilers goaltender Cam Talbot and defenseman Adam Larsson (6) during the first period.
(Jeff McIntosh / The Canadian Press)
Ducks defenseman Hampus Lindholm ties up Oilers defenseman Matthew Benning during first-period action.
(Jeff McIntosh / The Canadian Press)
Oilers teammates engulf left wing Patrick Maroon (19) after he scored a goal against the Ducks.
(Codie McLachlan / Getty Images)
Ducks teammates Brandon Montour (71) and Ryan Kelser (17) congratulate center Rickard Rakell (67) after he scored against the Oilers in the first period.
(Codie McLachlan / Getty Images)
Reporting from Edmonton, Canada —
Ducks right wing Jakob Silfverberg is so responsible defensively and so willing to perform the dull but necessary work to prevent opposing forwards from scoring that his coaches were always happy to slot him into a defensive role and be glad when he scores an occasional goal. He seemed content to limit himself to that, too, at least until he and his linemates, left wing Andrew Cogliano and center Ryan Kesler, decided they were capable of much more.
On Sunday, with the Ducks' playoff hopes in the balance after having lost the first two games of their second-round series at home to the Edmonton Oilers, Silfverberg and his linemates fulfilled their mission at both ends of the ice.
Silfverberg, who reached career highs in goals (23) and points (49) during the regular season, scored twice Sunday to pad his postseason total to six goals, second among NHL playoff scorers, and created the chance for the third-period goal by Kesler that capped the Ducks' scoring in a wild 6-3 victory at Rogers Place. Kesler and Cogliano each were plus-three defensively and Silfverberg was plus-two; Kesler also won 16 of 21 faceoffs and was credited with four hits and a blocked shot.
"Our line, we've been playing together the previous years, and previous years we've been thinking, I think, a little too much defense," Silfverberg said. "But this year we've been working on our offense, and tonight we got rewarded for that. It's something we've been trying to do the whole year, get up in the play more, with our whole line, and tonight we managed to score a couple of goals."
He made it sound so easy. It wasn't.
The crowd, revved up after generously jumping in to sing the American and Canadian anthems when country music artist Brett Kissel's microphone failed, fell silent when the Ducks scored three times before the game was 12 minutes old.
But the Oilers fought back, pulling even 8 minutes 40 seconds into the second period and forcing the Ducks to contemplate the prospect of a prohibitive 3-0 series deficit.
That didn't happen, and for several reasons. Goaltender John Gibson made key saves late in the second period, including two stops during on a three-on-one after the Ducks had gone ahead on a knuckling shot by Chris Wagner. Hampus Lindholm (plus-five defensively) led a defense corps that became an offensive catalyst by recording six vital assists. And, the Ducks managed to regain their lead, along with their composure.
An epic 2-minute 42-second shift by Kesler late in the second period in the face of intense pressure by the Oilers reflected the Ducks' resolve. Lindholm was on the ice for 2:21, a stretch that ended with Patrick Eaves taking a hooking penalty that the Ducks killed, one of three advantages they neutralized in compiling a perfect penalty-killing performance for the first time in seven playoff games.
"Probably not the average shift I'd recommend guys to have," Lindholm said. "We kind of kept on the outside. We got a penalty but overall I don't think we really gave them any dangerous shots. We weathered it and killed the penalty and that's what matters."
Silfverberg stood tallest on a night when several Ducks stood out. He enjoyed his first career multi-goal playoff game and matched a career best with three points in a playoff game, his excellence a constant thread throughout the game.
"Silvy is a tremendous hockey player," coach Randy Carlyle said. "If you look at the stat sheet tonight, he was all over it. He's the type of guy that's an unsung, unassuming individual but he really is a tremendous hockey player and we're very, very fortunate to have him. He can do a lot of things."
Silfverberg scored his first goal on the rebound of a shot by Lindholm at 5:33 of the first period. He was credited with his second goal (which made it 5-3) at 4:56 of the third period, though he appeared to have been offside on the play. The league said it "reviewed all available replays and consulted with the linesmen" before upholding the call on the ice, but Silfverberg wasn't sure.
"It's tough. Even I couldn't really tell on the video," he said. "I thought it was close but part of me thought it was good."
There was no question, though, how good he was on Sunday, and it's a memory he can cherish while the Ducks spend the next two days in the lakeside resort of Kelowna, an hour's flight away.
But Silfverberg already knows how he wants to approach Game 4, to be played Wednesday in Edmonton.
"You can't sit back and receive," he said. "You've got to be the team that pushes forward and I think that's what we did."
Follow Helene Elliott on Twitter @helenenothelen
---
Get the latest on L.A.'s teams in the daily Sports Report newsletter.
You may occasionally receive promotional content from the Los Angeles Times.