Jakob Silfverberg scores late to give Ducks a 3-2 victory over Panthers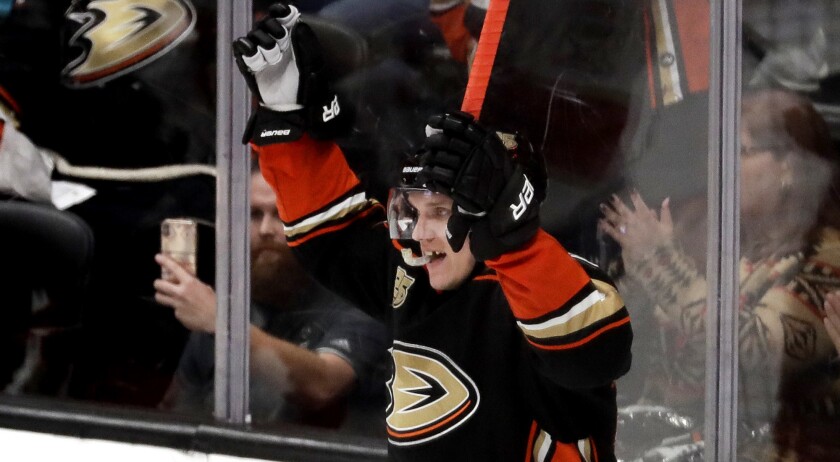 If they could schedule all of their games on St. Patrick's Day, maybe the Anaheim Ducks would be preparing for the playoffs, not merely trying to build momentum for next season.
The team has had the luck of the Irish on its side on March 17 and that trend continued Sunday night with a 3-2 victory over the Florida Panthers at Honda Center. Playing its 10th St. Patrick's Day contest in franchise history — and ninth at home — Anaheim improved to 5-1-1 along with three ties on the holiday dating to March 17, 1995, against Toronto.
Jakob Silfverberg scored the game-winner, his team-leading 22nd goal of the season, with 4:43 left when he tucked a backhander under the crossbar after Rickard Rakell stole the puck behind the Florida net and slid a pass to his linemate at the side of the crease. The Ducks' offense has come alive recently as they have 31 goals — five on the power play — in their last nine games.
"This is a big win for us," said Silfverberg, who has goals in four of his last five games along with points in eight of his last nine. "Tonight I don't think we controlled the whole game but we managed to stay in the game and our lows aren't too low. We managed to find a way to win and have been playing pretty good lately, so we're feeling pretty good about ourselves ..."
Florida center Aleksander Barkov is one of the hottest players in the league, having racked up 11 goals and 17 assists in his previous 15 games (including 12 points in the Panthers' previous four games) and Sunday he added two assists, but Florida saw its four-game winning streak come to an end.
Defenseman Mark Pysyk was penalized for slashing Max Jones just 1:15 into the game and it took all of 14 seconds for the Ducks to capitalize on the ensuing power play. After Nick Ritchie's shot from the point was deflected the rebound bounced right to the stick of Devin Shore in the slot and he wristed it into the net for his ninth goal of the season.
"Tonight's goal was a bit of a lucky bounce but if you're getting pucks to the net and getting bodies there then maybe sometimes you get a lucky bounce," Shore said. "Every team goes through rough patches and we went through a long one, but guys are working for each other and you have to look to get better no matter what the circumstances."
After being held to one scoring chance in the first period, Barkov's line struck 11 seconds into the second period when Barkov won the opening faceoff and passed to Jonathan Huberdeau, who skated in on a two-on-one and slid the puck to Evgenii Dadonov for a one-timer past goalie John Gibson.
Dadonov was sent off for tripping at the 4:01 mark and Cam Fowler nearly got Anaheim the lead back 30 seconds later when he rattled a wrist shot off the post. Adam Henrique did make it 2-1 with 7:56 left in the period — his 17th goal of the season and fifth in the last eight games — off an assist from Ryan Getzlaf, his second of the game and 32nd of the season.
Sign up for our daily sports newsletter »
"He has a lot of pride, he's a competitive guy that still wants to win and lead by example," Ducks assistant coach Marty Wilford said of Getzlaf, the Ducks' captain. "He's done a good job of that lately and for that matter same with all the other leaders. They've been doing all the little things right."
Aaron Ekblad drew Florida even again at 2-2 with his 12th goal of the season on a tip-in 3:33 into the third period. Getzlaf hit the post on a breakaway with 8:43 left in regulation.
Gibson stopped 37 of 39 shots for his 22nd victory — the 27th time this season he allowed two goals or fewer — and improved to 5-1-0 in his last six starts.
"We have a different mentality now, it's more upbeat and we're playing more of a team game," Gibson said. "I think the biggest thing I've noticed is our compete level, whether we're winning or losing. I thought even the other night in Arizona we were down and we still fought to the end. I'm just trying to have fun, play my game and help the team win some games."
Center Ryan Kesler (hip injury) and defenseman Brendan Guhle (undisclosed) were out and remain day-to-day for Anaheim.
The Ducks host Central Division-leading Winnipeg on Wednesday and San Jose on Friday before starting a four-game road trip Saturday against the Kings at Staples Center. Anaheim sits nine points out of the eighth and final playoff spot in the Western Conference with eight games remaining.
---
Get the latest on L.A.'s teams in the daily Sports Report newsletter.
You may occasionally receive promotional content from the Los Angeles Times.