Ducks can't hold three-goal lead vs. Penguins and drop 10th in a row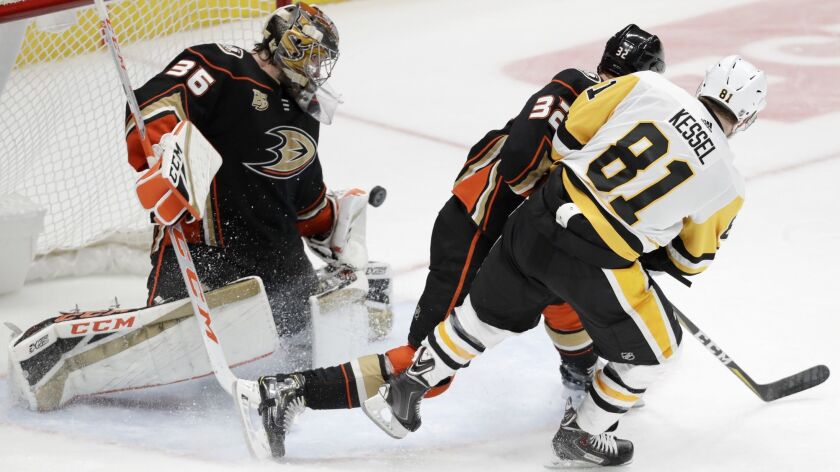 The elephant in the room finally made its presence known. And Randy Carlyle couldn't handle the pressure. That seat is becoming awfully hot after yet another defeat, this time in heartbreaking fashion to the Pittsburgh Penguins.
The Ducks coach was asked if he was "worried anything could happen to you as a result of this?"
Carlyle abruptly fired back: "What do you mean? What are you trying to say? … What do you think? Don't ask the dumb questions."
The Ducks have lost 10 consecutive games, a franchise record that continues to grow.
The Ducks appeared headed for their first victory since Dec. 17 after they sprang out to a three-goal lead more than eight minutes into the contest.
Instead of building on the lead, the Ducks stopped skating, were routinely out-muscled for the puck and allowed the Penguins to fire three goals in the second period, and four more in the third en route to a 7-4 loss Friday at Honda Center.
An empty-netter delivered the hat trick for Jake Guentzel, as hats showered the ice from the visiting team's fans.
An entire six-game homestand wasted away with just three points to show for it, all from overtime losses.
Now the truly difficult part begins, with a five-game trip that begins Sunday in Winnipeg.
The overriding emotion in the Ducks' locker room during the last few losses has been that of sadness.
After the latest, most gut-wrenching defeat, the anger was clear in their voices.
"Terrible. It's awful," said the Ducks' Ryan Getzlaf, who registered one point and one assist. "Not being able to finish a game you start 3-0. We have to go to work. I've done 12 of these interviews in the last three weeks. Message is the same.
"We have to make a decision — a conscious decision. It won't just happen. You have to think about it, go through the motion and go through the whole process."
Nick Ritchie's goal put the Ducks on the board just 1:27 into the game.
Another from Getzlaf followed, a one-timer off a behind-the-net pass from Andrew Cogliano that followed a Kris Letang turnover.
Daniel Sprong made it 3-0 off a tic-tac-toe pass from Getzlaf to Rickard Rakell. Sprong was acquired earlier this season in a trade with the Pittsburgh Penguins, and he wildly celebrated.
All the Ducks were riding high. It appeared they were finally going to win; that they would no longer have to answer any questions — for the seemingly umpteenth time — about what it will take to end this losing streak.
But here they are.
"We stopped playing," a frustrated Getzlaf acknowledged. "They're a good hockey club. They're not going to let us win.
"We came out a little flat, started taking penalties, started running around in our zone and not making strong plays in crucial times."
The fifth-ranked Penguins offense went to work after the first intermission. Former 50-goal scorer Evgeni Malkin slid the puck around John Gibson's right skate just 59 seconds into the second period.
Less than four minutes later, Guentzel scored his 19th of the season. Almost seven minutes later, his 20th came.
A short-handed breakaway goal from Jakob Silfverberg regained the lead for the Ducks with less than six minutes left in the second. That was be their final goal of the night.
And now Carlyle is left to wonder about his job security, although he's already survived through plenty, including a midseason firing during his first stint with the Ducks in 2011.
Will general manager Bob Murray make that call again?
They'll all have plenty of time to ponder big decisions, and how to fix this team, during the trip north.
---
Get the latest on L.A.'s teams in the daily Sports Report newsletter.
You may occasionally receive promotional content from the Los Angeles Times.