What we learned from the Ducks' 2-1 win over Nashville
The Ducks notched their most important victory of the season Monday in a 2-1 triumph over the Nashville Predators. In handing the defending Western Conference champions their first road defeat of the season, the Ducks proved that, despite their struggles, they're capable of hanging with the best. Here's what else we learned:
The Ducks defense did a great job limiting the Predators' second-ranked attack, but Cam Fowler's injury is worrisome. The blueliner absorbed a Craig Smith slap shot to the face in the third period and was writhing around on the ice before he exited to the locker room with a bloodied towel shielding his eyes.
If Fowler is forced to miss an extended period of time, it would be yet another devastating blow to a team that's already lost 112 man games to injury this season. With Fowler in the lineup, the Ducks stymied the Predators at every turn and even killed off all seven penalties.
"We wanted to make sure we could break the puck out more effectively and be stronger in defensive zone coverage," Ducks coach Randy Carlyle said. "Those were two areas we were much better at tonight.
"We chart our scoring chances, and tonight was the lowest amount of 5-on-5 scoring chances we've given up in a long, long time, and I'm talking years. You gotta feel good about that, but it's our responsibility now to duplicate that as we go forward."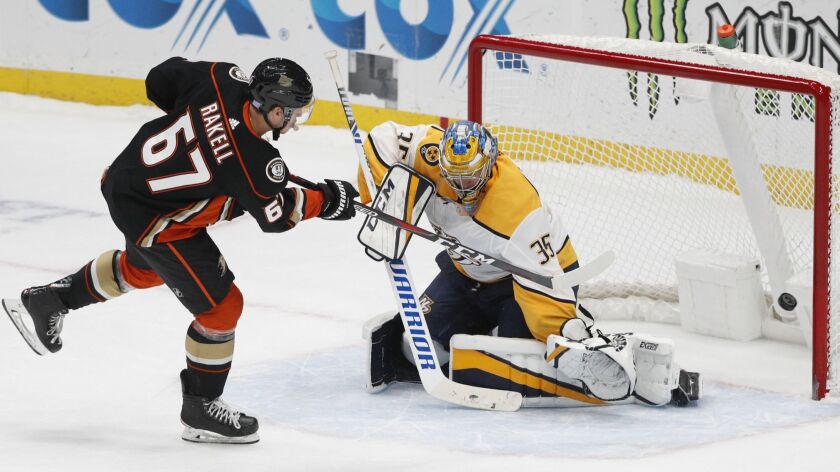 The Ducks play their best when the aggression is dialed up. Josh Manson laid out Kevin Fiala in the opening period, and teammate Kyle Turris' knee collided with his face.
Off the bench came Zac Rinaldo, who immediately attacked Manson, and the gloves went flying off. They threw down in a savage fight that officials quickly broke up, but Manson wasn't done. He attempted to free his hands, before he went to throw Rinaldo in a chokehold from behind. Manson was clearly incensed, and the team rallied around the moment.
"We get going on the bench when we see something like that," Rickard Rakell said. "It gives us a positive [edge]."
Ryan Getzlaf continues to perform at an elite level no matter the circumstances. The team's best player is just that night in and night out. Following his second-period goal Monday, he's racked up nine points in his last seven games.
The captain is averaging one point per game, and as always, the assists are coming in bunches, no surprise given his incredible vision. More importantly, the centerman is shooting the puck plenty; he led the team with five shots on goal in the victory.
---
Get the latest on L.A.'s teams in the daily Sports Report newsletter.
You may occasionally receive promotional content from the Los Angeles Times.