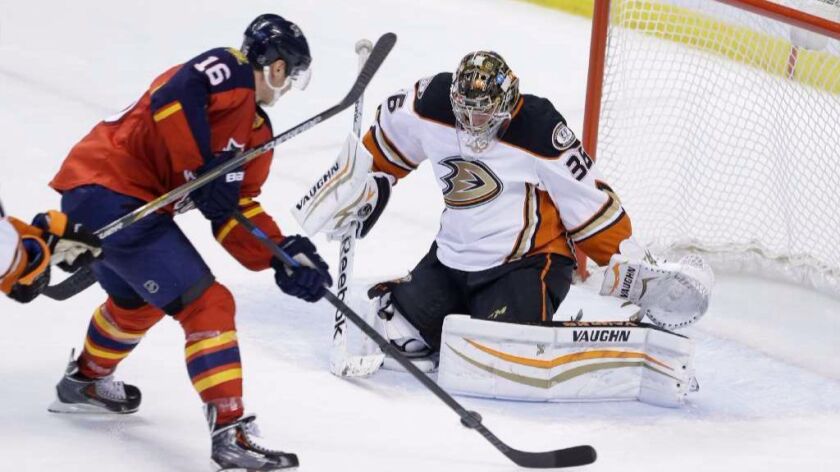 John Gibson was an impenetrable fortress, swatting away every puck that approached.
He was the hottest goaltender in the league since the calendar flipped over to 2017. For seven-plus weeks, he posted a sparkling 1.82 goals-against-average along with four shutouts.
Gibson gave up only 33 goals on 545 shots, but then, it happened again: another lower-body injury. He missed close to a month, his momentum shattered, only to return for a few games when he found himself on the sideline again with another ailment.
This time, he was out 20 days, and the 24-year-old was limited to 49 starts. And when the Ducks needed him most, in an attempt to stave off elimination from the Nashville Predators in the Western Conference finals, Gibson wasn't there.
It was Jonathan Bernier who handled the crease in the final game of the Ducks' quest to win the Stanley Cup for a second time (Gibson was hampered by a hamstring injury).
Now, the Ducks have a more capable backup in Ryan Miller, the former Vezina Trophy winner as the league's best goaltender who signed a two-year free-agent deal in the offseason. But if the Ducks are to fulfill their vast potential, it will need to be Gibson who carries the load. And to do that, he needs to actually be on the ice.
"I was dealing with some injuries throughout the year, so it's tough to [change your approach] during the year, especially when you're not 100%," said Gibson, who posted a 2.22 goals-against average and .924 save percentage last season. "There's not a whole lot you can be doing, you just try to monitor it. But in the summer is when you can sit back and get a game plan and get a regimen in place, and that's what I did.
"I'm excited for the year, and hopefully I can stick to that and everything should be good."
Gibson was nagged by lower-body injuries during the 2015-16 season too. A renewed focus on stretching should help, though Gibson said he didn't "really change too much" other than "put a little more focus on some things that I thought would help."
The 6-foot-3 goalie said the hamstring ailment took a few weeks to recover from, but he enters the season at full health following a strong preseason.
Power-play struggles
The Ducks secured nine more man-advantages last season than the previous one, but came away with nine fewer power-play goals.
After producing the league's No. 1-ranked power-play unit with a 23.1 conversation percentage in 2016-16, the team dipped to the middle of the pack (No. 17) by scoring just 18.7% of the time.
The special-teams unit has been a focus during the preseason, and Cam Fowler, who quarterbacks the power play, believes he knows what's ailing the Ducks on the man advantage.
"We have to get the people in the right places initially; we have to get our [zone] entries," said Fowler, who signed an eight-year, $52-million extension in the offseason. "And then once we get set up, we normally gain a lot of scoring chances. When we get in trouble, we're getting stuck in the neutral zone. We can't enter [against] teams with speed, and then we get frustrated.
"So we need to work on that and when we do get set up, most of the time it ends up at least gaining momentum for our team."
With power-play mainstays such as Ryan Kesler, Hampus Lindholm and Sami Vatanen sidelined to begin the season, the struggles could come early and often.
Did Anaheim add enough depth?
The Ducks were two wins away from the Stanley Cup Final last season, so there was no reason for general manager Bob Murray to seek wholesale changes. Ryan Miller signed a two-year, free-agent deal and immediately bolstered the Ducks' depth in goal behind the oft-injured John Gibson. The burning question: Can they withstand injuries to three key players? Ryan Kesler is out until at least December following hip surgery. Defensemen Hampus Lindholm and Sami Vatanen each underwent surgery to repair a torn labrum and won't return until November at the earliest. That means more pressure on Rickard Rakell and Cam Fowler. It also means the team badly needs Corey Perry to rediscover his scoring touch. Here are the projected lines, defense pairings and goalies, including sweater numbers:
Line 1 LW Patrick Eaves 18 C Ryan Getzlaf 15 RW Corey Perry 10
Perry and Getzlaf were separated for much of last season, but the hope is a reunion will jump-start the winger after a disappointing campaign (19 goals). Eaves, who was acquired at the trade deadline from Dallas, provided immediate scoring punch with 11 goals in 20 games. He's iffy for opening night with a lower-body injury.
Line 2 LW Andrew Cogliano 7 C Rickard Rakell 67 RW Jakob Silfverberg 33
Rakell broke out last season with 33 goals but must focus on creating chances following a transition to center to fill Kesler's skates. Silfverberg and Cogliano will be looked at to lock down opposing scoring lines.
Line 3 LW Nick Ritchie 37 C Antoine Vermette 50 RW Ondrej Kase 25
Ritchie, the 2014 first-round power forward, will be counted on to make the leap to a regular role in his second season. Playing alongside face-off maven Vermette should help.
Line 4 LW Chris Wagner 21 C Dennis Rasmussen 22 RW Logan Shaw 48
The inexperienced trio won't be counted on to log many minutes but should provide an energy boost. Only Rasmussen has played more than 60 games in a season.
Defense 1 Cam Fowler 4 Josh Manson 42
Will this duo make up for the early-season loss of Lindholm and Vatanen? Fowler appears ready to shoulder the load.
Defense 2 Francois Beauchemin 23 Brandon Montour 26
Beauchemin is back for a third stint with the club, but it's Montour, a veteran of all of 27 NHL games, who can solidify his role as a puck-moving blue-liner.
Defense 3 Jaycob Megna 75 Kevin Bieksa 3
Both could be the odd men out of the lineup once Lindholm and Vatanen fully recover.
Goalie John Gibson 36 Ryan Miller 30
Gibson enters his second season as the unquestioned No. 1 netminder, but he must stay healthy. If injuries befall him again, though, at least Miller is behind him to provide a steadying presence in net, even if he isn't the same player who once was one of the game's elite.
Spares: Kesler's absence is a big blow to the team's early-season chances. The pesky center is always counted on to neutralize the opposing team's best player, and he's also one of the best face-off guys in the league. Lindholm and Vatanen already are skating with the club in non-contact sweaters. Miller has been dealing with an upper-body injury, and if he's unavailable Thursday, Reto Berra will back up Gibson. If Eaves can't go, Jared Boll and Derek Grant will fill in.
Special teams: The Ducks will look to improve a power-play unit that ranked 17th last season and converted on just 18.7 % percent of man-advantage chances. The PK unit was suffocating (No. 4) and killed of 84.7 % of opposing power-plays, but Kesler's loss will hurt.
Who's new: Miller, the former Vezina Trophy winner as the league's best goaltender, comes over from Vancouver and will adjust to life as a backup. Even at 37, he should be a big boost over Jonathan Bernier. Beauchemin won the Cup with the club in 2007 and is back for at least another season. Rasmussen and Grant signed one-year deals to fill bottom-six roles.
Who's gone: The expansion draft landed Clayton Stoner in Las Vegas, along with Shea Theodore (compensation so the team would not take Vatanen or Manson). Nate Thompson departed for Ottawa.
---