Youth-infused Ducks' lineup represents changing of the guard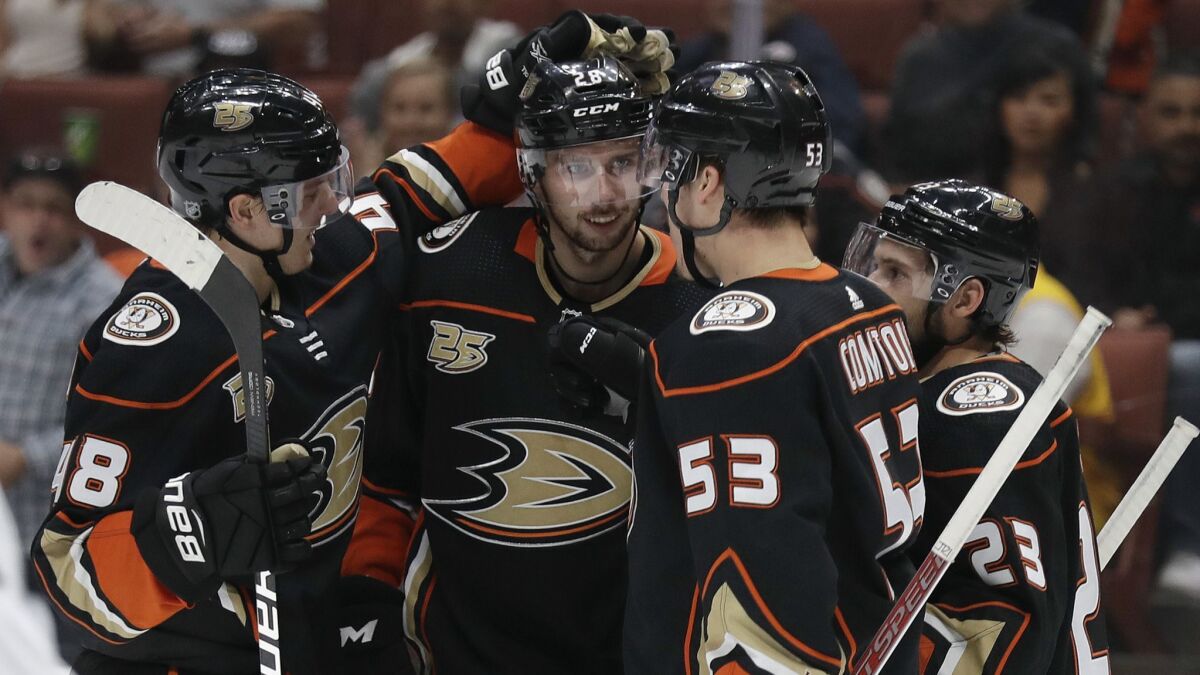 The room was filled with fresh, clean-shaven faces wearing looks of wonderment.
Sam Steel. Max Comtois. Kiefer Sherwood.
They're all primed to skate in an NHL game for the first time when the Ducks open their season against the Sharks in San Jose on Wednesday.
For a club coached by Randy Carlyle, whose preference for veterans and toughness is no secret, their presence is a changing of the guard.
But that's not all. The team's first-round pick in June, Isac Lundestrom, surprisingly cracked the lineup, as did Marcus Pettersson, who played 22 games for the Ducks last season.
Troy Terry, too, is in the mix, slotted on the first line along stars Rickard Rakell and Ryan Getzlaf. The sight of Terry rather than Corey Perry on the top-unit's right side figures to greatly increase team speed.
So, if there's a lingering bad taste from the Ducks' performance against the Sharks in the playoffs — a first-round exit in a sweep — it's not palpable in the locker room.
"He has all the tools, his hands and his shot are outstanding," Getzlaf said of Terry, who played two games with the Ducks last season after starring at the University of Denver. "I thought Tears has been absolutely great throughout this preseason. … His skill-set and what he can bring are close to the best I've seen out of a young player."
Getzlaf, at 33, will be the Ducks' elder statesman on the ice Wednesday.
He remains the best player on the squad as evidenced by yet another campaign where all he did was produce. He averaged better than a point per game, and his vision ensures he's still an elite play-maker.
Still, he's not afraid to embrace an evolving game, and everything that accompanies the transforming landscape.
"The game's changing as we go here and we have to make adjustments," said Getzlaf, the Ducks' captain for a ninth season. "When you're anywhere long enough, you're going to go through transition periods. This has been a nice start to a season. … Changes in the locker room, changes in the way we're playing."
Rakell was named to his first All-Star game last season with career highs in goals (34) and points (69) and he helps make the Ducks' top unit fearsome.
Perry was slotted on the right side, but Getzlaf's longtime running mate won't return until around the All-Star break following knee surgery. His absence might not be too damaging for the Ducks.
He's clearly lost a step from his days as a 50-goal scorer, and at one point last season he was relegated to fourth-line duty. General manager Bob Murray implored Perry to play faster amid his teamwide mandate to catch up with the rest of the league and employ an up-tempo attack.
It starts with a defensive group that is regarded as one of the best in the league. Brandon Montour proved during his breakout campaign that he's a smooth skater capable of scoring from anywhere. Hampus Lindholm, Cam Fowler and Josh Manson complete the formidable foursome.
And in goal, perhaps the most position on the ice, the Ducks are two deep. John Gibson completed the best season of his career, and if it weren't for a string of injuries, he might have claimed Vezina Trophy honors. The 25-year-old was rewarded with an eight-year, $51.2-million deal during the summer.
Even if Gibson battles injuries again, Ryan Miller (now 38) proved that he's still capable of top-notch spot duty.
It was the forward group, though, that was the Ducks' issue last season, with too many lumbering skaters incapable of dynamic play. And that's where five of the team's rookies play.
"I try to use my speed and my work ethic to try to make the guys around me better," said Sherwood, the undrafted college free agent whose forecheck opened eyes during the preseason. "I just try to play hungry and hopefully that fits into other people."
So, have the Ducks accomplished their offseason goal to play an attacking style predicated on speed rather than the possession-based game Carlyle has preferred?
"We've got so many experts telling us what we are and what we are not. You guys have all of the answers. Have we done it or not?" Carlyle asked with a smile. "We'll be judged if you guys believe we've done it, you guys holding the microphone and the cameras.
"So, we'll just wait and see. We're trying to do that. We think we've done that. But the proof is only going to be laid out when we play the real games."
---
Get the latest on L.A.'s teams in the daily Sports Report newsletter.
You may occasionally receive promotional content from the Los Angeles Times.