Late mistake by Ryan Getzlaf costs Ducks in 2-1 loss to Red Wings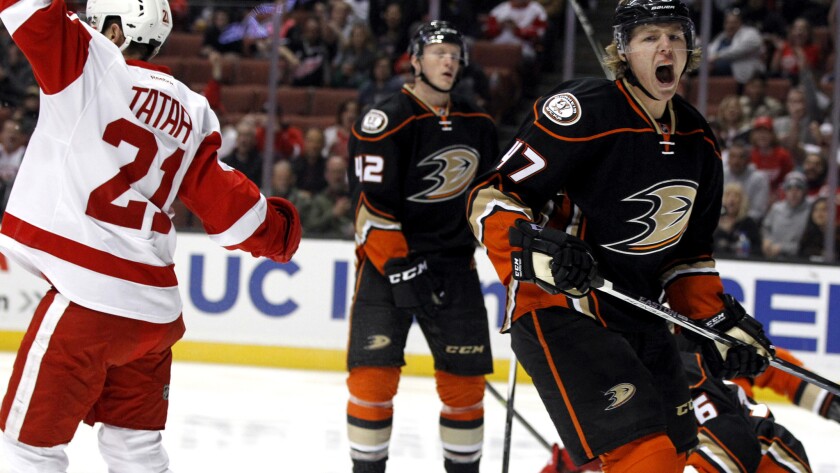 Maybe in the second half of the season the Ducks will get better puck luck. Perhaps the offense will pick itself up from the bottom of the NHL.
But as the first half officially ended for them Sunday, it was a microcosm of how the last three months have gone.
The Ducks hit two posts, a crossbar and gave up an own goal before a miscue by Ryan Getzlaf resulted in a 2-1 loss to Detroit on Sunday at Honda Center. It negated a largely solid game by Anaheim, which hit game No. 41 still ranked last in the NHL at 1.85 goals a game.
"We haven't been finishing, and that's been the thing all season long," Ducks Coach Bruce Boudreau said.
Low-scoring wins have been the Ducks' equation, but they couldn't rally after Getzlaf misplayed Shea Theodore's pass off the boards. Detroit's Riley Sheahan grabbed the puck and scored on a return pass with 3:44 left.
"The puck was rolling a little bit, so I tried to control it instead of just getting it out," Getzlaf said. "The puck got away from me a little bit. I've got to make a better play. Simple as that.
"A mistake like that — it hurts. Obviously I can't do those things."
It was an ironic turn. Sheahan had a goal disallowed in the first period on a long shot that struck the top of the net. Detroit's Fox Sports reportedly showed that the puck appeared to go in under the crossbar.
It didn't matter after Sheahan's game-winner, and Boudreau concurred that it was indicative of a snakebitten Getzlaf, who made a game-ending overtime turnover earlier this season against Arizona.
"In other years he could make these mistakes and nothing happened," Boudreau said. "It just seems that this year, there's that dark cloud and when he makes a mistake, no matter how well he's played during the course of the game, it seems to cost us."
Corey Perry scored on a highlight goal in the first, a backhand shot to the left corner of the net after Getzlaf hit him in stride with a backhand pass.
It was the Ducks' second shot on goal. They spent part of the first 10 minutes killing two penalties and recovering from a fluky Detroit goal 16 seconds into the game when Tomas Tatar put the puck in off Hampus Lindholm's stick.
Anaheim might have folded after that earlier in the season but stayed in its structure. Getzlaf, Perry and Nate Thompson hit the iron in continuous symbols of misfortune.
Anaheim has 76 goals. The next closest team is Philadelphia with 90.
"We only score one goal a night," Getzlaf said. "After we gave up that first one, I think it was hard to maintain your focus. [But] we've been doing a better job of that lately."
Boudreau said they've played "a much better team game all around" than they did at the start. The Ducks are only one point out of a playoff spot in the Pacific Division. Boudreau couldn't take solace, though.
"I always think we're going to end up in first all the time," Boudreau said. "So that's my goal. When you start settling for third, then you almost make it and you end up fourth."
Defenseman Clayton Stoner returned to the lineup from a lower-body injury.
---
Get the latest on L.A.'s teams in the daily Sports Report newsletter.
You may occasionally receive promotional content from the Los Angeles Times.