Unlikely trio has formed a consistent third line for the surging Anaheim Ducks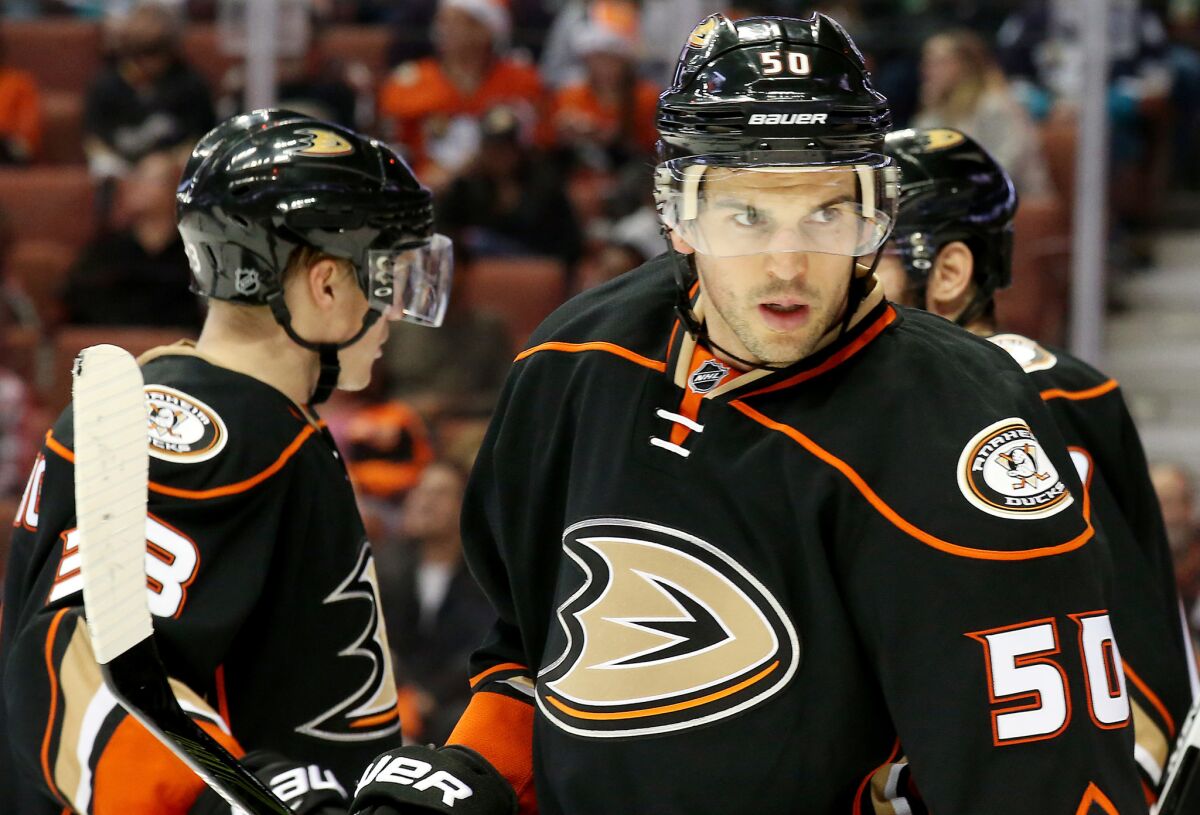 Antoine Vermette is 34 and has played in nearly 1,000 NHL games. His Ducks linemates, Nick Ritchie and Ondrej Kase, have played a combined 73 NHL games and were 8 years old when Vermette made his NHL debut.
Disparate pieces? Yes. But so much of hockey chemistry is time and place, however unplanned, and the unlikely trio has merged as an effective third line for the Ducks. The three have combined for three goals and four assists in the last two games, helping the Ducks build a three-game winning streak before launching a six-game trip Tuesday at Dallas.
"It's clicking," Vermette said. "These guys are effective. I think we're supporting one another real well. We're coming in and we try to move our feet … and try to minimize the possession time when the opponent's got a chance to get the puck.
"We try to force them into mistakes and most of the time we end up with the puck, and we can make plays."
Vermette is by far the Ducks' best free agent pickup from last summer. His faceoff ability has given Anaheim a distinct possession advantage, and Ducks Coach Randy Carlyle said that's the foundation for the line.
"They start with the puck a lot," Caryle said, "and that's a great asset."
While Vermette's veteran leadership was expected, Ritchie has shown more of his offensive potential in passing and finishing on the wing. Kase continues to show a knack for creating scoring opportunities and smart play since he earned the job in November.
Now comes the harder part.
The trip should be a stiffer test against some strong skating teams, and Carlyle won't get favorable line matchups on the road.
Carlyle has typically used longer trips for team-building activities, but the condensed schedule hasn't allowed for much of that outside of a team dinner at the start of the season. Vermette buys into the notion that teams bond on the road.
"Off the ice, we're a solid group," he said. "We've been hanging out quite a bit together, and I think it's been translating real nicely on the ice. But it's another chance to get together and kind of keep building that chemistry."
UP NEXT
DUCKS AT DALLAS STARS
When: 5:30 p.m. PST.
Where: American Airlines Center.
On the air: TV: Prime; Radio: 830
Update: Ducks defenseman Clayton Stoner (lower-body injury) is skating on his own but will be at least a week away from playing once he joins the team, Carlyle said. Dallas has lost three of five since forward Patrick Sharp suffered a concussion and had given up an NHL-worst 3.20 goals a game through Sunday. Stars defenseman Jamie Oleksiak will finish serving a two-game suspension for an illegal check against the Philadelphia Flyers.
Get the latest on L.A.'s teams in the daily Sports Report newsletter.
You may occasionally receive promotional content from the Los Angeles Times.