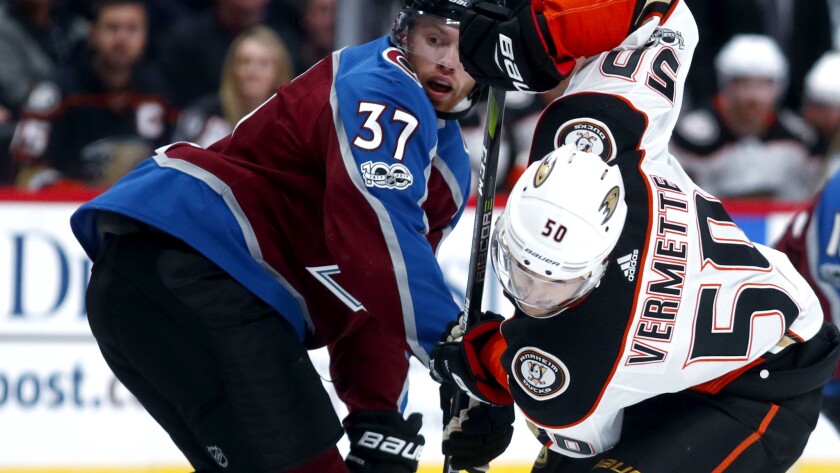 The Ducks can't stay out of the penalty box.
They incurred 16 penalty minutes in Friday's 3-1 loss to the Avalanche in Colorado, with five minors in the first period.
Four of those first-period penalties were slashing minors, keeping with the new league crackdown on stick infractions that "seem to be [intentional] or directed at the fingers and hands with greater force," as new NHL head of player safety George Parros described it.
The fifth was a penalty for too many men on the ice, and the Ducks received another two slashing penalties later in the game.
penalty boxThe Ducks have scored first in a game only once, but even then, they were outshot 21-5 by the New York Islanders in the first period Wednesday.
"Every time there's new rules, there's an adjustment part," said center Antoine Vermette, who has eight penalty minutes and registered 93 with the Arizona Coyotes two seasons ago. "The biggest challenge … is on the defensive side if you battle for a puck, stick battles happen quite a bit. That's where you have to be careful and adjust.
"You're used to [playing] one way, but you have no choice. You have to adjust. You want to play within the rules and put your best foot forward ."
The Ducks rank second in the NHL in penalty kill time with 43 minutes 46 seconds, less than a minute behind the league-leading Washington Capitals, and rank first in first-period penalty kill time at 18:33. The Carolina Hurricanes have been forced to kill only 10:46 in penalties.
Vermette says the Ducks haven't adjusted quickly enough. %The Ducks have an 80.8% penalty kill rate, ranking 18th in the league.
"Discipline has gotta be adhered to, specifically with the rules when they do change," coach Randy Carlyle said. "And there's a learning curve, but the learning curve should have taken place in training camp.
"If you're defending all the time, then you're going to be forced to take penalties."
John Gibson on the mend
Goaltender John Gibson was sharp through four games but was dinged during warmups Friday and played only one period.
It was No. 3 goalie Reto Berra who manned the crease for the remainder of the game as backup Ryan Miller remains on injured reserve.
Carlyle wasn't ready to rule Gibson out Sunday against the Buffalo Sabres after the goalie practiced Saturday, but termed his upper-body injury "day to day."
"It was a freak thing," Carlyle said. "That's what happens when you're getting enough pucks thrown at you, usually there's bumps and bruises somewhere along the line."
UP NEXT
VS. BUFFALO
When: Sunday, 6 p.m., Honda Center.
On the air: TV: Prime Ticket; Radio: 830.
Update: Ryan Getzlaf didn't suit up Friday after aggravating the lower-body injury that forced him to sit out the team's first two games. He didn't practice Saturday, and neither did Patrick Eaves, who returned in Game 4 after sitting out the exhibition games. Neither has been ruled out for Sunday. … The Sabres have given up six goals twice.
sports@latimes.com
---