Brandon Montour has stepped up his game as the Ducks battle injury bug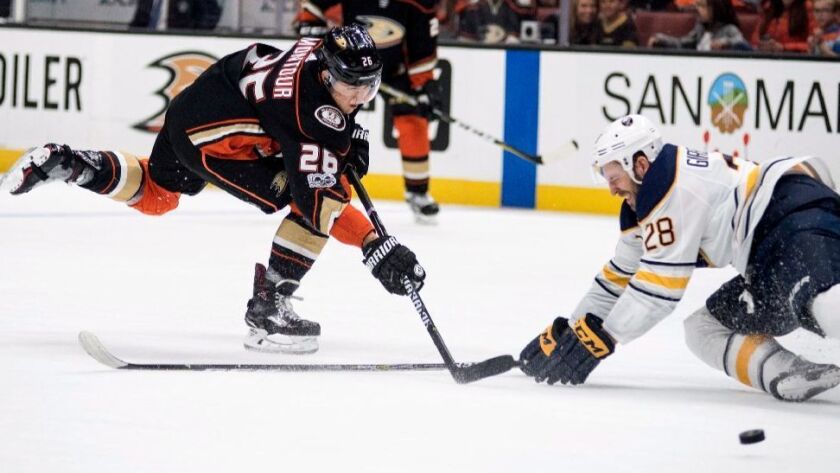 When Hampus Lindholm and Sami Vatanen were on the mend from offseason surgeries to repair torn labrums, the Ducks knew some younger defensemen would be forced into key minutes.
Only general manager Bob Murray and coach Randy Carlyle couldn't have imagined how quickly — and expertly — one of those men would capitalize on his opportunity.
Brandon Montour has been a revelation for the Ducks through 12 games, and even though Lindholm and Vatanen returned last week, the 23-year-old is still logging major ice time.
That's partly because Cam Fowler went down with a knee injury last month, but also because Montour has been valuable to the team's offense.
His four goals through Wednesday were tied for the NHL lead among blueliners, and it's double Montour's output from a season ago, when he made his NHL debut and played in 27 games.
"I'm getting confident, you're playing with some good players and you want to get them the puck," said Montour. " … A strength of mine is my shot, I try to use it as much as I can. Hopefully I can keep the goals coming."
Montour almost tied Tuesday's game against the Toronto Maple Leafs when his last-minute point blast caromed off Jakob Silfverberg's skate and into the net. The goal was disallowed by officials, who ruled the puck was kicked in, but the play still illustrated Montour's value.
The Ducks drafted Montour with the 55th pick in 2014, and before the season Carlyle sent a message to some of the young players who were being counted upon to step up.
"Ready yourself, expectations are going to be higher," said Carlyle, who singled out Montour as a player who's shown some growth. "And we're going to have to play a much tidier game and much stiffer game than what we maybe had to before because we're challenged for offense and not having the historically A-quality defense available to you."
The 6-foot Ohsweken, Canada native also is quarterbacking the power play in Fowler's absence, a role Montour relishes as a chance to "bear down on opportunities."
Before Ducks captain Ryan Getzlaf was sidelined Sunday when the puck struck him in the face, he and Montour were paired up on the point during power plays, a great learning experience for the second-year man.
"Getz says when you get the puck, shoot it, teams are going to respect it," Montour recalled.
He certainly hasn't been shy about shooting or even joining the rush. His four shots were a game high Tuesday, and his 32 shots are tied for 16th among all defenseman.
DUCKS VS. NASHVILLE PREDATORS
When: Friday, 7 p.m. PT
On the air: TV: Prime Ticket; Radio: 830.
Update: This is the first meeting between the clubs since the Predators topped the Ducks in the Western Conference finals in six games to advance to the Stanley Cup Final. … John Gibson was injured in Game 5 of the series, and didn't play in the deciding game, but he's been excellent this season under duress (.919 save percentage). … The Predators might be the defending Western Conference champions, but the momentum hasn't carried over. They've lost two straight and are point behind the Ducks with 12.
---
Get the latest on L.A.'s teams in the daily Sports Report newsletter.
You may occasionally receive promotional content from the Los Angeles Times.