Antoine Vermette is dealing with being out of the Ducks' rotation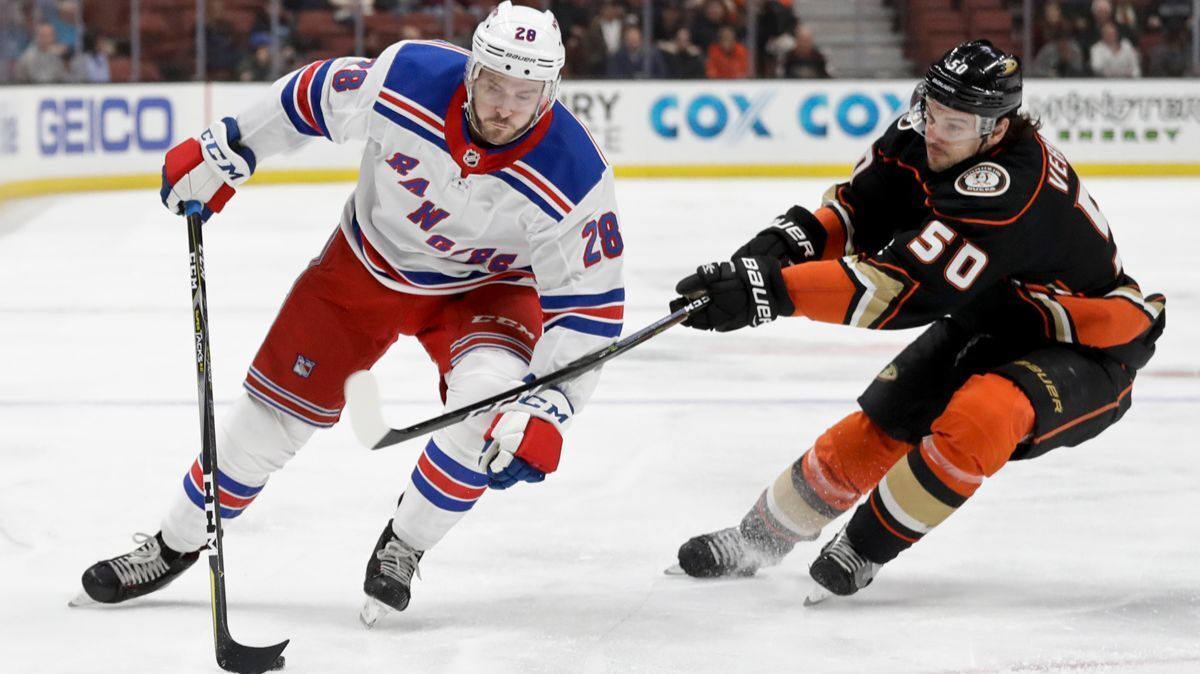 When Antoine Vermette signed a two-year, $3.5-million deal with the Ducks after the 2016 season, this is certainly not what he envisioned.
But it's a predicament he's all too familiar with, and one he was reacquainted with Tuesday.
Vermette wasn't in his usual spot centering the fourth line. He wasn't on the ice at all. And he wasn't nursing any ailments.
Instead, Vermette found himself sitting in the icy cold press box of KeyBank Center in Buffalo for the Ducks' game against the Sabres.
The Quebec native was one of just three Ducks to suit up in every game this season, but coach Randy Carlyle made the call to sit Vermette in favor of Derek Grant, who had been a healthy scratch himself in every contest since Jan. 15.
"It's the situation you're in, but that's the way it is," said Vermette, who didn't disclose details of his conversation with Carlyle. "You gotta make sure you put the team first and move on. … You're pushing yourself throughout [the season] for a reason."
During the Chicago Blackhawks' Stanley Cup-winning campaign in 2015, Vermette made headlines when coach Joel Quennville made him a healthy scratch for the first two games of the Final.
It was especially noteworthy because Vermette was a high-profile pickup at the trade deadline, pulled over from the Arizona Coyotes to add a two-way center with scoring punch.
Now 35, Vermette isn't asked to occupy that role any longer.
Sure, he's still counted on as one of the best face-off guys in the NHL. But with just eight goals and eight assists in 54 games, he's a role player logging limited minutes now that the club is healthy.
And now it's Grant who is occupying that role. The career minor leaguer capitalized on his opportunity earlier this season when he was pressed into top-six duty amid a rash of injuries.
But as Ryan Getzlaf and Ryan Kesler made their way back to the ice, Grant found himself on the outside looking in.
Now, he has another shot to solidify his role on the club.
"You just gotta stay ready and it's something you can't think too much about," Grant said. "When you get your chance you just have to make the most of it.
"For me, I felt good about my game, but obviously we have pretty good depth down the middle."
Gibson appears close to return
John Gibson, who's missed the last four games with a lower-body injury, was in the net opposite Ryan Miller on Thursday in practice and seems on the cusp of a return.
Miller, 37, has started all four games in Gibson's stead, but the former Vezina Trophy winner struggled mightily at times. He was chased to the bench Saturday against the Montreal Canadiens after allowing four goals on seven shots. He didn't fare much better the following night with 33 saves on 39 shots, but he rebounded with a victory over the Sabres.
Miller has been dependable all season, and even stellar at times, but the club needs a healthy Gibson as it pushes for the postseason.
Carlyle is notoriously evasive when it comes to whom he plans to start in goal, and his tone was no different following practice.
"I don't know if you can say anything other than the fact that it's always good to see a player out on the ice practicing with his team," the coach said, "and that puts him one step closer to joining our group."
Gibson, too, was noncommittal on a return to the ice.
"There's a lot of stuff that is still unsure," he said, "and a lot of stuff that's not checked out so I can't really say."
DUCKS UP NEXT
VS. EDMONTON
When: Friday, 7 p.m. PST.
On the air: TV: Prime Ticket; Radio: 830.
Update: The Ducks' five-game trip was book-ended by victories, but the team went winless in Canada. They continue to pick up penalties at an alarming rate, and even though they're healthy, they still find themselves outside the playoffs. … Now, they have the disappointing Oilers on tap, whom they were defeated by in a shootout last month. The Oilers lost 5-2 to the Kings on Wednesday, but reigning MVP Connor McDavid has been as good as ever. He has seven goals in his last three games, and piled up four in a 6-2 victory over the league-best Tampa Bay Lightning on Monday.
---
Get the latest on L.A.'s teams in the daily Sports Report newsletter.
You may occasionally receive promotional content from the Los Angeles Times.