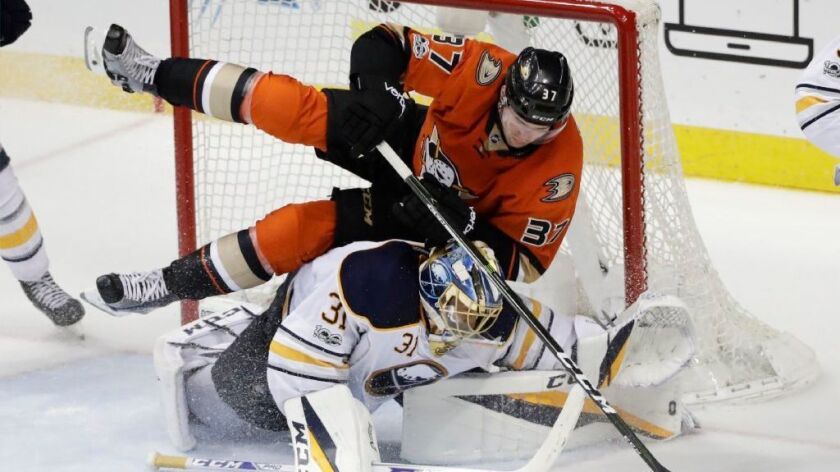 Ducks wing Nick Ritchie was suspended two games for roughing Chicago Blackhawks defenseman Michal Rozsival, the NHL announced Friday.
Ritchie will miss the regular-season finale Sunday and Game 1 of the playoffs. He was given a match penalty for punching Rozsival in the third period Thursday as retribution for Rozsival's cross-checking penalty on Corey Perry.
The NHL's Dept. of Player Safety, in its explanatory video, cited Rozsival's unwillingness to engage Ritchie in a fight. The department's Twitter account described the incident as "roughing/sucker punch."
"[Rozsival] has his hands to his sides and gives no indication that he is a willing combatant in a potential fight, or is in any way prepared for the altercation to escalate," the video states.
The fracas ensued with Chicago's Jordin Tootoo. Asked about the incident after the game, Ducks Coach Randy Carlyle said, "[Ritchie] did go after Rozsival and Rozsival had a chance to defend himself and chose not to. But more surprising to me is the three punches that Tootoo got away with in the pile — he was hammering away — that seems to go unnoticed."
It is the first suspension of Ritchie's career. The third-line forward, 21, has a career-high 14 goals and 28 points in his first full NHL season.
---