Ducks hope momentum swings their way in Game 2 against Sharks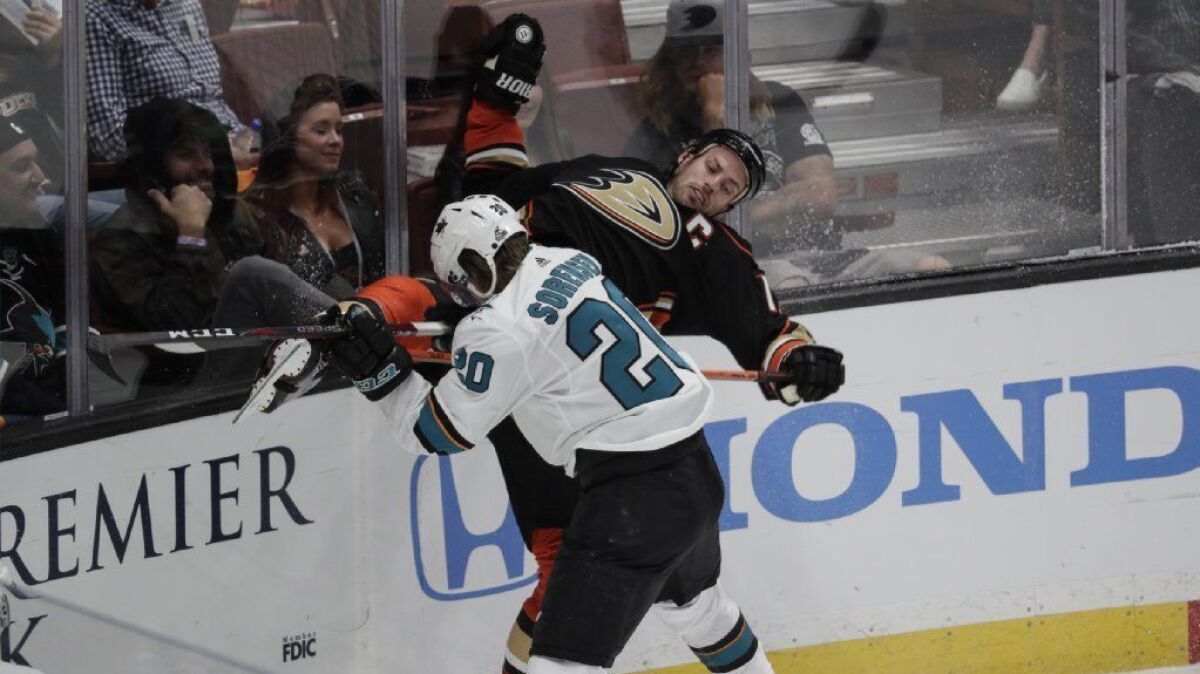 It's time to move on.
Randy Carlyle was upset following his team's lousy start to the 2018 playoffs, but he doesn't want his guys dwelling on it. The Ducks coach also isn't looking for his players to simply erase Game 1 from their memories.
First, he wants each skater to "recognize the deficiencies in your game and make adjustments."
After that, they can forget about the 3-0 loss to the San Jose Sharks and "turn the page." It's history.
Another game awaits Saturday at Honda Center, and it's not a stretch to call it the most pivotal of the season. A defeat would send the Ducks to San Jose down 2-0 n the first-round series, with Games 3 and 4 to follow on hostile ground.
"Momentum can change at any time," said defenseman Josh Manson. "You look at the past games that we've had in playoff series where we're down 3-nothing and all of a sudden we get one, and we get two and we get three. It can happen just like that. ... I think there's a lot of character in this room.
"When there's adversity, guys can step up to the table. We have guys who have won [the Stanley Cup] and we know how to win games. And there's guys in that room that can take over games."
It needs to happen fast.
The Ducks appeared to be stuck in mud in Game 1 as the Sharks skated circles around them with a ferocious forecheck, but Manson knows there were silver linings. He pointed to the strong penalty kill (one goal allowed on seven chances), a unit that's powered the Ducks all season and finished the regular season ranked fifth in the NHL.
And Manson's right; players such as Rickard Rakell and Ryan Getzlaf are a threat to break out at any juncture. They were held off the scoresheet in Game 1, but the duo won't be quieted for long.
Even though the Ducks were outplayed, a bounce of the puck here, a little luck there, and it could have all been different. Ryan Kesler was unable to cash in on two Grade-A scoring chances, the second of which ricocheted off the post.
"We have to move our feet at a higher rate," said Carlyle, whose team allowed reigning Norris Trophy winner Brent Burns to fire nine shots on goal with one score. "We did not skate and move quite anywhere near where we've been accustomed to doing.
"Consequently, we spent a lot more time in our zone and they had a strong backtrack. They outnumbered us in the neutral ice. They got four guys above the puck or three guys above the puck on a consistent basis."
Fortunately for the Ducks, they aren't left to wonder what could have been. They have the opportunity to rewrite their story, but they can't wait too long.
Game 1 is history, gone in a puff of smoke. All the reflecting, all the soul-searching needs to matter, and the change they're looking for must materialize on Saturday.
Now, the Ducks turn the page to what they hope is a new story with a far different ending.
---
Get the latest on L.A.'s teams in the daily Sports Report newsletter.
You may occasionally receive promotional content from the Los Angeles Times.