Kings-Blues matchup is a clash of the Western Conference titans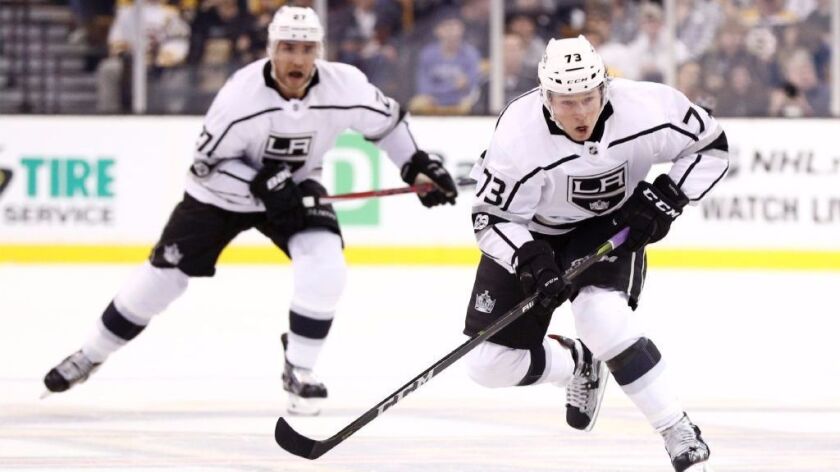 Reporting from ST. LOUIS —
The end of a six-game trip usually entails concerns about fatigue and just getting through the game and going home.
Monday is not that situation.
It's a matchup of the two best teams in the Western Conference when the Kings play the St. Louis Blues at Scottrade Center, about as juicy as a late October contest gets.
"Even though it doesn't seem like we have a lot of history, we feel the history against this team in this room," said Drew Doughty, who is playing in his 700th game. "Every time you play St. Louis, you remember that game because it was such a hard game to play. I know they're feeling the same way. It's hard to play against us, too. We have to show them that we're for real."
The Kings see a lot of themselves in the Blues: A team that transitioned to more of an up-pace game under a new coach while still maintaining a defensive identity. One difference: St. Louis defensemen have accounted for 13 goals in 12 games under coach Mike Yeo, who replaced Ken Hitchcock.
"I think their team game's always been really sound," Kings coach John Stevens said. "Certainly when Hitch was here, he's known for that, and I think he does a tremendous job and Mike's introduced some new ideas offensively. I think their team game's always been part of their identity here. Their defense is big and they move and I think that's probably the one thing that's changed."
Yeo nodded toward the Kings' offense and the highly effective line of Anze Kopitar, Dustin Brown and rookie Alex Iafallo.
"This is going to be a fun game," Yeo said. "Their top guys are going really well right now. Kopitar looks really good. Doughty looks really good. Their supporting cast, I'd say everybody's on top of their game … There are still a lot of similarities that you would think of when you play the L.A. Kings, and that's a hard, heavy structured smart game. It's going to be difficult to get things going against a team like this."
The game will have a local angle with Blues wing Beau Bennett, who is from the South Bay and was a Kings fan growing up. He played for the Junior Kings and L.A. Selects and played his first roller hockey tournament in the parking lot of the Great Western Forum.
"I remember growing up just cheering them," Bennett said. "When they won it [in 2012], even that was before when I was in the league. I was downtown. I was pretty excited for that."
A big topic Monday was the epic Game 5 of the World Series that ended after midnight in St. Louis. Bennett said he's rooting for the Dodgers but he didn't stay up to watch.
"Too much baseball," he said.
Twitter: @curtiszupke
---
Get the latest on L.A.'s teams in the daily Sports Report newsletter.
You may occasionally receive promotional content from the Los Angeles Times.