Ducks add scoring punch ahead of Kings clash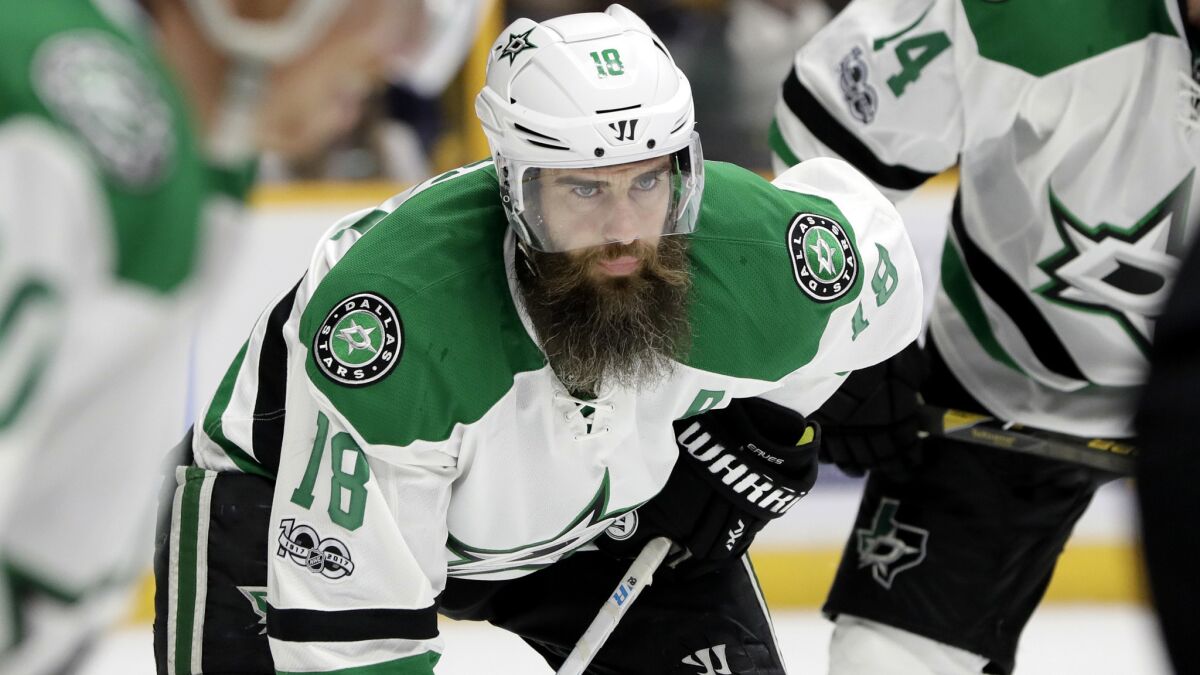 If Saturday's Ducks-Kings matchup was a neighborhood pickup game, the Ducks just brought in a ringer, er, winger.
A quiet trade front was shaken Friday when the Ducks acquired right wing Patrick Eaves of the Dallas Stars to address their need for a scoring forward, while the Kings continued to search for similar help before Wednesday's deadline.
In exchange for Eaves, the Ducks sent the Stars a conditional 2017 second-round draft pick, originally acquired from the Toronto Maple Leafs in the Frederik Andersen trade. The selection would turn into a first-round pick if the Ducks advance to the Western Conference final and if Eaves plays in at least half of Anaheim's games in the first two playoff rounds.
Eaves was taking a nap when he got the news, then was on his way to the airport to try to make the afternoon game.
"It got me out of bed really quick, that's for sure," Eaves said. "I was excited. Your world gets turned upside down real quick. I want to get out there as soon as possible … It's a good team I'm joining, and I'm excited by the way they're playing and the way they're positioned for the playoffs. I know the nerves I'm experiencing right now will go away once the game starts."
Eaves, 32, is a bargain pickup with a $1 million salary cap hit that's desirable for the cap-tight Ducks. He will help the Ducks' offense, ranked 18th in the NHL in five-on-five scoring, and provide veteran presence. Eaves is having a terrific season with 21 goals, tied for Dallas' lead, and ranks fourth in the league with 11 power-play goals.
Ducks General Manager Bob Murray cited the need for a veteran given that Joseph Cramarossa, Ondrej Kase and Nick Ritchie, among others, have playoff experience. Murray didn't want to criticize their contributions but said, "We've got a bunch of young forwards in our lineup this year. It's tough to go far with young forwards."
It was thought that the Ducks would move a defensemen, given their surplus at that position. Murray is still in position to do so, but didn't want to fuel speculation about another deal.
"I don't have to do anything right now with my defense," Murray said. "If I can make a good hockey deal going forward, I'll make a good hockey deal. … I don't get a sense that's going to happen. I don't feel pressure to do anything else."
Pressure is mounting on the Kings as they cling to playoff aspirations with the NHL's 24th-ranked scoring offense. They were not believed to be pursuing Eaves, but they could still use a veteran forward and perhaps a goalie with Jonathan Quick nearing a return after Peter Budaj finally buckled some as the starter.
The Kings' urgency is spiked by a 2-6 slide. Saturday is the first of 13 remaining games against Pacific Division foes.
"Those are huge and we're obviously in a position where we're trying to get back into the race," Kings defenseman Alec Martinez said. "You look at it and you're aware that it's the Ducks and how it's always an emotional, revved up game with them, but you've got to bring it every game now, these last 20 games or so."
Ducks Coach Randy Carlyle anticipated that Quick could return Saturday. Kings Coach Darryl Sutter said he won't need a minor league rehabilitation assignment.
"When he's ready to play, he'll be ready to play," Sutter said.
Sutter called the absence of Quick in their locker room "a big void" and, like Murray, pointed to his star, veteran players.
"You need your top end, our top end," Sutter said. "When you look at it, [it] is also our leadership group with our team, so those guys have kind of got to row it together."
Murray is in a similar boat, having some of his bigger oars not moving swiftly. Corey Perry is well off his usual 30-goal clip as Rickard Rakell's and Ryan Kesler's lines have led the way offensively.
"Without naming names, we have a few players who have to play better," Murray said. "Let's not kid around, we have a few players who haven't had good years."
Carlyle hadn't yet toyed with the forward lines in his head but has an idea where to put Eaves.
"I would say there's a good chance he'll play with [Ryan] Getzlaf, there's a good chance he's going to play with Rakell, because we're not going to change the Kesler, [Andrew] Cogliano, [Jakob] Silfverberg line," Carlyle said.
Helene Elliott contributed to this report.
KINGS VS. DUCKS
When: 1 p.m. Saturday
On the air: TV: Prime, FSW; Radio: 790, 830
Update: Ducks goalie John Gibson had an MRI exam that showed no damage other than a strain to his lower-body injury and he will be rested through the bye week, Carlyle said. … There was no announcement on Antoine Vermette's suspension for abuse of an official. … Ducks left wing Nic Kerdiles was reassigned
sports@latimes.com
---
Get the latest on L.A.'s teams in the daily Sports Report newsletter.
You may occasionally receive promotional content from the Los Angeles Times.