Column: Ducks faithful show their love for Andrew Cogliano after broken streak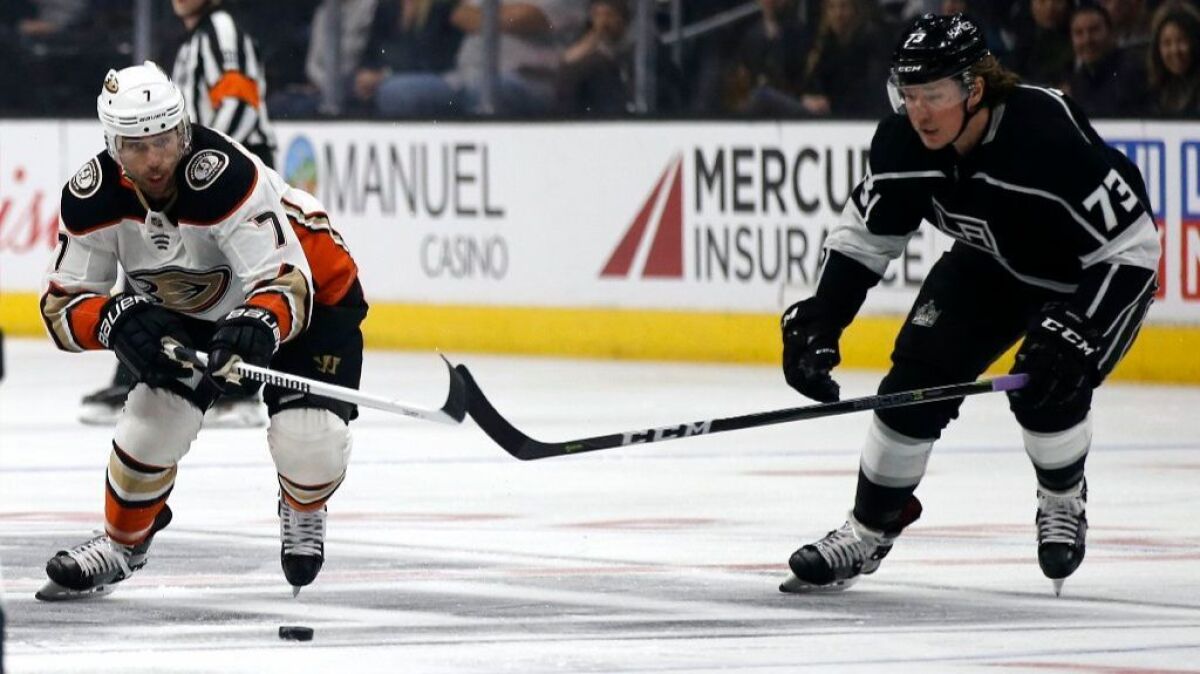 Ducks winger Andrew Cogliano took the end of his streak of 830 consecutive games played with a quiet grace and a few tears, not out of self-pity but of remorse for having committed an offense he didn't intend and for letting his teammates down.
Suspended two games by the league for a late, high hit on Kings forward Adrian Kempe last week, Cogliano became a spectator for the first time in his NHL career. When he returned on Friday, the Ducks played a video tribute to his streak — the fourth-longest in NHL history — and fans welcomed him back with signs proclaiming that in their eyes, at least, his streak had never stopped. He was still their favorite Ironman. His teammates welcomed him back just as enthusiastically.
"It was weird not having him for the last couple of games. You just kind of expect him to always be there," forward Chris Wagner said. "A tough decision by the league. We kind of felt collectively, it is what it is and he'll bounce back."
Whether Cogliano deserved the suspension will be debated for as long as he plays. It was a blow to the head, which the NHL is trying to eliminate, and he acknowledged that it had been late, but he had a spotless record before that. And there's no sense in asking why he was suspended while Kings forward Dustin Brown, who delivered a cross-check to the back of vulnerable Pittsburgh Penguins defenseman Justin Schultz on Thursday and drove Schultz's head forward into the boards, got only a $10,000 fine and no suspension and played on Friday.
The NHL's disciplinary process is as inconsistent as it is unfathomable.
But it was clear Cogliano felt he had paid a steep price and was ready to move on and again do all he could to help his team.
He succeeded, intercepting a clearing pass and keeping the puck in the zone to make possible Ryan Kesler's decisive goal in a 2-1 victory over the Kings before an appreciative sellout crowd at Honda Center.
Cogliano was out on the ice for the final frantic seconds for his defensive abilities, and after it was over, he hugged goaltender John Gibson and soaked in the affection of fans who felt they had been wronged by the NHL's disciplinary department — which is headed by former Ducks enforcer George Parros — but felt they got a measure of revenge when Cogliano returned and helped take down the Kings.
"It's important for me to take the time to express my gratitude of how special it's been over the last 48 hours," said Cogliano, who received widespread support from fans and former players both on Twitter and by texts.
"And obviously tonight, that was something that I'll remember for the rest of my life and my career.
"This is probably one of the toughest parts of my career but I think that evened it out for me in terms of the amount of support, the video, the fans. It's pretty special to have that done in my career for me and I really want to thank the people that took the effort because it means the world to me."
Winning for the second straight time on a five-game homestand was equally important for the Ducks, who are still out of a playoff position. So are the Kings, who have now lost six straight.
"That was a huge two points for us," said Cogliano, who intercepted the intended clearing pass and relayed the puck to Francois Beauchemin, whose blast was tipped past Jonathan Quick by Kesler. "I thought we had a good third. I thought we came out hard."
Normally when the Kings and Ducks get past the halfway point of the season, they're jockeying for playoff position. This season has been different, for a lot of reasons.
The success of the Vegas Golden Knights, who continue to defy the low expectations set out for them in their expansion season, and the revivals of the Calgary Flames and the Colorado Avalanche left the Kings and the Ducks out of the top eight in the West when they faced off Friday night.
The Ducks, hit by a succession of injuries in the early months of the season, are now as healthy as they will be while winger Patrick Eaves battles Guillain-Barre syndrome.
They have the pieces for another late playoff run, and they have the depth.
The Kings are still figuring out who they are and what they have. They're not the defense-first drudges they became under coach Darryl Sutter, but they've also learned that having freedom to be creative offensively and actually scoring aren't connected. They've been outscored 21-11 during this losing streak and the back half of their defense has shown little mobility and a lot of holes. General manager Rob Blake has yet to make a deal that has had any significant impact or has made them measurably better.
In the meantime, Cogliano's return made the Ducks better. His streak was broken, but his spirit was not.
"This was closure for me in terms of the reception and the effort the fans went through," he said. " It shows how much they appreciate me and all the work I've done over the last seven years here. I just want to thank them."
Follow Helene Elliott on Twitter @helenenothelen
Get the latest on L.A.'s teams in the daily Sports Report newsletter.
You may occasionally receive promotional content from the Los Angeles Times.