Column: NHL rules keeping Kings in salary-cap limbo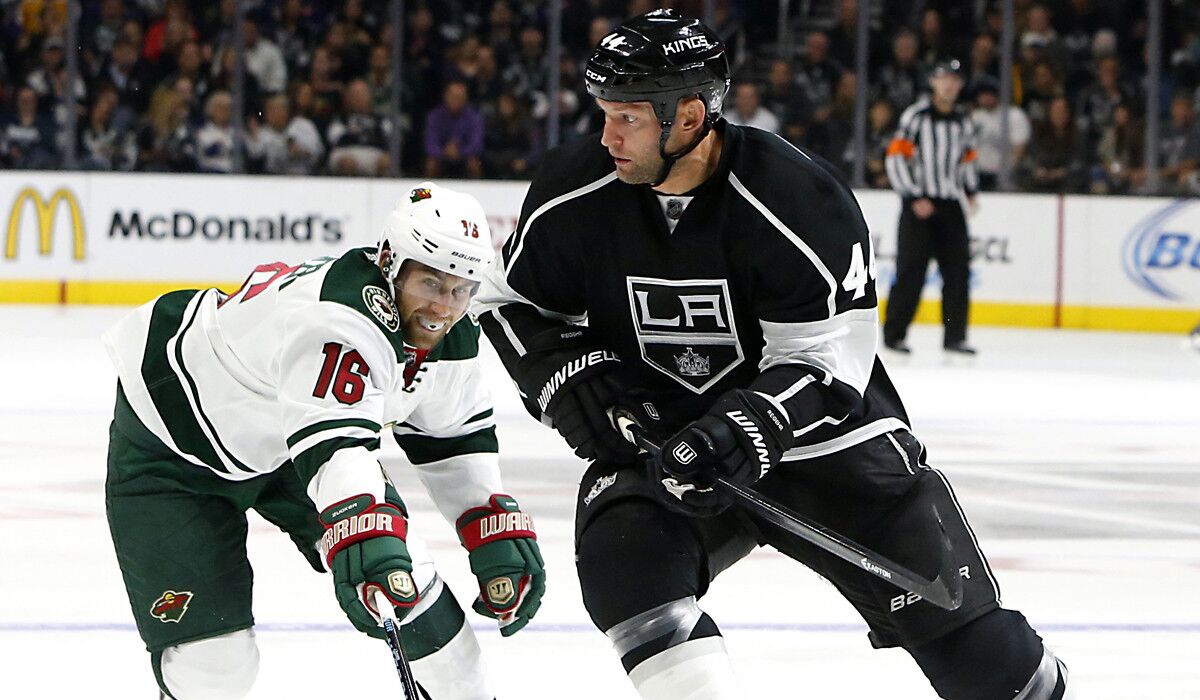 When the Kings wanted to call up a defenseman from the minor leagues Saturday to replace the injured Robyn Regehr they consulted their calculators before they checked flight schedules.
Because they're near the salary cap limit and are carrying Slava Voynov's $4.1-million salary while he's suspended with pay by the NHL and under investigation on suspicion of domestic violence, they didn't have enough cap space to summon a defenseman earning even the league-minimum of $550,000. The gap was $160.
"I had more money in my pocket. I was willing to contribute the difference," said Jeff Solomon, the Kings' senior vice president of hockey operations and legal affairs. "But I didn't think that was going to work."
Because the cap changes daily, the Kings will have enough space Tuesday to sign defenseman Jamie McBain to a league-minimum contract. But they're still in a bind, unable to get salary-cap relief while they're paying Voynov.
Redondo Beach detectives investigating the Oct. 20 incident between Voynov and his wife met with officials from the Los Angeles County district attorney's office on Monday. No announcement was made about whether charges will be filed.
That prolonged the Kings' journey through salary-cap limbo. By contrast, the Toronto Maple Leafs are not responsible for the cap hit of forward Carter Ashton, who was suspended without pay for 20 games for using a banned performance-enhancing substance.
"How long is this supposed to go on? It's clear that the system is dysfunctional," Kings General Manager Dean Lombardi said.
"It has nothing to do with what he did. What he did is off to the side. That's indefensible. But if a guy does steroids — that's indefensible in its own right, too, but they're separate issues — you immediately get the cap space. What's ridiculous about this, if he gets convicted we get the cap space. If he doesn't, we're in never-never land. We get nothing. It's totally dysfunctional."
Lombardi repeated the Kings don't dispute the NHL's imposition of the suspension, but they believe the team is being punished by not getting cap relief.
"We've lost one of our top players. We get it," Lombardi said. "If he gets convicted, he's out. We get the space. Toronto's guy clearly does something out of bounds, they immediately get the space. How is this logical?"
A very good point.
NHL Deputy Commissioner Bill Daly said Monday the league has "discussed a variety of alternatives that might potentially ease the Kings' cap and roster concerns," but the union has "not been inclined to agree to offering any relief." Union spokesman Jonathan Weatherdon said the league and the NHLPA "have been engaging in dialogue on the matter." The league and the union have their own agendas here, too. The union doesn't want players' 14% escrow payments to rise by even the small amount that would be generated by a replacement for Voynov.
The next step might be for Kings owner Philip Anschutz to become involved and call in the debt Commissioner Gary Bettman owes him for saving and sustaining the Kings franchise. A spokesman said Anschutz is aware of the situation but hasn't directly engaged with Bettman.
In deciding this season to keep their Stanley Cup championship team nearly intact and brush up against the cap ceiling, the Kings budgeted for possible injuries and suspensions. "This scenario is one that, quite frankly, we really didn't spend a lot of time talking about this summer," Solomon said. There's a new case study now. "Unfortunately," Solomon said, "I can be the author."
On the right track
The Vancouver Canucks made sweeping changes after they missed the playoffs last season, triggering a transformation that appears to be going surprisingly smoothly.
The Canucks have won seven of their last nine games and rank third in the NHL at 11-5-0 under new General Manager Jim Benning and first-time NHL coach Willie Desjardins. What's most impressive is the resilience they displayed in rebounding from an ugly loss to the Kings on Saturday to beat the Ducks at Anaheim on Sunday.
"It usually takes some time to get together and learn a new system and everything but it has been quick," forward Daniel Sedin said. "We work for each other each night and we roll four lines and it's been good. We've got to keep doing those little things that make us successful."
Free-agent signee Ryan Miller, pulled from goal during that 5-1 loss to the Kings, said he likes his new team's attitude and competitiveness.
"We're still growing as a team and it's going to be something where it's a work in progress," he said. "I think by the end of the season our goal is that when the Kings are playing their best system and we're playing our best system, it should be a really tight game and we hope to find ways to win those games by the end."
Slap shots
Good news that longtime Sabres voice Rick Jeanneret is free of cancer after battling throat cancer. He and former Buffalo Bills quarterback Jim Kelly — also a cancer survivor — participated in a ceremonial puck drop last Friday in Buffalo. . . . The Detroit Red Wings will be without goalie Jonas Gustavsson for about two months after he dislocated his left shoulder last week. Petr Mrazek will become Jimmy Howard's backup.
The Boston Bruins looked to be sunk after they lost defenseman Zdeno Chara to a serious knee injury. But with Dennis Seidenberg and Dougie Hamilton stepping up, they're 6-1 without Chara. Youngsters Joe Morrow and Zach Trotman have filled in capably. . . . The Montreal Canadiens haven't won the Stanley Cup since 1993 but they've retained a knack for staging stirring ceremonies. They did it again Saturday when they retired Guy Lapointe's No. 5, rightfully reuniting their Big Three defensemen of Lapointe, Serge Savard and Larry Robinson.
Twitter: @helenenothelen
Get the latest on L.A.'s teams in the daily Sports Report newsletter.
You may occasionally receive promotional content from the Los Angeles Times.