Kings plan to give goalie Jonathan Quick some necessary rest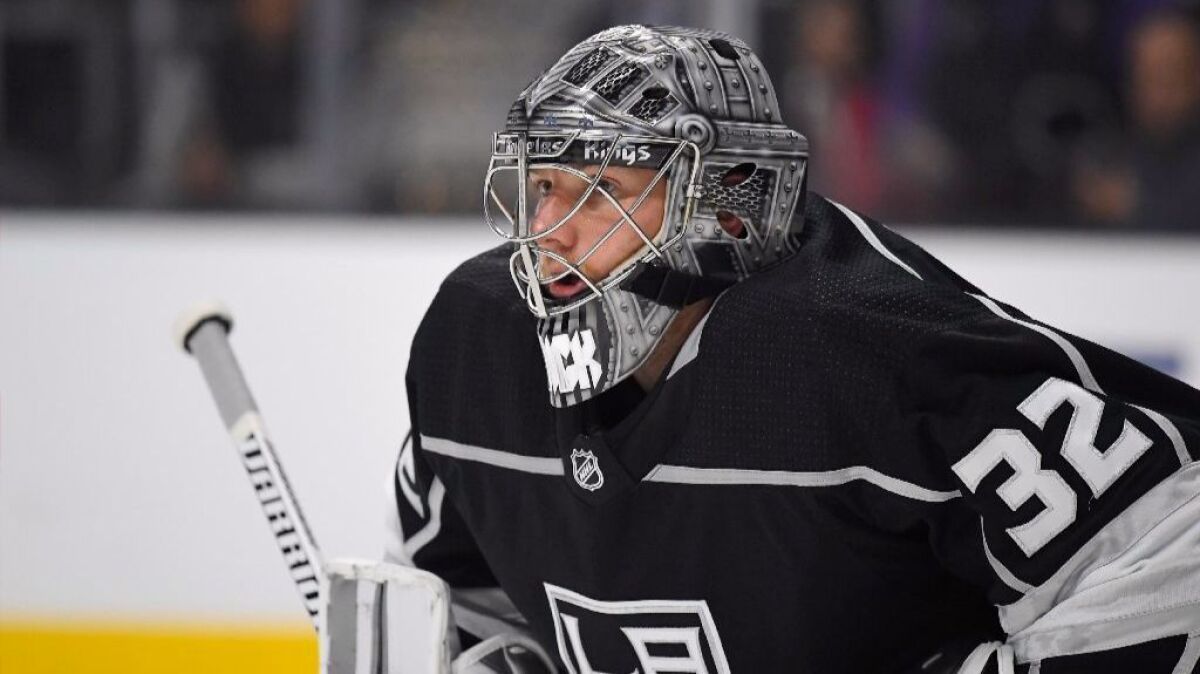 The first practice upon their return from China was not the most crisp for the Kings and Jonathan Quick.
Some players were still adjusting their body clocks, and Quick had a few pucks go past him that he normally gobbles up.
Two days later, however, Quick resumed his elite form in a preseason victory against the Arizona Coyotes. He gave up one goal late and made clean transfers to his defensemen.
"Johnny looked sharp," coach John Stevens said.
It was an important sign. Quick's health is again imperative and Stevens will monitor him knowing it's the goalie's first full season after a groin injury in last season's opener. Quick also had a major groin injury in 2013.
"In his case, the fact that he's had those injuries, we certainly have a plan in place to keep him healthy," Stevens said.
"John's capable of handling a big workload. A lot of it will be depended on the schedule. … He's proven in the past, he's capable of a heavy workload. I think that's something we manage as we move along."
Former coach Darryl Sutter often played Quick 68-72 games. But Quick, 31, is mindful that he's not 21 anymore.
"I don't think it was kind of talked about as much [back then]," Quick said. "The setup around the league was a little bit different. Obviously, it depends on different coaches having different philosophies now. But … you get your days of practice and make the most of it and get as much work as possible and work hard."
Stevens initially said that Quick would get the bulk of the work in preseason, but Quick played three games and will have not played in a week going into Thursday's season opener.
Quick likened it to a long break between playoff series, and that might be a good approach, to start.
"You see it around the league, coaches are kind of leaning toward rest a little bit more than the work side," Quick said. "When you do work, you work hard. But everyone's kind of understanding the value of rest and taking care of your body."
The depth chart behind Quick became clear Sunday when Jack Campbell was put on waivers despite a good preseason challenging Darcy Kuemper. The Kings can assign him if he clears.
Justin Auger also was put on waivers. Brooks Laich's tryout contract has ended but he is expected to continue to practice with the team.
It's usually telling when a player isn't drafted out of college, but it benefited Alex Iafallo. The forward played out his career at Minnesota-Duluth and helped the Bulldogs reach the Frozen Four title game in April.
"I feel like I just got older," Iafallo said. "I just found a right way to work and improve my game. An extra year definitely helped myself as a player. I just think it's a good opportunity to get better and prove to myself that I can do this."
Iafallo is on the verge of claiming a roster spot after a promising camp. Stevens likes Iafallo's two-way play and knack for hounding the puck. Iafallo did not score in the preseason but was noticeable offensively.
"He may have been a surprise because we didn't know he could do it at this level," Stevens said.
Twitter: @curtiszupke
Get the latest on L.A.'s teams in the daily Sports Report newsletter.
You may occasionally receive promotional content from the Los Angeles Times.