Kings defenseman Doughty sometimes carries his passion to unwanted extremes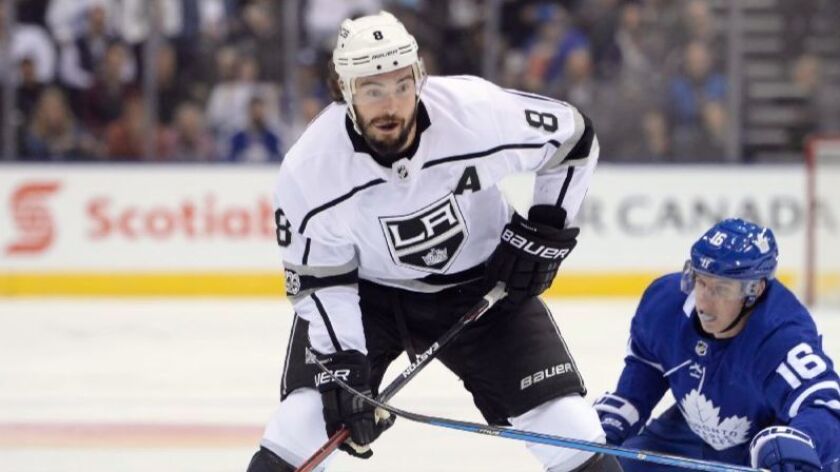 There might not be a more passionate player in the NHL than Drew Doughty. There are few players who wear it on their sleeve more than the Kings defenseman.
But he's also one of the NHL's most well-known talkers — to the officials, and he can't help it.
"I know what that fine line is," Doughty said. "I just don't do it. Selfish on my part, really."
That sometimes spills over like it did last Saturday when Doughty was given an unsportsmanlike conduct penalty for complaining to the referees. Doughty was upset over several plays, including an apparent trip that wasn't called.
"I feel really bad when I do it every time," Doughty said. "I go home and I think about it and I feel terrible. But I just get so competitive. I kind of lose it sometimes. I can't control it. I'm not going to argue with the ref if I think he made the right call. But if he doesn't make the right call, and I question him and he kind of gives me some kind of answer back, then I'm going to get mad too."
Doughty tends to be involved in a majority of the action if only because of his ice time. He played 31 minutes 40 seconds against the Nashville Predators, his second-highest total since the beginning of last season. It would have been more if not for his penalty, and that's probably the only aspect of Doughty's personality that Kings coach John Stevens won't tolerate.
Doughty has developed a reputation for airing his displeasure. Asked if that tends to play a part in a player getting penalized for such behavior, Stevens said of the officials, "They're humans, right? If I start screaming at you, you're going to probably not want to listen to me. They're out there trying to do a good job. They're good people. They're trying to do the best job they can. It's a heated game with a lot of emotion involved."
Players generally might be more on edge this season with the NHL implementing stricter rules on slashing and faceoffs, Stevens said. But he was firm in taking unnecessary penalties.
"Drew's a very passionate guy," Stevens said. "That much we know. But those types of penalties have no place."
The Kings have had four power plays in each of their last three games, reversing i a trend from earlier in the season. They were on the power play only nine times in the first five games of their last trip and through Sunday ranked 21st in the NHL in power play opportunities.
"You like some of the things we're doing offensively, so I don't think it's something we're addressing or talking about," Michael Cammalleri said. "Hopefully it's just one of those things that ebbs and flows. The better we check, or the more we play in the offensive zone and be harder on teams, the more they're forced to take penalties."
Twitter: @curtiszupke
---
Get the latest on L.A.'s teams in the daily Sports Report newsletter.
You may occasionally receive promotional content from the Los Angeles Times.