Kings goalie Darcy Kuemper deals with backup role like a pro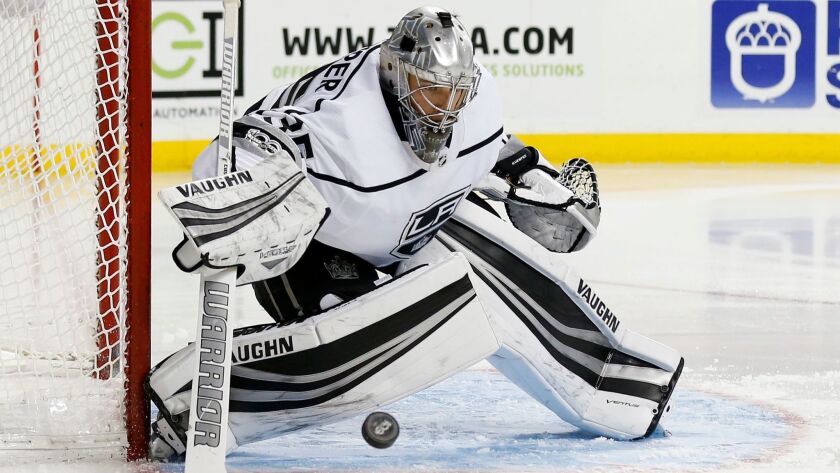 Some players used the NHL's mandatory bye week to take a mini-vacation. Some simply stayed put and rested. Darcy Kuemper indulged in something he hadn't done since he was a kid. He went to Disneyland.
The Kings goalie put his mask away and saw other kinds of masked characters. And he didn't have to wait long at the crowded park for his favorite ride — Space Mountain.
"I just tried to take advantage of the Fastpass," Kuemper said in reference to the option that allows visitors to bypass long lines.
As far as hockey, Kuemper has had a long wait to get back into the Kings net. He hasn't played since Dec. 16, and if Jonathan Quick makes his 10th straight start Monday, Kuemper will have gone more than a month between appearances.
It's a challenge that Kuemper has learned to handle. He credits goalie coach Bill Ranford for helping him stay on point. His practices are his games. That's the life of a backup goalie to an elite No. 1, a role Kuemper has held for most of his NHL career (he was the No. 2 goalie behind Devan Dubnyk for the Minnesota Wild prior to joining the Kings).
"I've been through it before and I can draw confidence from that," Kuemper said. "That's probably the hardest part of it is going out there and still knowing that you can do it, because you can't be going out there second-guessing yourself."
The Christmas break and the bye week allowed the Kings to spread out Quick's nine starts over 27 days. But Saturday was a reminder that Quick is human. He allowed a soft goal on the first shot, and he lost the puck behind the net (which resulted in a 3-0 Ducks lead in a 4-2 Ducks win).
Quick's All-Star season and stubborn competitiveness, combined with Kuemper's ability to adjust to sporadic playing time, have made it easier for Kings coach John Stevens to sit Kuemper for long periods.
"He's got the right mindset," Stevens said. "He's got a really good personality. He works hard at his game. He stays sharp. He uses practices to stay ready. It's worked for him well. He's done a good job of it."
Kuemper still hasn't absorbed a regulation loss (5-0-3). His 2.11 goals-against average would rank second in the NHL if he met the minimum requirement of 15 games played. Kuemper's current wait is nothing compared to the 2½ months he spent on the bench in 2015, when Dubnyk started 39 straight games.
"It wasn't fun," Kuemper said. "But the team was doing well, and that made it easier."
The Kings only hope that's the scenario again.
Etc.
Jake Muzzin (upper body) practiced and could play depending on how he responds, Stevens said … Trevor Lewis was given the day off. Lewis took two hits from the Ducks' Jared Boll on the same shift … Assistant coach Pierre Turgeon left Saturday's game early to catch the NHL debut of his son, Dominic, for the Detroit Red Wings on Sunday … Jonny Brodzinski was recalled.
UP NEXT
VS. SAN JOSE
When: 1 p.m. Monday
On the air: TV: FSW; Radio: 790
Update: San Jose goalie Martin Jones was pulled almost 14 minutes into Saturday's game after he allowed three goals on six shots. The former Kings goalie shut out the Kings 2-0 on Dec. 23. Joe Thornton will pass Wayne Gretzky for sole possession of 21st place on the NHL's all-time games-played list at 1,488.
Twitter: @curtiszupke
---
Get the latest on L.A.'s teams in the daily Sports Report newsletter.
You may occasionally receive promotional content from the Los Angeles Times.