Column: NHL All-Star Game: Will the third time be the L.A. charm
Nearly 36 years after Mike Liut played in the first NHL All-Star game in Los Angeles, he remembers being so tired after a cross-country flight and late dinner the night before that he asked to start in goal for fear he'd fall asleep if he had to wait. Liut, who represented the St. Louis Blues, also recalls one of his 25 saves with particular clarity.
"Charlie Simmer had the puck and I was down and out and I just sort of flopped over there and stacked the pads and I thought he was for sure going to score," Liut said. "But he just whiffed and couldn't get it up. He should have scored."
Nearly 36 years after that game at the Forum on Feb. 10, 1981, Simmer needed no prompting to give his version of the play. "I didn't whiff," he said indignantly. "I made a tremendous shot. He made a better save. I never whiffed from there. I never whiff and he made a great save."
There were many memorable aspects to the 1981 All-Star game, including the introduction of the Kings' potent Triple Crown line of Simmer, Marcel Dionne and Dave Taylor, Wayne Gretzky's first All-Star point, and the seriousness of the coaches, Scotty Bowman of the Wales Conference and Pat Quinn of the Campbell Conference. By 2002, when the All-Star game returned to Los Angeles — this time at Staples Center — the games had become boring, no-hit exercises. The format that year was North America vs. the World.
"Is that what it was?" said Rob Blake, now a Kings executive and then a defenseman with Colorado. "Now when you said that, I remember those jerseys."
The World team rallied for five goals in the third period and won, 8-5. "They did, huh?" Blake said, understandably fuzzy on details. "That's about how much I remember from All-Star games."
Oddly, Bowman and Quinn were the coaches in 1981 and 2002. Quinn died in 2014 but Bowman, 83, a senior advisor to the Chicago Blackhawks' scouting operations, hopes to be at Staples Center on Sunday for this season's All-Star game. "I don't mind going to L.A. because I don't like to be cold," Bowman said.
Here are some recollections from those who were at the two previous All-Star games played in Los Angeles:
1981: Triple zero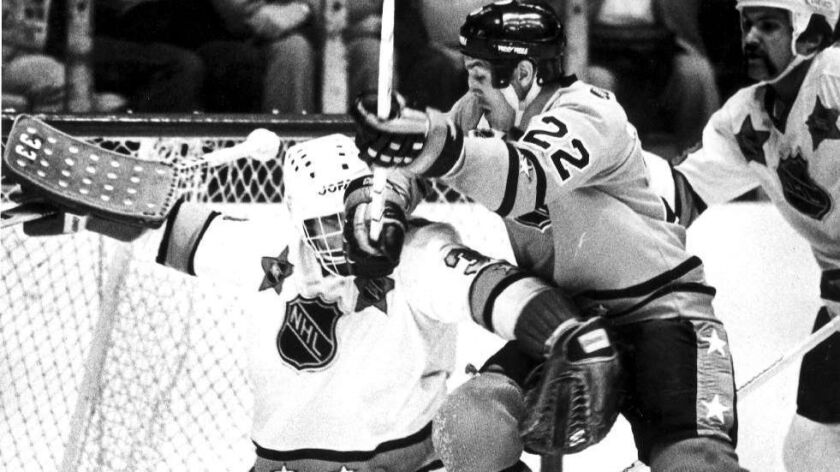 The 1981 All-Star game figured to be a showcase for the Kings' high-scoring line of Simmer, Dionne and Taylor, who were joined on the Wales squad by teammate Mario Lessard.
"To have the three of us skate on at the same time, it felt good because that's how we became the Triple Crown, by working together, the three of us," Simmer said. "Marcel was the key. There's no ditching that. But to have the chemistry that we had and the friendship that we still have and to work as a team and skate out as a threesome was a big thrill for me, for sure."
Dionne also appreciated it. "It was nice for us to get in. I remember Scotty's speech that it meant a lot for the players and the franchise and so on, and let's go out there and have a good game," he said.
Bowman conducted what Simmer remembers as a serious practice the morning of the game. "We'd had the dinner the night before and we might have been out a little bit later than we should have," Simmer said. "Then to have a full practice it was, 'What's going on here? Is he like that all the time?'"
Alas, the practice didn't help the Triple Crown line.
"I think this was our worst performance ever. I was just out of gas," Dionne said of the trio, which was blanked in the Campbell squad's 4-1 victory. "I don't know what took place. … We had so many things to do. We had meetings with the [players'] association and so many other things. The game started and I'm thinking, 'Are you kidding me?' We're looking at each other and said, 'This is awful.'"
It turned out great for Liut, though. Recently back from an injury, he had gotten through five games in eight nights before he flew from Buffalo to Los Angeles. His pregame meal was a club sandwich at his hotel because there was no meal provided for players, and he had only a few hours' sleep before he went to the Forum.
"They're announcing the lineups and [teammate] Pete Peeters looks at me and goes, 'Mike do you feel OK? Are you OK?'" said Liut, now managing director of Octagon Hockey. "I looked at him and I said, 'Pete, I am exhausted. I just hope I don't embarrass myself.' And then they announced my name and I skated on to the ice hoping not to be falling down while we're doing that, because that was my state going into the game."
The Times' account of the game said Liut stopped a breakaway by Rick Middleton early in his 31-plus minutes in net. He doesn't remember it, but that save on Simmer stuck in his mind.
"He should have scored," Liut said. "When that didn't happen, that was in the second period, I thought, 'OK, this is going a lot better than I thought it was going to go.'"
Bowman said he doesn't recall much about the game but he has a good excuse. "I think I was in 13 of them," he said.
Dionne chuckled at that. "He's won so many Stanley Cups, he doesn't remember every one of them, either," Dionne said of Bowman, who won the Cup nine times as a coach and five as an executive.
That game was the first All-Star appearance for Bob Murray, then a defenseman for the Blackhawks and Campbell team and now general manager of the Ducks.
"I was nervous as heck, and I was the only guy from Chicago there. We weren't very good then, so if someone had to go, I was one of those ones that had to go," he said. "It was a great experience and they were honoring [Peanuts cartoonist] Charles Schulz, so that was kind of neat.
"We had Pat Quinn as a coach and that was great. Pat was wonderful. He had a couple of us young guys and he made it real easy for us. And it was a good hockey game. There was actually body contact. It was actually hockey. Nobody was running anybody, but guys were finishing checks and playing."
Gretzky also enjoyed the intensity. "That was a pretty good hockey game in the sense that it was pretty emotional and both teams wanted to win," said Gretzky, who assisted on the final Campbell goal, by Philadelphia's Behn Wilson. "Liut really played well and was definitely well-deserving."
Liut got a car from an NHL sponsor but no trophy. "I remember a St. Louis fan created a needlepoint marking the occasion," he said, "and years later that's the only thing you have to commemorate it."
Still, his performance hasn't been forgotten and came up when Simmer and Taylor attended the Kings' home opener this season. "We were reminiscing about things and the first thing he mentioned was, 'That damned Liut was so good,'" Simmer said. "We did have some really good chances after that and unfortunately we weren't able to score, but it was a fun, fun event."
2002: The sequel
The 2002 game — the last staged during an Olympic year — was played Feb. 2. The World vs. North America format was used for the fifth and final time, as fans' interest in the game continued to wane. "We were chasing our tails a bit by then, trying to figure out what to do," Murray said.
No one had a satisfying answer. "It wasn't very competitive. They tried to get competition," Bowman said. "It was pretty competitive in the '70s because the West Division was just started and the East didn't take us very seriously."
Although it was a no-defense show, it produced some highlights. Bowman, who had created a "Russian Five" unit while coaching the Detroit Red Wings, copied that with the World team when he put his five Russian All-Stars — Detroit's Sergei Fedorov, Chicago's Alex Zhamnov, the New York Islanders' Alexei Yashin, Washington's Sergei Gonchar and Tampa Bay goalie Nikolai Khabibulin — together with Ukranian Alexei Zhitnik of Buffalo. "We had somewhat of a Russian Six," Bowman said after the game.
The strategy worked, as Fedorov sparked a comeback and tied the score at 5-5 at 16:59 of the third period. Markus Naslund of the World team had two goals (including the winner) and an assist, but because MVP voting had been conducted early, that honor went to Eric Daze of the losing North American team.
Two moments stand out, although they were not associated with the game.
Blake couldn't recall the score of the game, but remembers his biggest thrill occurred during the skills contest, one of the weekend events added to grab fans' interest. "Ray Bourque came up to me and asked if we would trade jerseys. It was just something that he always did at All-Star games," Blake said. "So I kind of started doing that for the next whatever I played in after that. I got [Nick] Lidstrom one year. That's the one that I wanted. I've got all those in storage."
Two days before the game, the gold medal-winning 1980 U.S. Olympic hockey team played an exhibition on a rink set up in the Convention Center. It's believed to be the last time the entire team was together: Most but not all reunited to light the caldron at the 2002 Salt Lake City Olympics, and Coach Herb Brooks was killed in a single-car crash in August 2003. Even reclusive Mark Pavelich left the woods of northern Minnesota to attend the 2002 exhibition against a group of NHL alumni.
Asked why he traveled to the reunion, his answer was typically brief. "It was just that time," Pavelich said.
Just as it's time for Los Angeles to host the All-Star game again. "Everything surrounding it will be quite the show," Blake said, "quite the spectacle, to fit L.A."
---
Get the latest on L.A.'s teams in the daily Sports Report newsletter.
You may occasionally receive promotional content from the Los Angeles Times.