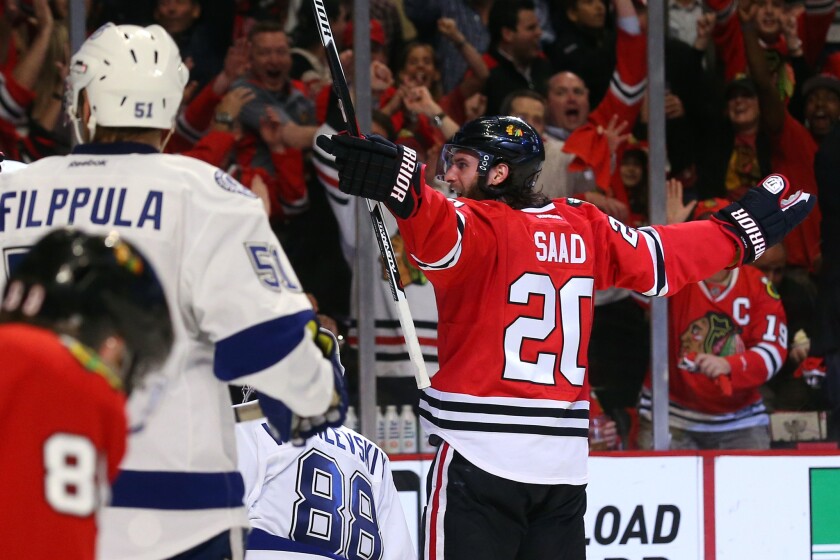 From CHICAGO —
The Chicago Blackhawks didn't need much time to reload after salary-cap considerations forced them to dump about a dozen players from their 2010 Stanley Cup championship team. Those departures created room for youngsters in the pipeline such as Brandon Saad, who has steadily improved his game and the importance of his role since he played on their 2013 Cup team.
On Wednesday, with the Blackhawks trying to prevent the Tampa Bay Lightning from seizing control of the Stanley Cup Final, Saad stepped up to match the high level of the core players he admires from those two Cup teams. Saad pursued his own rebound and backhanded a bouncing puck through the legs of Lightning goaltender Andrei Vasilevskiy at 6 minutes 22 seconds of the third period Wednesday for his eighth goal of the playoffs, lifting the Blackhawks to a nailbiting 2-1 victory before a jubilant crowd at the United Center.
It wasn't easy — Tampa Bay center Steven Stamkos had two prime scoring chances in the frantic final seconds — but the Blackhawks held on to win the fourth straight one-goal game in this Final and turn this into a best-of-three series. Game 5 will be played Saturday in Tampa, with Game 6 scheduled for Monday in Chicago.
"I think we're happy about the confidence, coming out of this game knowing we're raising our game as the series goes along," Blackhawks captain Jonathan Toews said.
They came out of it victorious because Toews scored his first goal of the Final, at 6:40 of the second period, and because Saad showed his promise as a clutch player after the Lightning had pulled even at 11:47 of the second period on Alex Killorn's finish of a slick setup from Valtteri Filppula.
Saad insisted his goal was partly due to good fortune.
"I just saw space going to the net, tried to drive and create some chaos," said Saad, who often found himself alongside Brad Richards and Patrick Kane on one of the new lines concocted by Coach Joel Quenneville.
"The goalie made a good play with poking the puck. It bounced around my feet and I finally found it on my stick. I just tried to get some wood on it and get it to the net and found a way through his legs."
Toews said he has liked Saad's progression since the Pittsburgh native became a regular in the 2012-13 season. "To me, the best characteristic to his game is not necessarily his flat-out skill, his skating, all the tangible parts of his game that you can see firsthand," Toews said.
"I think when he came into the league he was always pushing himself every night. He was assuming more responsibility, whether it was scoring goals or playing two-way hockey. I think he just keeps showing that. I think he just assumes that responsibility and he wants to be one of the best players."
He has achieved that in part because he has a good role model in Toews and another in Kane, who earned his first point of the Final by setting up Saad's goal.
"It's mostly the captain here," Saad said of Toews, who sat beside him for a postgame news conference. "You watch and learn the way he plays and competes. His passion out there is bar none."
The Blackhawks had only two shots in the first period and didn't manage to consistently sustain much pressure on Vasilevskiy, the surprise starter.
Ben Bishop, who sustained an undisclosed injury in Game 2 and gutted his way through Game 3, didn't dress as the backup. That role was filled by Latvian Kristers Gudlevskis.
Lightning Coach Jon Cooper said Bishop "is going to play again in this series, there's no question. I just don't know which game."
He also said he had no problem with Vasilevskiy's performance.
"If you tell me we're going to come in and he's going to give up two goals, that's a hell of a job in my book," Cooper said. "We've had a lot of success when we've only given up two. We win more of those games than we don't."
They didn't win Wednesday in part because Saad has emerged from that pipeline to take on an ever-growing role with the Blackhawk and keep them in contention for a third title in six seasons.
helene.elliott@latimes.com
Twitter: @helenenothelen
---