Here's how the four NHL conference finalists match up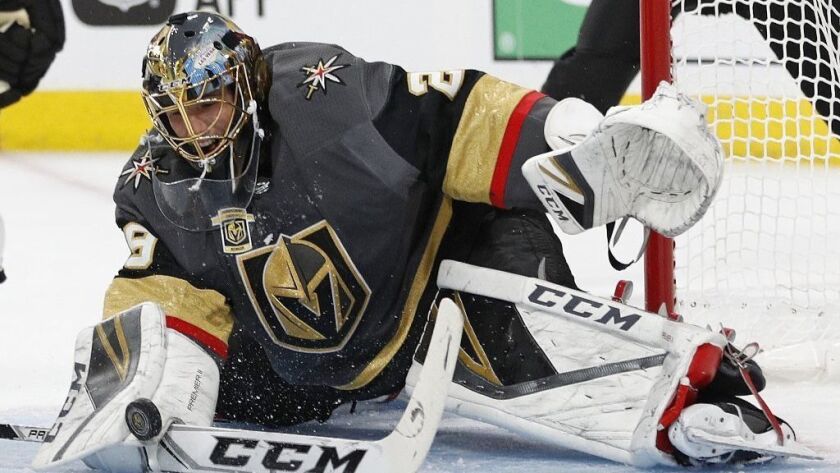 The Washington Capitals ended the Pittsburgh Penguins' quest for a third straight Stanley Cup championship, but a goaltender who helped the Penguins earn those back-to-back titles is still pursuing a three-peat.
Marc-Andre Fleury, who was claimed by Vegas from Pittsburgh in the expansion draft last June, has led the Golden Knights through two playoff rounds. But the big, deep Winnipeg Jets, who outplayed the No. 1-seeded Nashville Predators, will be a formidable obstacle to the Golden Knights' continuing their dream season.
The Capitals slayed many old demons when they defeated the Penguins to advance to the East final against the Tampa Bay Lightning. This is Alex Ovechkin's longest playoff journey and the team's longest postseason run since a 1998 Cup Final loss to the Detroit Red Wings. Of the four conference finalists, only Washington made the playoffs last year and only the Lightning (2004) have won the Cup.
Here's a look at the matchups:
WEST
Winnipeg Jets: 52-20-10, 114 pts.
1st round: def. Minnesota 4-1
2nd round: def. Nashville 4-3
Vegas Golden Knights: 51-24-7, 109
1st round: def. Kings 4-0
2nd round: def. San Jose 4-2
Power play: Season—Jets 23.4% (5th); Golden Knights 21.4% (11th). Playoffs—Jets 22.6% (8th); Golden Knights 17.5% (10th).
Penalty killing: Season—Jets 81.8% (9th); Golden Knights 81.4% (10th). Playoffs—Jets 75% (10th); Golden Knights 85.0% (2nd).
Top scorers: Season—Jets, Blake Wheeler 23-68—91; Golden Knights, William Karlsson 43-35—78. Playoffs—Jets, Mark Scheifele 11-5—16; Golden Knights, Jonathan Marchessault 4-7—11.
Outlook: The Jets (formerly Atlanta Thrashers) are a first-time conference finalist. They earned it with balanced scoring: 14 players have scored at least one goal, and Scheifele set a single-series record by scoring seven road goals, the last two in their clincher at Nashville. Trade-deadline acquisition Paul Stastny gives them depth and experience up the middle. Connor Hellebuyck (2.25 goals-against average, .927 save percentage) has shown why he's a Vezina Trophy finalist. The Golden Knights will encounter another first: starting a playoff series on the road. They're rested and must avoid letting that become rust. Marc-Andre Fleury has been outstanding, compiling a 1.53 goals-against average, .951 save percentage and four shutouts.
Pick: Winnipeg in seven.
Game 1 — Saturday at Winnipeg, 4
Game 2 — Monday at Winnipeg, 5
Game 3 — Wednesday at Vegas, 6
Game 4 — May 18 at Vegas, 5
Game 5* — May 20 at Winnipeg, noon
Game 6* — May 22 at Vegas, 6
Game 7* — May 24 at Winnipeg, 5
(*if necessary; times PDT)
EAST
Tampa Bay Lightning: 54-23-5, 113 pts.
1st round: def. New Jersey 4-1
2nd round: def. Boston 4-1
Washington Capitals: 49-26-7, 105
1st round: def. Columbus 4-2
2nd round: def. Pittsburgh 4-2
Power play: Season—Lightning 23.9% (3rd); Capitals 22.5% (7th). Playoffs—Lightning 26.3% (4th); Capitals 30.9% (2nd).
Penalty killing: Season—Lightning 76.1% (28th); Capitals 80.3% (15th). Playoffs—Lightning 74.2% (10th); Capitals 79.1% (8th).
Top scorers: Season—Lightning, Nikita Kucherov 39-61—100; Capitals, Alex Ovechkin 49-38—87. Playoffs—Lightning, Kucherov 6-6—12; Capitals, Ovechkin 8-7—15.
Outlook: Tampa Bay is in the East final for the third time in four seasons. The speedy Lightning rebounded after losing their opener against Boston by limiting the Bruins' five-on-five chances. Tampa Bay's fine two-way defense corps is led by Victor Hedman, a Norris Trophy finalist. The line of Ondrej Palat, Brayden Point and Tyler Johnson excelled against Boston, and Kucherov is always dangerous. Vezina Trophy finalist Andrei Vasilevskiy (2.20, .927) has been solid. Less was expected of the Capitals than in previous seasons, but they've achieved more after retooling and not finishing first overall. They've averaged a playoff-high 3.58 goals per game. Nicklas Backstrom (hand) and left wing Andre Burakovsky (upper body) are day-to-day.
Pick: Tampa Bay in seven.
Schedule:
Game 1 — Friday at Tampa Bay, 5 p.m.
Game 2 — Sunday at Tampa Bay, 5
Game 3 — Tuesday at Washington, 5
Game 4 — Thursday at Washington, 5
Game 5* — May 19 at Tampa Bay, 4:15
Game 6* — May 21 at Washington, 5
Game 7* — May 23 at Tampa Bay, 5
(*if necessary; times PDT)
---
Get the latest on L.A.'s teams in the daily Sports Report newsletter.
You may occasionally receive promotional content from the Los Angeles Times.