NHL still unsure it if will participate in 2018 Olympics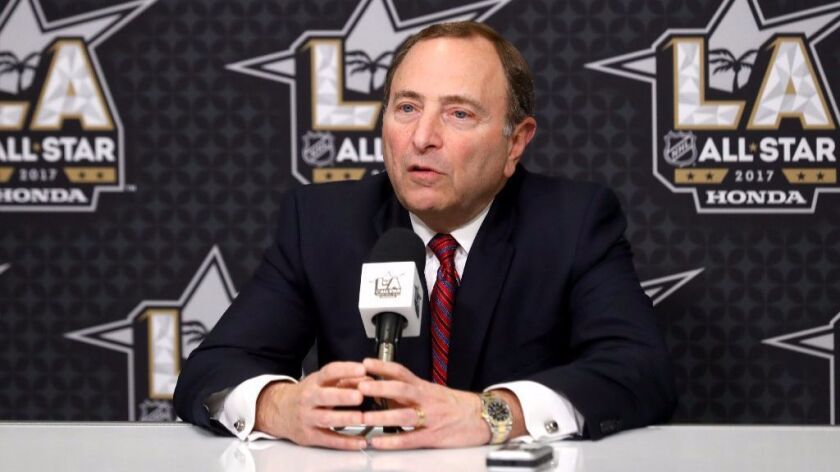 There was nothing new on the Olympics front for the NHL, Commissioner Gary Bettman said in his state-of-the-league address Saturday at Staples Center.
Whether the NHL will participate in the 2018 Winter Olympics in Pyeongchang, South Korea, has been a looming question and Bettman addressed it in his opening remarks and said the league's Board of Governors "spent 10 seconds" on it in that morning's meeting.
Asked how long the issue can remain undecided, Bettman said, "We're not the ones setting deadlines."
NHL deputy commissioner Bill Daly reportedly said the sentiment among the board is they don't want to participate and something would have to change their mind.
The NHL benefited from the exposure of the 2010 Vancouver Olympics but has the same concerns about travel, money compensation and the consequences of shutting down its season for two weeks that it did for the 2014 Sochi Olympics.
Without a decision on its participation, the league cannot announce the site for the 2018 All-Star game were it to forgo its Olympic involvement.
"We're looking at a few places," Bettman said, including the new Las Vegas Golden Knights franchise sometime down the road.
On other topics, Bettman all but squashed thoughts of having advertisements on hockey jerseys, like the NBA will do with its jerseys as a pilot program starting with the 2017-18 season.
"It would take an unusual circumstance for us to even think about it," Bettman said.
In regard to the NHL schedule, Bettman said they are looking at changing the "bye week" that was implemented this season and give half the league a bye week and then the other half a bye on another week.
Bettman liked the buzz that helped Los Angeles secure this weekend's All-Star festivities, the first such weekend at Staples Center since 2002. He noted the growth of hockey in California in regard to the increase of registered players in the state, from 3,400 in 1981 to 17,000 in 2002 to 28,000 currently.
Bettman denied speculation that the Carolina Hurricanes are for sale amid reports that owner Peter Karmanos is open to selling the team.
Gretzky to coach
Wayne Gretzky was named coach of the Metropolitan Division for Sunday's All-Star game, in lieu of the withdrawal Friday by Columbus Blue Jackets Coach John Tortorella.
Gretzky helped kick off the weekend in which the NHL's 100 greatest players were unveiled. He had a good line Friday, when he sat next to Bobby Orr and Mario Lemieux and discussed the three-on-three format used for the game.
"The three of us would have been pretty good," Gretzky said.
---
Get the latest on L.A.'s teams in the daily Sports Report newsletter.
You may occasionally receive promotional content from the Los Angeles Times.